Born-again Christians more likely to divorce than non-Christians, says study
And, according to the Barna Research Group, Baptists and Christians attending nondenominational churches are the most likely Christians to divorce. "While it may be alarming to discover that born again Christians are more likely than others to experience a divorce, that pattern has been in place for quite some time," says George Barna, "The high incidence of divorce within the Christian community challenges the idea that churches provide truly practical and life-changing support for marriages." Expect a flurry of commentary written about this study.
Did fanatics ruin Israel for other Christians?
Yesterday's USA Today suggests it's the case, but fails to note that tensions between Christians and Jews have some history in Jerusalem. "While most Christian pilgrims said they were treated well by ultra-Orthodox Jews, others complained that religious Jews mimicked their prayers, called them 'fanatics' and even cursed at them as they retraced the traditional steps of Jesus along Jerusalem's Via Delarosa [sic], or The Way of the Cross," the article states.
You can't step into the same stream twice
So goes an old saying. Nevertheless, Christians are arguing over no fewer than three sites claiming to be the place in the Jordan River where Jesus was baptized. ""We have no historical claim but still, we have the market for now," one site manager tells Canada's National Post.
Send back Cuban boy, says former NCC general secretary
Joan Brown-Campbell arrived in Cuba yesterday to meet with the father of the 6-year-old Cuban boy in the middle of a political tug-of-war. The NCC and Cuban Council of Churches are pushing for the child's return to Cuba. (See a related AP story)
Shakespeare's spiritual schizophrenia at Christmas
Two weeks ago, ChristianityToday.com looked at C.S. Lewis and Christmas. The newly launched Beliefnet.com goes further back and, in an article by Harvey Cox, looks at Christmas in Shakespeare's works.
Speaking of Harvey Cox …
The Harvard professor appeared New Year's Day on National Public Radio's Morning Edition to discuss the future of religion and spirituality in the United States, what the soul is, belief in good and evil, fundamentalism, his own prayers, and other such topics. (RealAudio player required.)
And speaking of Beliefnet …
It's been getting attention from the Associated Press, which compares its "nonsectarian" mission to "bring order to the chaos" to sites that "transmit one viewpoint" like ours. Gee, it's nice to be recognized.
See earlier ChristianityToday.com Weblogs from yesterday, December 30, and December 29.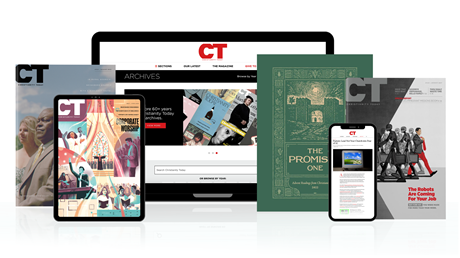 Annual & Monthly subscriptions available.
Print & Digital Issues of CT magazine
Complete access to every article on ChristianityToday.com
Unlimited access to 65+ years of CT's online archives
Member-only special issues
Subscribe
ChristianityToday.com Weblog
ChristianityToday.com Weblog