John J. Clouser, former director of development and planned giving for Jimmy Swaggart Ministries, says he pilfered the organization's money to pose as a rich entrepreneur so he could meet women. With women in Dallas, Philadelphia and Atlanta, he spent money on helicopter rides, limousines, World Series tickets, jewelry, apartments, shopping sprees, and other extravagances. "This has certainly put his former bosses' Christian beliefs to the test," says the embezzler's lawyer. (See our earlier coverage of Clouser's arrest and the Associated Press's coverage of the plea.)
Over the weekend, ChristianityToday.com published an article about the sexuality of postcollege Christian singles. Beliefnet, meanwhile, ran a Canadian Press article on how Christian singles are finding each other. "Uncomfortable with local bar scenes," the article begins, "restless in the social circles of their own churches, single Christians by the tens of thousands are flocking to Internet services offering the prospect of spiritually correct matchmaking." Matt Donnelly, former assistant editor of Christianity Online magazine, is quoted as warning readers, "It's best not to expect Mr. or Ms. Right. If you're going in with that attitude, you're setting yourself up for a fall." Christianity Online's Singles area is listed as one place lonely hearts have found each other.
So says the newly launched Contentville, a site selling magazines, magazine articles, books, dissertations, screenplays, speeches, and other "content." It has hired "neoagnostic" behavioral-science reporter Winifred Gallagher (who wrote in her book Working On God, "Religion needn't focus on beliefs, but can at least begin with trust in your own experience of what is.") as its "expert" on religion and spirituality magazines. "In the age of the 'bobos' (bourgeois bohemians), even if you're religious, it's not hip to be square," Gallagher writes in what's apparently an inaugural column. "Yes, the Eastern magazines look cooler, but the Judeo-Christians are catching up: Evangelical Christianity Today walks on the (slightly) wild side with an April 24 cover story on trendy Celtic spirituality ('Seeking the Heart of Celtic Christianity'), and holy-but-hot City of Angels star Blair Underwood makes the May/June cover of Gospel Today look like that of Entertainment Weekly. The Christian rock group Roaring Lambs may have their own fanzine in CCM (Contemporary Christian Music), [uh, Winifred, Roaring Lambs isn't a Christian rock group. Did you even open that issue of CCM?] but for the latest in Judaic cool, turn to Jonathan Schorsh's 'Cool Jews' in the March/April Tikkun for 'heavy-metal Hasidic rock' and the Jewish rap group Blood of Abraham." Here's to hoping that future columns will be better—and more current—but don't get your hopes up.
Not Jesus himself, but Hollywood's fascination with him. The New York Post started Wednesday morning wondering aloud why the networks weren't rushing to copycat the Jesus trend. Yes, there have been four major network specials on Jesus in the past year, but with the great ratings of Jesus and Peter Jennings Reports, where are the other New Testament shows? asked Adam Buckman. (What does Buckman want? The claymation life of Paul? Peter Jennings Reports: The Search for Philemon?) By late afternoon, Fox News (owned by the same parent company as the Post) was answering Buckman's questions the same day, in an interview with Roy Anker, who penned Christianity Today's recent article "Lights Camera, Jesus." "Religious hunger and emptiness in the entertainment industry" will keep Hollywood's religion trend going, Anker says, but don't expect another major film explicitly about Jesus for another decade or so. "These go in cycles," Anker says.
See our past Weblogs: July 10 July 7 | 5 | 3 June 30 | 29 | 27 June 23 | 22 | 21 | 20 | 19 June 15 | 14 | 13 June 9 | 8 | 7 | 6 | 5 June 2 | 1 | May 30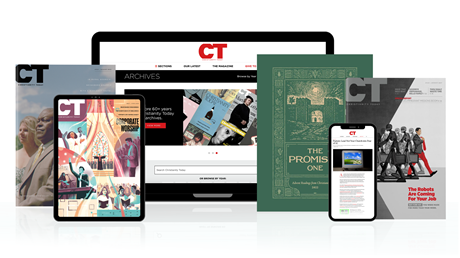 Annual & Monthly subscriptions available.
Print & Digital Issues of CT magazine
Complete access to every article on ChristianityToday.com
Unlimited access to 65+ years of CT's online archives
Member-only special issues
Subscribe
Swaggart Fundraiser Stole $769 000 to Meet Women
Swaggart Fundraiser Stole $769 000 to Meet Women