More on Clayton Bell's passing
As noted earlier in the ChristianityToday.com Weblog, B. Clayton Bell Sr., Presbyterian leader and chair of the board of Christianity Today International (our parent company), died in his sleep Wednesday morning at age 67. Obituaries appeared Thursday in The Dallas Morning News, the Associated Press, and Presbyterian News Service. Highland Park Presbyterian Church in Dallas, Texas, where Bell pastored until his retirement in January, also has an announcement of his passing. We will be offering our own obituary and reminisces about Bell's legacy soon.
One week after the General Assembly of the Presbyterian Church (U.S.A) voted to ban same-sex union ceremonies, the Episcopal Church is facing the same issue at its General Convention. But according it may codify its de facto policy of allowing individual dioceses to settle whether it will perform such unions or ordain gays to ministry. "I've heard innumerable comments that the local option is what we have, and a resolution that says 'yes' or 'no' to that is destructive," says lay delegate Marge Christie. Both conservative and homosexual activists are pushing for the denomination to take a more concrete stance on the issues. The Washington Timesnotes that when asked his opinion of a proposal that would condemn the "sins of heterosexism," such as male-female "marriage," Presiding Bishop Frank Griswold "explained somberly that the proposal was under review and that he would 'await the committee's discernment.'" The Episcopal Church is also expected to ratify an alliance with the Evangelical Lutheran Church in America.
While the Episcopalians meet in Colorado, thousands of charismatic and Pentecostal Christians are attending the West Coast Believers' Convention in Anaheim, California. Lee Grady, editor of Charisma magazine, tells the Los Angeles Times that charismatic and Pentecostal churches are "where the action is." British political leaders woo black church …
Prime Minister Tony Blair addressed black evangelical leaders in Brighton, England, Thursday, telling them "You, perhaps more than anyone, can gain from going in to politics." Conservative leader William Hague (who has recently been taking advice from World magazine editor and Bush campaign advisor Marvin Olasky) is scheduled to address "Faith in the Future" conference of black leaders from 3,000 churches across the country (see more coverage by the BBC and The Times.)
The black church made political headlines on this side of the pond as well. Al Gore reportedly received "hearty cheers" at the African Methodist Episcopal Church's General Conference Wednesday night, but, says Senior Bishop John Hurst Adams, "We don't play partisan politics in the AME Church, and we will defer making any comments or endorsement of the vice president's political aspirations." What they will be doing is deciding whether to ordain women as bishops and discussing how to address AIDS. (See our recent article on political activity in the black church here.)
Despite (or, more likely, because of) pressure from Catholics in the U.S., Germany, and elsewhere to loosen restrictions on the divorced, the Vatican strongly reiterated the prohibition. "The prohibition … by its nature, is derived from divine law and transcends the domain of positive ecclesiastical laws: the latter cannot introduce legislative changes which would oppose the doctrine of the Church," declared The Pontifical Council For Legislative Texts. "The scriptural text on which the ecclesial tradition has always relied is that of St. Paul: 'This means that whoever eats the bread or drinks the cup of the Lord unworthily sins against the body and blood of the Lord. A man should examine himself first only then should he eat of the bread and drink of the cup. He who eats and drinks without recognizing the body eats and drinks a judgment on himself.'" Couples who remarry but abstain from sexual relations, however, are permitted to take Communion.
As it has in past election years, the tax man is warning churches, charities other tax-exempt organizations to watch their step. "These organizations cannot endorse any candidates, make donations to their campaigns, engage in fund raising, distribute statements or become involved in any other activities that may be beneficial or detrimental to any candidate," said the IRS statement, available in PDF format here.
See our past Weblogs: July 5 | 3 June 30 | 29 | 27 June 23 | 22 | 21 | 20 | 19 June 15 | 14 | 13 June 9 | 8 | 7 | 6 | 5 June 2 | 1 | May 30 May 26 | 25 | 24 | 23 | 22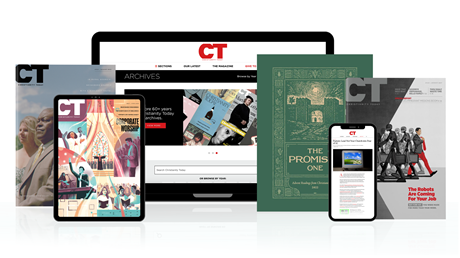 Annual & Monthly subscriptions available.
Print & Digital Issues of CT magazine
Complete access to every article on ChristianityToday.com
Unlimited access to 65+ years of CT's online archives
Member-only special issues
Subscribe
Will the Episcopal Church Decide Not to Decide on Gay Unions Ordinations?
Will the Episcopal Church Decide Not to Decide on ...