"Key advisers to Al Gore are pressing for a campaign that would stress the danger of Christian extremists and too much religiosity generally in the White House if George W. Bush were elected president," reports the columnist. "The vice president's strategists months ago outlined a three-pronged assault against Bush, attacking him on abortion, gun control and the environment. But Gore insiders question the effectiveness of the environmental approach. Instead, they talk about hitting Bush's support from Christian Coalition president Pat Robertson and the governor's self-identification as a born-again Christian."
"Your Republican opponent may be asked about his/her reaction to Bush's handling of the Bob Jones visit," Fox News reports a Democratic Congressional Campaign Committee memo as saying. "Consider issuing a press release, holding a news conference, or writing a letter to the editor to highlight your feelings on the national Republican Party's alliance with right-wing extremist groups."
You may have encountered radio or newspaper ads from Eternal Gospel Church of Seventh-day Adventists telling you that you're as bad as a Satanist or pagan for worshiping on Sunday. The Seventh-day Adventist Church wants you to know they're not behind it. This is "a classic case of a breakaway church trying to use the mother church's name," says the SDA's lawyer, who calls Eternal Gospel a "hate group". The denomination is suing to bar Eternal Gospel from calling itself "Seventh-Day Adventist." (Imagine all the Baptist lawsuits to follow if the SDA wins … )
First copies of the book are under armed guard and behind barbed wire. People are pretending to be Thomas Nelson employees just to sneak a peak. Those real Thomas Nelson employees who got to see the book had to sign massive nondisclosure agreements. The book? Jim Bakker's The Refuge: The Joy of Christian Community in a Torn-Apart World. Just kidding. It's The Death of Innocence by John and Patsey Ramsey, about the death of their daughter, JonBenét.
Interested in JonBenét? Get counseling.
Online booksellers' "related books" areas can be dead on—or really, really strange. Our partnering book retailer, Worthybooks, has the following pitch on their Ramsey page: "If you liked Death of Innocence, you may be interested in the following titles: Effective Biblical Counseling: A Model for Helping Caring Christians Become Capable Counselors by Lawrence J. Crabb, The Christian Counselors's Manual: The Practice of Nouthetic Counseling by Jay Edward Adams, The Millennium Myth by N. T. Wright, and Quick Scripture Reference for Counseling by John G. Kruis. Either someone over at Worthybooks has a bad sense of humor … (Still, Worthybooks' recommendations still make more sense than Amazon.com's link from Death of Innocence to Great Explorations in Math and Science: Discovering Density.)
"The canonization of the Chinese martyrs is a challenge to the courage of the Beijing government," says Fides, the news service of the Vatican's missionary arm. It will be seen as "interference in the internal affairs of China."
Steven Phelps's article on Alpha courses in Saturday's Dallas Morning News isn't just a fine trend piece on the church, it also includes an excellent summary of evangelism: "Go tell. Come see. You can sum up the two basic approaches that churches take to spreading their gospel in just four words." Phelps says Alpha works because it emphasizes the latter two words. "It's low-key, nonthreatening and free. And there's always plenty of pasta."
The National Conference of Catholic Bishops and the Archdiocese of Chicago are branching out of Catholic television and radio into the secular media and billboards to win converts to the church, reports The Chicago Tribune. Religion writer Steve Kloehn says it's part of a plan to make Roman Catholicism visible again. "At the same time American culture has accepted Catholics, it has become almost dismissive of Catholicism," he writes. "Even in a place like Chicago, where the Catholic presence is so big as to be unavoidable, its impact on culture is quiet and, over the decades, has been waning."
Pakistan's Federal Minister for Minorities, Culture and Sports is asking Christians to pray for the Kashmir's independence from India. Speaking at Sunday's service at St. Mary's Church in Lahore, he claimed, "[The] Christian community of Pakistan fully supports the freedom struggle of the Kashmiris Muslims and wants [the] international community to save them from the inhuman and brutal treatment being meted out by the Indian forces." It's an ironic call, considering the usual treatment of Pakistani Christians.
British Columbia's star high school basketball player has been suspended by his school, White Rock Christian Academy, reportedly for getting his girlfriend pregnant. The junior will miss this week's championship tournament but hopes to return to play next year.
"They were just very relaxed and happy and pleased," says Vince Gill's spokeswoman about the singer's Saturday wedding to Amy Grant.
Katharine Drexel, a Philadelphia socialite who took a vow of poverty, will be canonized October 1. Drexel was the subject of an excellent January 1999 U.S. News & World Report cover story that looked at " the making of a saint" in the Roman Catholic Church.
The Holy Synod of the Russian Orthodox Church has issued a document telling its members to relax, but also to tell the Russian government to reconsider its plans: "Many Christians, who consider the name given to them in baptism holy, consider it unworthy to ask the government for some new 'name' in the form of a number," it said. The Orthodox Church also moved to stem fears of accidental apostasy: "No external sign will violate the spiritual health of a person, if it is not a consequence of a conscious betrayal of Christ."
Related Elsewhere
See our past Weblogs:
March 13 March 10 | 9 | 8 | 7 February 18 | 17 | 16 | 15 | 14 February 10 | 9 | 8 | 7 February 3 | 2 | 1 | January 31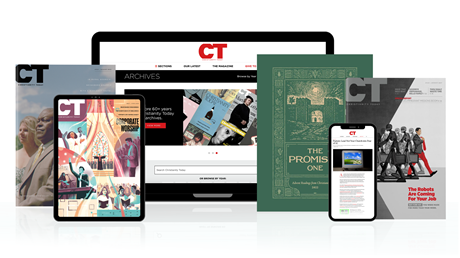 Annual & Monthly subscriptions available.
Print & Digital Issues of CT magazine
Complete access to every article on ChristianityToday.com
Unlimited access to 65+ years of CT's online archives
Member-only special issues
Subscribe
Will Gore Go After Bush's Faith
Will Gore Go After Bush's Faith