George Mitchell's work in negotiating the peace agreement may prove to have achieved the first significant "peace" in Northern Ireland if the Northern Ireland assembly is reinstated on May 22. Mitchell's work is recounted in his 1998 book, Making Peace.Progress towards a lasting agreement have been hampered by deep divisions and mistrust on both sides. Hopes of a lasting agreement were dashed by the suspension of the Northern Ireland assembly after 10 weeks in February 2000 and a recent Easter, April 20, statement by the IRA stating that the British government's unilateral decision to suspend the assembly highlighted a "lack of political will to bring about meaningful change."However, nothing is ever certain in the political climate of Northern Ireland and background negotiations between the British and Irish governments and between the Ulster Unionist Party and Sinn Fein continued with the hopes of finding a way for the IRA to soften their position on the five year stumbling block of the decommissioning or handing in of IRA arms. The decommissioning issue had led to the suspension of the Assembly on Feb. 12. The background negotiations resulted in a statement by the IRA on May 6 promising to "initiate a process that will completely and verifiably put IRA arms beyond use." The statement has been received favorably by the Ulster Unionist party, which will ask its members to vote for a reinstatement of the assembly largely on the basis of the reassurances in the IRA statement in the next few weeks.How could a peace agreement be reached in Northern Ireland where over 3,600 people were killed and 36,000 injured in the last twenty-five years and where bombings and shootings were everyday occurrences? Could almost 300 years of conflict (since 1690) be put aside by Protestants and Catholics to reach a peace agreement? George Mitchell's Making Peace demonstrates how an agreement can be reached in a society torn apart for centuries by religious and ethnic strife.Making Peace is an account of how the Good Friday peace agreement was reached in Northern Ireland in May 1998 under the chairmanship of Mitchell, a former Senate Majority leader. It is neither a history of Northern Ireland or a history of the negotiations that led to the Good Friday agreement but is Mitchell's own personal account of his experiences in Northern Ireland in the period from February 1995 to May 1998.
Past Agreements Failed
Mitchell recounts two previous attempts at peace agreements made in 1973 and 1985. The Sunningdale agreement in 1973 was a limited type of power-sharing arrangement between the Protestants Unionist party and the Catholic Nationalist SDLP. This agreement was opposed by Sinn Fein, the IRA, and the Unionist paramilitary groups, all parties which were excluded from the talks. This agreement collapsed in 1974. The second attempt at an agreement was made in 1985. The Anglo-Irish agreement in 1985 provided for a formal consultative role for the Irish government in the governance of Northern Ireland. The agreement was opposed by Protestant Unionists who interpreted the role of the Irish government as a step towards unification with the Roman Catholic southern Republic of Ireland.Both of these attempts had failed to bring lasting peace, stability and reconciliation in Northern Ireland.
Obdurate Obstacles
The obstacles to reaching an agreement were almost overwhelming. Mitchell vividly describes the pervasive pessimism among the public and the political leaders in Northern Ireland. People stopped him in the street and said, "You're wasting your time. This conflict can't be ended. We've been killing each other for ever and we're doomed to go on killing each other."When Mitchell took his seat as chairman of the talks, he was greeted by a chorus of, "No, no, no," from Ian Paisley who led a walkout of the Democratic Unioinst Party and another party.At critical moments in the talks there were bombings and shootings that threatened to end the peace process. David Trimble's Ulster Unionist party had just agreed to enter negotiations with Sinn Fein when a bomb exploded in Markethill, Co. Armagh in Sept 1997. The Unionist party immediately abandoned its plans to meet with Sinn Fein. Mitchell was never able to get the ten political parties and the two British and Irish government parties who were eligible to participate in the negotiations in the same room at the same time. Some parties were excluded for a time, some walked out, and some were expelled. Sinn Fein and the Unionist party would only communicate to each other through Mitchell. Mitchell later recalled in a May 1998 lecture how agreements tended to "come unstuck" when exposed to eight political parties and two governments. The process of negotiating the peace agreement took three years. The first obstacle to entering into negotiations was the controversy over decommissioning of arms. Mitchell outlines the Unionist fears about entering the talks without decommissioning and describes how he negotiated a way around the decommissioning roadblock. He recounts how he found a way to reassure the Unionists through creating a set of democratic and non-violence principles known as the Mitchell Principles to which any party entering the negotiations would have to commit themselves to.In fact, Mitchell seems to have gained even greater experience in Northern Ireland. He was a mediator in the negotiations between Northern Ireland parties in the talks in Fall 1999 which dealt with the refusal of the Unionist party to take sets in a Northern Ireland assembly until decommissioning started. Mitchell decided to focus the talks on two parties, Sinn Fein and the Ulster Unionists. He was determined to keep the talks secret and imposed a no-comment rule on the participants. Valuable time had been wasted in the earlier talks between 1995-1998 in dealing with media comments that tended to disturb the parties involved. He moved the talks to the American ambassador's residence in London, a move designed to enable the participants to mix with each other in an enclosed area. These talks led to the formation of the Northern Ireland Assembly on Dec. 2, 1999 and the final implementation of the Good Friday Peace agreement.
Mitchell's Character
Mitchell's belief and reliance on the principles of fairness and justice are stressed in his summary of the Good Friday Agreement in the last chapter. "If the Good Friday Agreement endures, it will be because it is fair and balanced. … it seeks to promote tolerance and mutual respect" (p. 187). In his senate speech in 1998, Mitchell also emphasized the importance of fairness and justice. " Common sense, fairness and justice must inform the making of laws." His sense of justice and fairness is illuminated in Making Peace by the descriptions of his decision making process in, for instance, expelling a party from the talks for a limited period, and dealing with disputes.Politics and public service for Mitchell are opportunities to make a difference in the lives of people. Several times he thought of leaving the talks but concludes, "what really mattered are the people of Northern Ireland. The brutal murders … the bombings and the beatings, the savagery of sectarian strife and the hatred and fear it spawned; no one should have to live like that. … How could I turn away from it now?" (p. 99).
Lessons Learnt
Although there is a need to be cautious in comparing the Northern Ireland conflict with other conflicts and in trying to create a formula to deal with ethnic and religious strife, Making Peace suggests strategies for negotiating a peace agreement in a society divided by intense hatred and unbelievable acts of violence.Mitchell and the parties involved refused to yield to the acts of violence committed during the peace talks. They preserved despite the burning to death of three young catholic boys in their beds in July 1997. Mitchell often refers to his determination that the talks end in an agreement for the sake of the people of Northern Ireland.The attitude of pessimism surrounding the peace process was counteracted by Mitchell's constant creation of the belief that the peace process would work. Despite discouraging setbacks and repeated delays Mitchell's issued press statements expressing confidence that the peace process was going to work.
Significance of
Making Peace
Perhaps, one of the most enduring legacies of the book will be its contribution to the understanding of peace making in a societies overcome by ethnic and religious strife. If, according to Samuel Huntington, author of The Clash of Civilization and the Remaking of World Order (Simon & Schuster), " in the post-Cold War world, the most important distinctions among people are cultural" and the most "pervasive, important and dangerous conflicts … will be between peoples belonging to different cultural entities, then Making Peace could make a valuable contribution to peace making efforts worldwide. The present conflicts in Bosnia, Kosovo, and Serbia are all based on ethnic and religious strife as are the conflicts between Coptic Christians and Muslims in Egypt, the conflicts between Christians and Hindus in India and the conflict in Chechnya between Muslim rebels and Christian Russians.In an era when there is much skepticism on the part of the public in the political process, Mitchell displays how his public service in Northern Ireland helped to prevent many more deaths and acts of violence, and stopped a 30-year conflict could help restore the confidence of the public in political leaders. Former Illinois Senator Paul Simon referred to Mitchell as a hero. His sense of fairness, injustice, dogged perseverance, personal sacrifice, courage, and patience are examples for all would be "political heroes." However, it is easier to be a hero in a situation where lives can be saved rather than in a situation where strong moral and other principles need to be upheld. The upholding of such principles could be too dangerous to the career of a modern politician.But, Mitchell's primary achievement will be the negotiation of the Good Friday agreement enabling children in Northern Ireland to live in peace. Shortly after the Omagh bombing in August 1998, when twenty-nine people were killed, an Irish 29-yr old father sent a letter to the American ambassador to Ireland Jean Kennedy Smith which asked America to help bring peace to Ireland so that his young daughter Ashleen could live and dream."I never realized how precious peace could be until my wife gave birth to our daughter Ashleen. we don't want her to grow up in a society that is waiting for the next atrocity, the next batch of young lives snuffed out by hatred or fear. Ashleen's name means "vision' or "dream"—and we have a dream of what Ireland might be like when she grows up. … Please keep Ireland in mind because Ashleen and all Irish children should be able to dream.".
Related Elsewhere
Visit Books & Culture online at BooksandCulture.com or subscribe here.For more news on the Northern Ireland peace process, see the BBC and Yahoo's full coverage.Making Peace is available from Amazon.com and other book retailers.Pat Robertson's CBN has an interview with George Mitchell.Books & Culture Corner appears Mondays at ChristianityToday.com. Earlier Books & Culture Corners include:Our Bodies, Our Selves? | Facing the discomfort we have with our physiques. By John Wilson (May 8) True West | Three excellent museum shows—not to mention our magazines—reexamine the American frontier. By John Wilson (May 1, 2000) Defending Faith and Learning | Baylor University's Polanyi Center comes under fire from the university's faculty. By John Wilson (Apr. 24, 2000) Lie Is Beautiful | Dante understood irony's use as a weapon against intellectual arrogance. By Andrew Jones (Apr. 17, 2000) Who in Hell? | Theologian John Sanders considers the eternal fate of non-Christians. By John Wilson (Apr. 10, 2000) My Cab Ride With Gloria | Meeting a legend, tearfully. By Frederica Mathewes-Green (Apr. 3, 2000) I Read the News Today | Finding the most important story in headlines' sum. By John Wilson (Mar. 27, 2000) Peace Be With You | Looking beyond naivete and cynicism about peacemaking at Wheaton's Christianity and Violence conference (Mar. 20, 2000) Putting the Poor on the National Agenda | Ron Sider's timely proposals. By Amy L. Sherman (Mar. 13, 2000)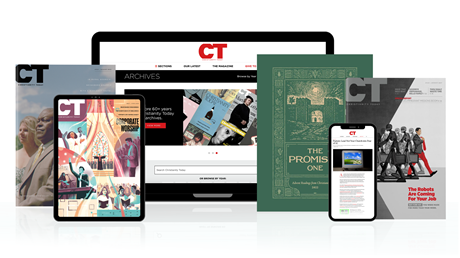 Annual & Monthly subscriptions available.
Print & Digital Issues of CT magazine
Complete access to every article on ChristianityToday.com
Unlimited access to 65+ years of CT's online archives
Member-only special issues
Subscribe
Peacemaking in Northern Ireland
Peacemaking in Northern Ireland