Donald McCullough stepped down as the president of the school only days before the Permanent Judicial Commission of San Francisco Presbytery found him guilty of two counts of sexual abuse: one while pastor of Solana Beach Presbyterian Church (where Roberta Hestenes now serves as senior pastor) and one between the time his election and installation as president of the seminary. (See more here and here.) (And here's about as good a time as any to note that those readers who enjoy ChristianityToday.com Weblog may also enjoy Presbyweb, another roundup of interesting religion stories—with a Presbyterian bent, of course—around the Web.)
Famed atheist Madalyn Murray O'Hair has been missing since September 1995. The FBI says she was murdered by Gary Paul Karr, but as USA Today notes, it's going to be hard to prove. They don't even know for sure that she's dead: she may have absconded with millions of dollars' worth of gold coins. Jury selection began yesterday. (And by the way, this means that O'Hair isn't trying to stop the FCC from allowing religious or semi-religious programming like Touched by an Angel. So please stop sending ChristianityToday.com Weblog e-mails saying she is.)
Edward Walter Smith, a 51-year-old with Australian Missionary Tidings, and three local men were kidnapped from during a church service in Canito, Colombia, Sunday. The three locals were released later that day, but Smith remains abducted.
London's Institute of Contemporary Arts will reenact the Jonestown massacre this summer, including a Jim Jones sermon, a miracle healing, and the mass suicide. "A significant part of the power of cults is their theatricality, where people are drawn in through theatrical means," says the ICA's director of live arts. "The aim is to examine their power over ordinary people, and to show that the paths that lead to these extremes are not as far away from rational thinking as you might imagine." Cult watchdogs say such a reenactment is at best bad taste, and at worst dangerous. The creator of the reenactments is most famous for secretly creating crop circles, reports the Guardian.
What's better than a collectible phone card? A lot of things, I suppose. But one of them's got to be a collectible phone card carrying a gram of "holy water" from the Jordan River. The Jerusalem Post describes the enterprise.
The island where John wrote the Book of Revelation has become a scandal-filled party town. Richard Gere and David Bowie cruise the beaches, and Greek Orthodox clerics are accused of misconduct both sexual and financial. Four clergymen, including Patmos's former abbot, are charged with embezzling $800 million in church property. One would think a place with such apocalyptic overtones would inspire less evil, wouldn't one?
The organist of an 800-year-old church in Oxfordshire, England, has quit and run to the papers to complain about the rector. "He ruined every single hymn by singing loudly through the microphone," she tells the Times. "Everyone would try to sing in time with me but he was singing loudly and faster." Yes, these are the times that try men's souls.
This week's Religion section at the newspaper features a major deliberation between Gerald Bray and Clark Pinnock over whether God changes. Both Bray and Pinnock are given the opportunity to respond to each other's initial articles. See Christianity Today's recent article on openness theology here.
While another apparition (in Fatima, Portugal) is hoarding all the headlines, a Bradenton, Florida, church says it can do better than Mary: it has Jesus himself. And it's a Presbyterian church, no less. Workers have been trying to pressure-wash the face of Jesus off Palma Sola Presbyterian Church, but it shows no signs of fading. "It is a miracle," says the pastor. "To see this on a Protestant church is truly amazing. You always read about these things on Catholic churches."
Related Elsewhere
See our past Weblogs: May 15 May 12 | 11 | 10 | 9 | 8 May 5 | 4 | 3 | 2 | 1 April 28 | 27 | 26 | 25 | 24 April 19 | 18 | 17 April 13 | 12 | 11 | 10 April 6 | 5 | 4 | 3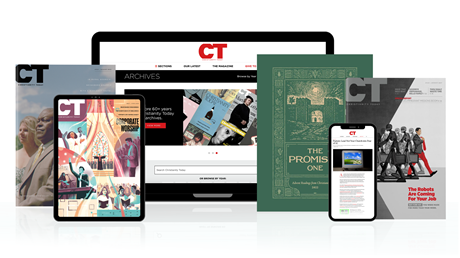 Subscribe to Christianity Today and get access to this article plus 65+ years of archives.
Home delivery of CT magazine
Complete access to articles on ChristianityToday.com
Over 120 years of magazine archives plus full access to all of CT's online archives
Subscribe Now
President of San Francisco Theological Seminary Found Guilty of Sexual Abuse Days after Resignation
President of San Francisco Theological Seminary ...