Christian employees of Albuquerque's Sandia National Laboratories have filed suit against their employer, saying they are denied the rights and privileges given to homosexual workers. The Christians say that they are being harassed for their religion and "have been subject to name-calling and ridicule," but that the company won't let them form a group similar to "the Gay/Lesbian/Bisexual Networking group," which received official recognition five years ago. According to conservative Web site WorldNetDaily, "Some employees have even been asked to remove photos of their wives and children, because they offend homosexuals, who are not allowed to marry and feel pressure not to publicize their own intimate relationships." The American Family Association is representing the Christian group.
Big Brother skateboarding magazine has been in trouble before. Last summer, syndicated radio host Laura Schlessinger went on the warpath against the Larry Flynt-owned magazine—a crusade that sent her to court. No sooner was her lawsuit settled than Flynt's company did something really, really stupid: it sent out copies of Hustler Taboo (tag line: "America's Most Twisted" porn magazine) to an undisclosed number of Big Brother subscribers. Flynt is reportedly "really (expletive) off," but ChristianityToday.com Weblog wouldn't put that anger against the fury of a mother who found Hustler Taboo in the mailbox.
Washington Post columnist E.J. Dionne hailed Wheaton College's decision to retire its Crusader mascot in his Tuesday column. After summarizing Wheaton College President A. Duane Litfin's rationale for the change, Dionne comments, "Prejudices work in many directions, and Wheaton's move may help explode some prejudices that work against evangelicals. Litfin doesn't think his mascot decision should be seen as a 'big ticket item' and says he'd prefer that it had gotten little publicity outside Wheaton's circles. The humility is becoming, yet what Litfin did deserves notice. It shows that those who are truly serious about tradition, far from being narrow and closed in, are often forced by faithfulness to think and act anew."
The Canada Family Action Coalition and the Catholic Civil Rights League have filed a complaint with the Canadian Radio-Television and Telecommunications Commission saying a popular Toronto radio program mocks Christian beliefs and Christ himself. Stunts on "The Humble and Fred Show" have included a Jesus Look-a-Like Contest, a mock crucifixion and give-aways of Jesus-shaped chocolates. Stewart Meyers, the radio station's program director, told Canada's National Post, "I am a very devout Christian and I personally don't take offence to the content that we use." It's not the first time the show is in religious trouble. Last year, the Canadian Broadcast Standards Council ruled against complaints, saying religion is as open to parody and irreverence as the rest of life.
The All-India Christian Council is condemning the country's National Commission for Minorities (NCM) report, which said attacks on the country's Christians were not based on religious motivations but were accidents or the unconnected acts of petty criminals. "We are aghast at the report," the organization said in statement. (See more coverage in The Hindu and The Times of India.) According to the BBC, Indian church leaders are also condemning plans by the ruling Bharatiya Janata Party (BJP) to change marriage laws in hopes of discouraging interfaith weddings.
So says Richard Mouw, president of Fuller Theological Seminary (and author of today's lead story at ChristianityToday.com). "In a secularized culture where 'official' praying is more and more restricted—if not forbidden—I think people are saying, 'Hey, we may not be able to get the preacher up on a platform at our local commencement, but nobody can stop me from making the sign of the cross at our local restaurant.'" The Dallas Morning News article also looks at public prayer from Jewish, Muslim, Buddhist, and various Christian points of view.
Two chaplains at a Fort Worth-area jail took a prisoner, charged with sexually assaulting a child, into an isolated area of the jail and performed an exorcism. Prison guards walked in on the middle of the procedure. Says one, "I did not stop this performance because I am not familiar with this type of process and did not know what the moral or legal ramifications might be for interrupting such a procedure." Sheriff's Capt. Dan West is asking for a full review of the incident, since the prisoner was removed from his cell without notifying the shift commander. Plus, says one guard, "We had already discussed and decided that speaking in tongues [which the chaplains did during the exorcism] was not going to be done [in the jail]."
"On June 30, Christian music channel Z Music Television will shut down its cable signal and move its operations online to Musicforce.com," reports Wired News. Explains Brian Payne, president of Gaylord Entertainment's Interactive Media Group, "Christian music is a very diverse genre, from gospel hip-hop to Amy Grant. The Internet allows us to delve deeper into those genres with our content and presentation than we ever could hope to do on cable television." That and ZTV never met the company's hopes to rival MTV.
A March 20 profile of Christian Internet site iExalt.com in the Houston Business Journal may have been too hasty. "After rising fivefold over a session and a half to above $18 on March 2, iExalt shares returned to earth as momentum investors demonstrated they can also taketh away. Still, the stock doubled to above $7 in the first two weeks of March," writes Jim Greer, who quotes the site's CEO and cofounder saying, "Right now the dot-com world is red hot." Since then, of course, the dot-com world has cooled off quite a bit, and iExalt, an over-the-counter bulletin board stock, was laid low in April's "market correction." The price at one point dropped to $1 and is now trading below $4. The shares of iExalt.com's competitor, Crosswalk.com, have also fallen from grace (they too are trading around $4), but not nearly as sharply as iExalt.com.
Not satisfied with Massachusetts Board of Education guidelines that mandate tolerance of homosexuality, gay activists are pushing for mandates that order teachers "to fight myths about gays as they do for women and students of all races," reports The Boston Globe. "The regulations passed by the Board of Education are an important step to reducing violence and harassment based on sexual orientation, but they do nothing to counter prevailing stereotyping or to make visible the contributions gay and lesbian students have made to our culture and history," says the executive director of the Gay, Lesbian and Straight Education Network of Boston.
The Washington Post profiles Sister Dorothy Fabritze and Sister Bernard Overkamp of the Missionary Sisters of the Sacred Heart, who minister to the 40-odd members of the Roberts Brothers Circus while they sell tickets and feed the troupe. They worked as missionaries in Papua New Guinea for 20 years, and when they came back to the states, they went looking for a tightly knit community to minister in. Now, says Sister Dorothy, they're called to "let people in this circus know that there's a God who cares about them no matter what's happened in their lives."
The BBC Promenade Concerts, "the world's greatest classical music festival," attracts a quarter of a million listeners each year. This year's theme will focus on Christianity. Peformances will include Handel's Messiah, Elgar's Dream of Gerontius, Mendelssohn's St Paul, Schmidt's The Book with Seven Seals, and Stravinsky's Symphony of Psalms. "Why apologise for the fact that the Christian religion has produced some of the greatest pieces of music in the Western tradition?" asks Nicholas Kenyon, director of the series. "We are not saying that you have to believe in religion, only that you have to be moved and inspired by these works. These are thrilling pieces whether you are religious, atheist or agnostic."
The Ashland, Oregon-based Church of the Creator has sued the racist, East Peoria, Illinois-based World Church of the Creator for trademark infringement. See Christianity Today's article on the white supremacist church, led by Matt Hale, here.
Related Elsewhere
See our past Weblogs: May 4 | 3 | 2 | 1 April 28 | 27 | 26 | 25 | 24 April 19 | 18 | 17 April 13 | 12 | 11 | 10 April 6 | 5 | 4 | 3 March 31 | 30 | 29 | 28 | 27 March 24 | 22 | 20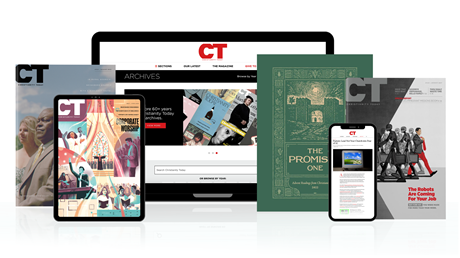 Subscribe to Christianity Today and get access to this article plus 65+ years of archives.
Home delivery of CT magazine
Complete access to articles on ChristianityToday.com
Over 120 years of magazine archives plus full access to all of CT's online archives
Subscribe Now
Christians Sue Sandia National Laboratories for Discrimination
Christians Sue Sandia National Laboratories for Discrimination