Reports of the latest clashes between Muslims and Christians in the divided country vary. Death toll numbers have ranged from fewer than 100 to more than 300, but most news organizations are reporting that at least 200 were killed May 23 and 24. French news agency AFP says police have been ordered, in an attempt to stop revenge killings, not to reveal the full death toll. The attacks apparently began when villagers in a predominantly Christian neighborhood blamed Muslims for an earlier killing, and attacked and burned the homes of several Muslims. A cycle of revenge continued in Kaduna until police and military cracked down on the area. (See also the BBC's coverage.)
Christian Pirate Radio, a Salem Communications Corporation Internet-only music station, is second only to the UK's Virgin radio when it comes to online listeners, says the ratings giant Arbitron. Such popularity, says Joan FitzGerald, director of marketing for Arbitron Internet Information Services, "illustrates once again that consumers are listening to webcast programming that they cannot find on traditional broadcast stations." (See Salem's press release here.)
Joyce Austin, a director of music ministry and part-time parochial school teacher, says she was dismissed from Sacred Heart Cathedral in Raleigh, N.C., because she's a woman. The Equal Employment Opportunity Commission filed suit on her behalf, but lost in district court. On Monday, the Fourth Circuit Court of Appeals upheld the verdict, saying, "The functions of the music ministry and music teaching positions in this case are integral to the spiritual and pastoral mission of Sacred Heart Cathedral. We are thus confronted with a case involving ecclesiastical decisions that the Free Exercise Clause of the First Amendment places 'beyond the ken of civil courts.'" (The full text of the ruling, available here, has extensive background on the case.)
The Sydney-area woman, 36, believed her five children were possessed by the devil. She attacked four of them and drowned the fifth. "I cannot pass on this case without remarking on the terrible tragedy which has overtaken you, your children, your family and your church," said Justice Greg James before ordering her to a psychiatric hospital. See also the AP's coverage)
"While it represents good news for God-fearing men, it is a disaster for women. Flirtatious male worshippers play the field, leaving a string of broken hearts behind them," says the Times, noting a report in the UK's Christianity magazine. "As a result the only option for many Christian women is a to settle for a non-Christian partner." Says one woman quoted in the magazine, "I've not had a boyfriend for several years now and it's difficult as you get older to find normal, heterosexual men in the church. Over the last two years I've known of four Christian women whose husbands have left them for another man." (See also the Telegraph's take on the report.)
A New York Times article looks at unschooling, a new movement of home schooling families. "Home schooling took hold in the 1980's, largely among fundamentalists and religious conservatives who were fleeing the liberal education offered in public schools," writes Peter Kilborn. "Now it is being adopted more broadly, by parents who are disenchanted with the regimentation of schools, public and private, and the idea that a child's age, alone, marks the thresholds of learning." The article seems to at least in part contradict a major article titled "
A Mighty Fortress," appearing in The New York Times Magazine just three months ago. That article, by Margaret Talbot, clearly suggested that the home schooling movement is dominated by retreating fundamentalists who want no part of the rest of the world. The world changes fast, doesn't it?
Or so should be the title of this Knight-Ridder story profiling the Call to Renewal and Sojourners leader and his latest crusade to end poverty. "When Wallis speaks, the big shots tend to listen," writes Clark Morphew. "He has been a relentless missionary all his adult life working for the rights of the poor." Yeah, yeah.
Wallis is great. But a bit more assessment of his message and plans would have been nice, too.
Related Elsewhere
See our past Weblogs: May 25 | 24 | 23 | 22 May 19 | 18 | 17 | 16 | 15 May 12 | 11 | 10 | 9 | 8 May 5 | 4 | 3 | 2 | 1 April 28 | 27 | 26 | 25 | 24 April 19 | 18 | 17 April 13 | 12 | 11 | 10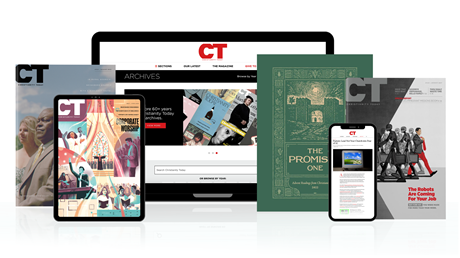 Subscribe to Christianity Today and get access to this article plus 65+ years of archives.
Home delivery of CT magazine
Complete access to articles on ChristianityToday.com
Over 120 years of magazine archives plus full access to all of CT's online archives
Subscribe Now
Rekindling of Nigerian Religious Violence Leaves Untold Hundreds Dead
Rekindling of Nigerian Religious Violence Leaves ...