Leaders of minority churches in Greece have expressed support for a government proposal to scrap the obligatory indication of religious affiliation on citizens' identity cards. However, the proposed reform is vigorously opposed by the (Orthodox) Church of Greece and by many politicians and may well prove unpopular with many Greeks. A spokeswoman for the Church of Greece in Athens told ENI that belonging to the Orthodox Church was "part of being Greek." The Church of Greece is about to issue an official statement about the identity card issue.Disagreement over this bureaucratic matter is symbolic of the poor state of ecumenical relations in Greece. Antoni Koulouris, secretary-general of a small Protestant denomination, the Greek Reformed Church, which wants religious affiliation removed from the cards, said: "This old-fashioned provision has caused serious problems, and should be discontinued. Our state may be liberal in certain senses. But there's always a danger that an official who sees that you are not Greek Orthodox will react unfairly against you and raise questions about your nationality."Koulouris was commenting on recent calls for the reform by the center-left government of Costas Simitis, whose Socialist Party (PASOK) was returned to power in elections last month. After the election, Greece's justice minister, Michalis Stathopoulos, criticized what he described as the "exaggerated protection" enjoyed by the Orthodox Church. Article 3 of the Greek constitution declares that Orthodoxy is the "dominant religion," and prohibits Bible translations into Greek without prior consent from the Orthodox Church.Prime Minister Simitis indicated to the parliament in Athens this week that the government did not want religious affiliation mentioned on new identity cards. He said that "religious beliefs and sensitive data" about citizens' private lives were not necessary for the cards. This prompted strong reactions from opposition politicians and from leaders of the Church of Greece who predicted that church members would protest and that the reform could cause "social upheaval."But Koulouris told ENI that leaders of Greece's oldest Protestant denomination, the Greek Evangelical Church, had also supported the removal of religious affiliation from identity cards, as did Muslims and smaller non-Orthodox minorities. He added: "The Orthodox Church will apply every possible pressure on the government, and some PASOK parliamentarians may not withstand this."About 97 percent of the country's population of 10.2 million are Orthodox. However Koulouris commented: "Identity cards provide the only evidence that such a large majority of Greeks are Orthodox. In reality, no more than 3 percent of this highly secularized population attend Sunday services." (But Greek Orthodox sources told ENI that while some Orthodox Christians in Greece did not attend church, the figure of 3 percent was "simply not true.")The chairman of Greece's Roman Catholic Bishops' Conference, Archbishop Nikolaos Foskolos, who is based in Athens, said the inclusion of religious affiliation on identity cards violated religious freedom and was in conflict with legal norms in most countries in the European Union (EU), of which Greece is a member."Religious loyalties aren't a matter for the state, which is obliged to produce good citizens, not good Christians," the Roman Catholic archbishop told ENI. "We live in a bizarre situation. Greeks claim to be religious even when they don't practice any religion, while ministerial oaths are sworn on the Gospel even by atheist government members."Nevertheless the spokeswoman for the Church of Greece denied in an interview with ENI that the mention of religious affiliation on identity cards contradicted EU standards. "Most of our population is Orthodox, and being Orthodox is part of being Greek," she said. "The fact that the Queen of England is head of her church shows there are similar practices elsewhere. If religion has been written into cards till now, why should the practice be stopped?"On May 14 Archbishop Christodoulos, head of the Church of Greece, publicly condemned the proposed change, declaring it was a "crime against the nation" and calling for a referendum to resolve the matter."Neo-intellectuals are biting the church like wild dogs," Archbishop Christodoulos said. "No one denies we are Europeans. But we will not give up everything we have just to obtain approval from various modernists and progressives."Archbishop Foskolos told ENI that some Orthodox bishops had said the inclusion of religion on cards should be voluntary. However, he said, Roman Catholics believed that any reference to religion caused discrimination against non-Orthodox Greeks. He added that in April two Catholic recruits in the Greek army had been warned "not to expect promotion because of their faith.""The Orthodox Church has stirred fanaticism by speaking out against the government, so it's hard to foresee the outcome of a referendum," continued Archbishop Foskolos, whose church has 50,000 ethnic Greek members, as well as about 150,000 foreign residents. "Greece looks set to remain an exception, since mentalities are different here, and the Orthodox Church strongly opposes both the EU and the West." (But Greek Orthodox officials have disagreed with such claims, pointing out that many within their church strongly support links to the West and membership of the EU, with which Orthodox organizations have official contact.)Minority religious groups have frequently complained of discrimination in Greece, where legal curbs imposed on non-Orthodox denominations in the 1930s still remain on the statute books. An Orthodox bishop's approval is required before building a place of worship.Antoni Koulouris also told ENI that he believed secret directives existed recommending that responsible posts in state institutions be restricted to Orthodox citizens."Some Orthodox clergy have said we should work to create committed Christians rather than worrying about IDs [identification], but dissenting views haven't been expressed publicly," Koulouris said. "Many people think the government will have to go ahead with this reform, since there would be even greater problems now if IDs remained unchanged."The Church of Greece spokeswoman told ENI: "Things should stay as they are-minority church members don't have to feel ashamed of what they are. Since most people are Orthodox, they obviously won't want their children to be taught by Catholics or teachers belonging to some other religion. This is natural and understandable. It isn't a case of discrimination."According to an Athens-based news service, ANA, Constantine Mitsotakis, a former prime minister and leading opposition politician, said this week that Prime Minister Simitis' plan to reform the identity cards was "a grave error, the results of which we will all see very soon."Mitsotakis said that Simitis' policies were "erratic." He added that by adopting this policy Simitis "disregarded and, even worse, offended the Greek [Orthodox] Church, refusing to conduct a minimal dialogue with it."Copyright © 2000 ENI.
Related Elsewhere
Other media coverage of this story is available from The Boston Globe, the Associated Press, the (UK) Guardian, and the BBC.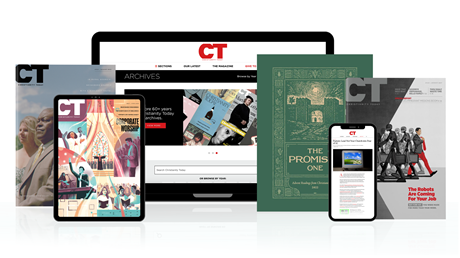 Subscribe to Christianity Today and get access to this article plus 65+ years of archives.
Home delivery of CT magazine
Complete access to articles on ChristianityToday.com
Over 120 years of magazine archives plus full access to all of CT's online archives
Subscribe Now
Greece's Churches Divided Over Identity Card Data
Greece's Churches Divided Over Identity Card Data