Even great thinkers sometimes speak evil. Plato advocated infanticide because he thought of handicapped children as "inferior creatures." Francis Parkman, one of America's premier historians, associated "Indians" with "leeches" and "contagions." And the 19th-century scientist Louis Agassiz, founder of Harvard's Museum of Natural History, called black people a "degraded and degenerate race." Such rhetoric not only dehumanizes the vulnerable but, as history shows, sets the stage for deadly violence against them.
In late September, Britain's Lord Justice Alan Ward joined the ranks of the dangerously wrong and famous. He decided that physicians in Manchester could separate conjoined twins who shared a common aorta, a surgery that—as expected—resulted in the death of one twin while probably saving the life of the other. In his judgment, Ward said that Mary "has little right to be alive. She … sucks the lifeblood of Jodie and her parasitic living will soon be the cause of Jodie ceasing to live."
As a member of Britain's highest court, Ward has a special responsibility to adjudicate such cases in a way that protects the powerless and the vulnerable. Such prejudiced language, especially by a powerful and respected judge, contributes to the rapid dehumanization of those who don't measure up to contemporary standards of beauty, health, and usefulness. The dangers of such language are documented in William Brennan's excellent (but sadly out of print) book Dehumanizing the Vulnerable: When Word Games Take Lives. Brennan examines the language used to dehumanize oppressed groups throughout history: women, European Jews, blacks, Native Americans, the disabled, and the unwanted unborn.
Oppressors, it seems, are not very creative. In their propaganda, they have all resorted to the same basic categories of dehumanizing terminology. Brennan identifies eight categories of semantic oppression: deficient humans, nonhumans, animals, parasites, diseases, inanimate objects, waste, or nonpersons. Ward's judgment on the "parasitic" infant Mary echoed earlier statements that reinforced prejudicial ideologies against blacks, Soviet peasants, Jews, women, and the unborn. This language is not accidental, Brennan argues, but is always part of a larger, more cohesive ideology of denigration, oppression, and in many cases, extermination.
The best of intentions
The best moral and legal path was not immediately clear in this tragic case of Jodie and Mary, the conjoined twins from the Mediterranean island of Gozo. Were we under obligation to save a life at any cost? What are the rights of the parents in the decision-making process? What were the duties of the courts?
Even Christian ethicists disagreed. Dennis P. Hollinger of Messiah College argued compellingly that the doctrine of "double effect" came into play in this case. According to this classic argument, one is not culpable if one intends to do good but some unintended (though perhaps foreseen) evil should occur in the process. We recognize this truth in many "easy cases." For example, suicide is not morally permissible. But we count as heroes those nurses, firefighters, and martyrs who lose their lives for the sake of others or a higher cause.
Christian ethicists also apply this to "hard cases." For example, it is not morally permissible to abort a living fetus. But when a woman has a fetus developing in her fallopian tube instead of her womb, even the Roman Catholic tradition recognizes the legitimacy of removing her reproductive organs to save her life, even though the child may be destroyed.
Hollinger argued from Christian principle that separating Jody and Mary (with the clearly foreseen secondary effect of Mary's death) was not only morally licit but morally imperative. Hollinger's essay appears on the Center for Bioethics and Human Dignity's Web site (www.cbhd.org). On the same Web site, Thomas Kennedy of Valparaiso University argued against applying the doctrine of double effect, and says that the moral imperative to do no harm must outweigh the imperative to do some good.
Parental rights trampled
Christian ethicists may have disagreed about the surgery, but no Christian principle can justify the way the parents' wishes were trampled in this case. In an interview with the BBC, Raanon Gillon said the court should have allowed the parents to decide. "There are good reasons for removing parental consent when the parents are being negligent or when they have really weird views that would result in the deaths of their children," said Gillon, the editor of the Journal of Medical Ethics. "But these parents do not have really weird views. They have very standard views, the most important of which is you don't kill one person in order to save another."
The parents of Mary and Jodie opposed the operation, in part because of their Roman Catholic faith. U.S. courts have been divided over the rights of parents with less standard religious views on standard healthcare (for example, those who refuse vaccinations and blood transfusions). But in this case, the parents' religious convictions are quite standard in Western history, and the healthcare they resisted was purely experimental. As Gillon told the BBC, "There is no justification for removing from them their normal prerogative for making treatment decisions on behalf of their children."
Prolife groups that opposed the surgery express concern about the precedent-setting possibilities of the case. ProLife Alliance spokesman Bruno Quintvalle said the judges "simply didn't consider the human-rights implications. The green light has been given to further attacks on human life and the dignity of people at their most vulnerable." But both Ward and Laurence Oates, the solicitor representing Mary, told the press they were satisfied that this decision would not set a legal precedent. Said Ward, "It caters for something that is totally unique."
The case may be unique, but the court's usurpation of parental authority when there was no question of parental irresponsibility, and the use of classic dehumanizing rhetoric by a respected figure on the court, indeed set social (if not legal) precedents. Utilitarian activists do not need legal precedents to push their falsely humanitarian social engineering on the rest of society. Some dehumanizing rhetoric and a little we-know-better-than-the-parents smugness is all it takes.
Related Elsewhere
Read Hollinger's essay, which argues the doctrine of double effect.
Read Kennedy's essay, which argues against it.
Visit the Web sites for St. Mary's Hospital in Manchester where the surgery was performed, or the Great Ormond Street Hospital which has applied to become Britain's national center for conjoined twin operations.
Other media coverage of the operation includes:
When doctors play God—The Washington Times (Nov. 12, 2000)
Siamese twin Jodie making progress—The Times (Nov. 11, 2000)
Twin 'feeding normally' after separation—CNN (Nov. 10, 2000)
Siamese twin Jodie fights for life after separation—The Scotsman (Nov. 8, 2000)
UK medics to reveal fate of Siamese twins—The Times of India (Nov. 8, 2000)
Secrecy shrouds U.K. operation to separate twins—National Post (Nov. 8, 2000)
British Hospital Separates Siamese Twins, One Dead—Excite (Nov. 8, 2000)
Previous Christianity Today coverage includes:
One Conjoined Twin Dies After Surgical Separation | Remaining twin is making "steady progress" doctors say. (Nov. 9, 2000)
No Appeal of U.K. Ruling to Separate Conjoined Twins | Twins' parents say they are weary of battling government for right to decide their daughters' treatment. (Oct. 3, 2000)
British Court Overrules Parents in Conjoined Twins Case | Court orders operation when parents had hoped to let "God decide" outcome of joined twins. (Sept. 26, 2000)
Have something to add about this? See something we missed? Share your feedback here.
Our digital archives are a work in progress. Let us know if corrections need to be made.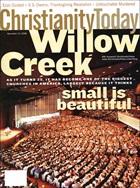 This article is from the November 13 2000 issue.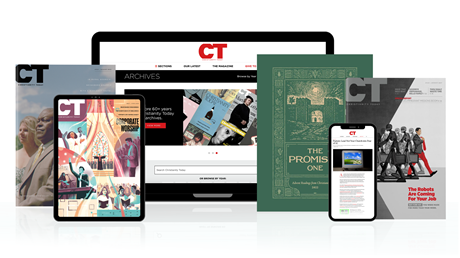 Annual & Monthly subscriptions available.
Print & Digital Issues of CT magazine
Complete access to every article on ChristianityToday.com
Unlimited access to 65+ years of CT's online archives
Member-only special issues
Subscribe
Read These Next
Trending

American Christians Should Stand with Israel under Attack

While we pray for peace, we need moral clarity about this war.

From the Magazine

I Studied Christianity with the Hope of Debunking It

A decade later, I became a Christian.

Editor's Pick

Don't Miss These African Christmas Hits

Jam out this season to highlife, Afrobeats, jazz, a cappella, R & B, rap, dance, and hip-hop artists from Nigeria, South Africa, and more.
A Lexicon of Death
A Lexicon of Death