Will voters cast a ballot of confidence for candidates' faith?
In light of all the religious rhetoric this election year The Washington Post decided to send seven reporters out to churches, temples, and mosques to see whether regular attenders' faith would influence how they voted. The results were mixed, but most of the Muslims, Jews, and Christians the Post interviewed said their faith shaped their world-view, so of course it had an impact on their vote. Ashraf W. Nubani, a Muslim lawyer, summed up the majority's feeling: "I don't think we can adhere to morality and ethics without having a religious component which comes from something greater. For me as a Muslim, that's God, the one known creator of the heavens and the universe." Some churchgoers were wary of politician's personal statements of faith, however. "It's always good to know where a person stands on religion," said Doretha O'Neal, a member of Mount Lebanon Baptist Church in Northwest Washington. "But you can't always tell if a person is saying that just to get a vote."
Creation to commandments in just one weekend On Nov. 12 and 13 NBC plans to win sweeps by airing a miniseries of Bible stories that begins in the Garden of Eden and ends at Mt. Sinai. (Don't expect too much; this is the same network that brought you that myopic horror of a miniseries, Noah's Ark, last year.) The big news is not the miniseries itself, but the fact that after all of last year's movies about Jesus, a claymation presentation of the gospel of Luke, and a prime time Peter Jennings report, Hollywood is still sensing that spirituality sells. Steve White, executive VP of movies and miniseries at NBC told The Los Angeles Times that the network wins both ways with religious fare. "Everyone ...
1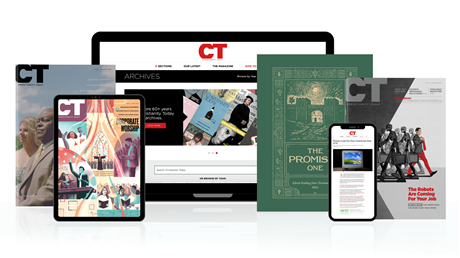 Find hope and historical insight. For a limited time, explore 60+ years of CT archives for free!
Daily devotions from Timothy Dalrymple during this pandemic.
Hundreds of theology and spiritual formation classics from Philip Yancey, Elisabeth Elliot, John Stott, and more.
Home delivery of new issues in print with access to all past issues online.
Join now and get print issues access to archive PDFs.
Voting God's Way?
Voting God's Way?