Will voters cast a ballot of confidence for candidates' faith?
In light of all the religious rhetoric this election year The Washington Post decided to send seven reporters out to churches, temples, and mosques to see whether regular attenders' faith would influence how they voted. The results were mixed, but most of the Muslims, Jews, and Christians the Post interviewed said their faith shaped their world-view, so of course it had an impact on their vote. Ashraf W. Nubani, a Muslim lawyer, summed up the majority's feeling: "I don't think we can adhere to morality and ethics without having a religious component which comes from something greater. For me as a Muslim, that's God, the one known creator of the heavens and the universe." Some churchgoers were wary of politician's personal statements of faith, however. "It's always good to know where a person stands on religion," said Doretha O'Neal, a member of Mount Lebanon Baptist Church in Northwest Washington. "But you can't always tell if a person is saying that just to get a vote."
Creation to commandments in just one weekend
On Nov. 12 and 13 NBC plans to win sweeps by airing a miniseries of Bible stories that begins in the Garden of Eden and ends at Mt. Sinai. (Don't expect too much; this is the same network that brought you that myopic horror of a miniseries, Noah's Ark, last year.) The big news is not the miniseries itself, but the fact that after all of last year's movies about Jesus, a claymation presentation of the gospel of Luke, and a prime time Peter Jennings report, Hollywood is still sensing that spirituality sells. Steve White, executive VP of movies and miniseries at NBC told The Los Angeles Times that the network wins both ways with religious fare. "Everyone watches these stories ... that's the definition of broad appeal, " White said. Stay tuned for CBS's Adam&Eve, A&E's documentary on Christianity in the second millennium, and NBC's life of Mary Magdalene next fall.
State to issue bonds for Christian college
Virginia's Supreme Court has ruled that the state can issue bonds for the construction of Pat Robertson's Regent University without violating separation of church and state. The court ruled that,"no taxpayer dollars are transferred directly or indirectly to the participating institution," so the bond issue wouldn't violate law. The court also ruled that Regent's school of divinity could not use college buildings financed by bonds because Virginia's constitution prohibits the state from participating in religious training. Americans United for Separation of Church and State called the ruling "a miserable decision" and planned to appeal.
A mandatory Five-Minute Walk?
Well actually, more like ten minutes. The president of Honduras is considering a congressional proposal that would make ten minutes of Bible reading mandatory at the start of each school day. Several church leaders oppose the measure, saying it is political manipulation to get evangelical votes, and that forced readings will cause students to no longer respect or "believe in the word of God." The archbishop of Tegucigalpa is urging the president to send the bill back to congress for further debate.
Windows 2000, with German options
Microsoft is willing to remove part of Windows 2000 for German clients concerned that it was developed by a firm that is led by a Scientologist. The author of the Microsoft tool, Executive Software Incorporated, is a company in California whose CEO is a Scientologist. ``Since in Germany they are very, very sensitive with these things, they recommended not to use this tool, " Microsoft spokesman Thomas Baumgaertner said. Germany has refused to recognize Scientology as a religion and calls it a cult that exploits members for financial gain. The German government was so concerned about security risks that the Deputy Interior Minister met with the head of Microsoft Germany to hear an explanation of how the defragmenter tool could be removed from the program. Microsoft officials will continue to recommend the tool, but said they wanted to give their German clientele the freedom to operate without it.
Related Elsewhere
See our past Weblog updates:
October 27 | 26 | 25 | 24 | 23
October 20 | 19 | 18 | 17 | 16
September 29 | 28 | 27 | 26 | 25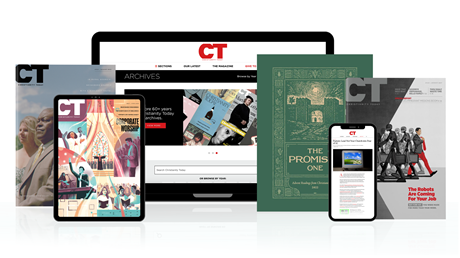 Subscribe to Christianity Today and get access to this article plus 65+ years of archives.
Home delivery of CT magazine
Complete access to articles on ChristianityToday.com
Over 120 years of magazine archives plus full access to all of CT's online archives
Subscribe Now
Voting God's Way?
Voting God's Way?