Gucci, Gap, and God's own
Mainline Protestant churches want you to know what they stand for, and the answer is not simply Christ. After years of communal blending denominations want to be recognized for their traditional religious identities. They want their members and the public to be more aware of their history and their beliefs—to put it in crass, commercial terms (as The Wall Street Journal did when it first printed this story), they want consumers to recognize their brand identity. Different denominations are attacking this dilemma in different ways: Presbyterians are offering Sunday-school courses that teach denominational theology, Lutherans have launched "Project Identity," and as we mentioned in Weblog last week, Methodists are launching a $20 million ad campaign to teach America what Methodism means. There is a lot of rich church heritage to claim, so hopefully these campaigns will go much deeper than slogans, logos, and stereotypes.
Boy Scouts fire homosexual leader
A leading California Scouting official has been dismissed after revealing he is a homosexual. Leonard Lanzi was fired a week after he told the Santa Barbara County Board of Supervisors "I am gay" at a meeting to cut support for the Scouts because they exclude homosexuals. Lanzi, the executive director of the Los Padres Council of the Boy Scouts of America, is the most prominent Scouting official to lose his position since last June when the U.S. Supreme Court ruled in favor of the Boy Scouts of America's right to exclude homosexuals. Santa Barbara County's Human Relations Commission is proposing that the county end financial support for the Boy Scouts based on local anti-discrimination laws. Other cities have taken similar stances since the Supreme Court's ruling. Chicago no longer allows the Boy Scouts to use city parks, buildings, and schools free of charge and San Francisco no longer sponsors Scouting programs during school hours. The State of Connecticut is deciding whether it will bar the Scouts from using public campgrounds and buildings.
Christian college's adult education programs challenge schools' missions
Only subscribers to The Chronicle of Higher Education will be able to access this story, but we felt the topic merited mention. The Chronicle story says that while "adult B.A. programs may boost the bottom line, they bring to Christian colleges a variety of secularizing trends. Meanwhile, adult students note little change in their own religious attitudes or activities as a result of their attendance." The story also points out that as adult education on Christian campuses has grown in popularity, it has created an environment where schools are serving "two entirely different student populations, with conflicting backgrounds, agendas, values, and goals." Because of the financial success of the programs, the article predicts schools will continue to promote and expand them, touting "convenience and practicality rather than the traditional integration of faith and learning."
Survey finds religious freedom "deteriorating" worldwide
The majority of the world lives in countries where religious liberties are restricted if not banned, according to the recently released A Global Survey of Religious Freedom and Persecution from The Center for Religious Freedom at Freedom House. Now is the perfect time for pastors, churches, and concerned Christians to read up on countries where Christians are suffering for the name of Christ, because Sunday, November 12, is the International Day of Prayer for the Persecuted Church. Resources for planning prayer events for your church or small group are available online.
He just keeps praying and praying and praying
Football Coach Don Wolan, who is also a pastor at Downriver Christian Community Church in Michigan, has refused to stop praying with his team before each game, in spite of an American Civil Liberties Union threat to sue. "Most people don't give it a second thought until the ACLU or one of those groups makes a big deal out of it," Wolan said. But the ACLU sees it differently, saying that Wolan is in violation of the Supreme Court's Santa Fe Independent School District v. Doe ruling, and that his actions could have serious consequences for the school district if it allows him to continue to coach and pray.
Related Elsewhere
See our past Weblog updates:
November 6
October 27 | 26 | 25 | 24 | 23
October 20 | 19 | 18 | 17 | 16
September 29 | 28 | 27 | 26 | 25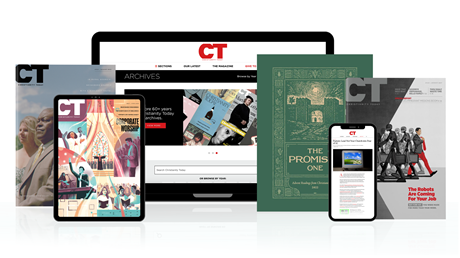 Subscribe to Christianity Today and get access to this article plus 65+ years of archives.
Home delivery of CT magazine
Complete access to articles on ChristianityToday.com
Over 120 years of magazine archives plus full access to all of CT's online archives
Subscribe Now
What's Your Church Brand?
What's Your Church Brand?