When presidential hopeful Al Gore named Senator Joseph Lieberman his running mate, the press immediately began to speculate about hidden anti-Semitism in the American electorate. Despite what you read in the papers, Lieberman is not the first Jew to run for national office—if you count that assimilated Jew from Arizona Barry Goldwater. Did anyone in 1964 worry about the fact that Goldwater's grandfather fled Poland because of the pogroms? As a teenager in Arizona, I remember hearing debate over his "extremism in the defense of liberty." But not a word of concern about his Jewishness.The history of Jews in Western civilization shows that true anti-Semitism targets even the assimilated, sees them as a greater threat because of the covert nature of their identity.Is America ready for a Jewish candidate? I believe the answer is yes. But the more interesting questions are these: Is the political world ready for a candidate who is concerned to close the gap between the legal and the moral? And can the political world accommodate the faith of an observant Jew?Let's look first at Jewish practice. Torah observance—keeping Kosher, observing Sabbath, and so forth—was designed to separate God's people from the surrounding nations. Some of that separation had an ethical character ("You shall not bear false witness") and some of it was symbolic ("You shall circumcise every male child on the eighth day"). But it was all designed to build up a strong sense of identity and ultimately of mission: to be "a light to the nations." A Judaism that contents itself with Torah observance for the sake of preserving a people's identity is shallow, flat, thin. But a Judaism that understands its moral mission to the rest of us is deeply textured and true to its calling.
And so what of the question raised in the press?
Can Joseph Lieberman continue to observe the Sabbath as a vice-president (or even a president) as he has in the Senate?
Will it conflict with his political duties?
Of course it will conflict with his political duties. And that is exactly why we should look forward to the experiment. Politics is a 24/7 kind of world. At its top levels, it is a parade of appointments with the rich, the powerful, the influential, and the people who are none of those things but who can be turned into photo ops and good press. Staff manage your time for maximum political effect. And, occasionally, there is the need to attend to actual policy initiatives which will improve the lot of the people. That has to be squeezed in as well.When Isaiah said there is no rest for the wicked, did he have the American president and vice-president in view? Perhaps, but one of the moral commands of the Torah makes it clear that no one, whether master or servant or farm animal, is to work all week. A day of restful remembering that we live under the creative and liberating power of God is prescribed.
And what better place to begin modeling that pattern than a heartbeat away from the presidency?
The Chicago Tribune's Ron Grossman writes that for the "shomer shabbat [the guardian of the Sabbath], egoism is out from Friday evening, when the Sabbath begins, until Saturday evening, when it ends. Imagine if those work rules were put in place at the White House. An influential senator, say, might ring up some Saturday to tell a presidential counselor that he finally is able to cook a legislative deal that's been at the top of the administration's political want-list. He'd be told to call back that evening after havdalah, the prayers said over fragrant spices that mark the Sabbath's end."Keeping Sabbath at such high levels will mean, of course, that staffers will not be able to squeeze Lieberman's spirit dry as they wring every second of political opportunity from his schedule. But surely that is not what governance is about. Surely good governance is as much about modeling and calling for virtue as it is about attending to the egos of large donors.Which brings us to that other question: Is the political world ready for a candidate who is concerned to close the gap between the legal and the moral? Lieberman has written about this gap. In In Praise of Public Life (co-authored with Michael D'Orso) he writes:
"During the past several years, the American people have watched too many public figures in both parties try to make distinctions between whether something is legal or whether it is right. [Does anyone spring to mind?] The consequences for our politics have been disastrous, because the people correctly see these as attempts to rationalize behavior that is wrong, and they turn away disgusted."
Torah observance will not guarantee a moral candidate. God placed too much rationalizing ingenuity in the human heart. Those who want to keep the rules—even God's rules—can find a way to line their pockets and bolster their power. Yet Torah observance could be a great starting point, a moral wake-up, I-needed-that slap in the face. The sharp contrast to the current administration's hypocritical casuistry could even provoke angry reactions from those who prefer to let their consciences to continue to drowse. And that renewed impetus for a moral debate should, if anything, be a big plus for the candidacy of America's first observant Jew to run for national office.
David Neff is Editor of Christianity Today.
Related Elsewhere
:See today's Weblog for other articles about Lieberman.
Have something to add about this? See something we missed? Share your feedback here.
Our digital archives are a work in progress. Let us know if corrections need to be made.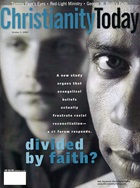 This article is from the October 2 2000 issue.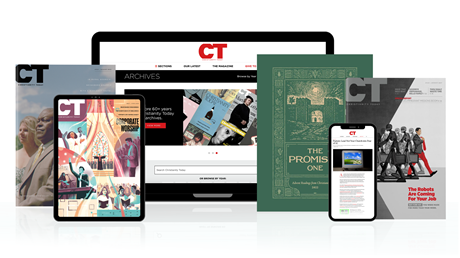 Subscribe to Christianity Today and get access to this article plus 65+ years of archives.
Home delivery of CT magazine
Complete access to articles on ChristianityToday.com
Over 120 years of magazine archives plus full access to all of CT's online archives
Subscribe Now
Politics and the Observant Jew
Politics and the Observant Jew