After an earlier survey showed that 1,000 young people were leaving British churches every week, Youth for Christ surveyed youth workers to find out why. Only 15 percent said teens are abandoning the church because they're bored, but 3 out of 4 said youth have so many other activities in their lives that they're too busy for church. Forty-seven percent blamed family and peer pressure, and 40 percent said non-Christian boyfriends or girlfriends often lead teens away from church.
Sunday's service at Saints Stephen and James' Evangelical Lutheran Church in Federal Hill, Maryland, was a little different. On the altar, next to the Bible, were duckpins, a bowling ball, and bowling shoes. The number on the hymn board was 300. And praise was given to the church's neighboring Southway Bowling Center, which is due to close. "We know in our heart and in our memories that God's grace was present with us each time we bowled," church member and lifelong duckpin bowler Mel Tansill said at the service. "For this, we gather together today in his name to give thanks." Strangely, the story doesn't note that there is some appropriateness to this kegler-centric service in a Lutheran church. Martin Luther was himself an avid bowler who had his own bowling lane. Many bowling historians even credit him with standardizing the rules of nine-pin bowling. (Here's a sermon illustration that tells a bit of the story and has a moral lesson about bowling.)
More conservatives are concerned about Bush-Cheney ticket
The Los Angeles Times quotes Jerry Falwell: "I disagree with Mr. Cheney on his suggestion that the states should be allowed to sanction any relationship they wish. … [Cheney] could have given a firmer and stronger answer." The New York Times, meanwhile, quotes Kenneth L. Connor, new president of the Family Research Council ("[Cheney's] comments were, no doubt, heartening to those in the gay community who want to redefine marriage to include homosexual unions. If traditional marriage is the foundation of society, what do last night's comments say about the stability of our foundation?") and Tim Wildmon, president of the American Family Association ("Live and let live is fine as a policy for people's private lives, but Secretary Cheney should have been much stronger in saying that same-sex marriages are wrong. … Secretary Cheney basically said that if a state decided to legalize homosexual marriage—or polygamy, for that matter—he thought that was 'appropriate,' as long as it was decided on the state level"). See yesterday's Weblog for more comments of disapproval.
As noted earlier in Weblog, Wheaton College traded its Crusader mascot for the less offensive Thunder. The Los Angeles Times asks for reaction from Holy Cross in Massachusetts, which still uses a Crusader mascot. "Maybe weather symbols are the way to go," says James F. Powers, a history professor at the school. "Weather is an impersonal force of nature," so it can't be called bigoted. Indeed, it thunders on the just and the unjust. But Powers suggests that the Wind or Breeze or Drizzle may not be mascots of the future.
Keith Wright may be a bit disturbed. When serving as organist at St Paul's Church in Manchester, England, he would shout at congregation members for talking during his playing. After he was fired, he stalked the choir mistress day and night. He reportedly sent her hundreds of letters, followed her in her car, left countless messages on her answering machine, showed up at her office, padlocked the gates to her house, and did other such conduct unbecoming an organist. But the harassment case against him was thrown out because the case was filed in the wrong court. (See also The Telegraph's coverage.) In a not-really-related story, a priest in Northumberland, England, answered a knock at his door, only to be punched in the face by an unknown assailant who then fled without uttering a word.
An earlier Weblog about Indianapolis Baptist Temple said that the pastor "ordained all of the church's employees as ministers and stopped withholding income and Social Security taxes." That was based on an incorrect Associated Press story. The employees weren't ordained as ministers, they were commissioned as such. Weblog profusely apologizes for the error and regrets any damage it may have inflicted on Indianapolis Baptist Temple, the American Coalition of Unregistered Churches, the commissioned ministers, or the IRS.
Related Elsewhere
See our past Weblog updates:
October 9
October 6 | 5 | 4 | 3 | 2
September 29 | 28 | 27 | 26 | 25
September 21 | 20 | 19 | 18
September 15 | 14 | 13 | 12 | 11
September 7 | 6 | 5
September 1 | August 31 | 30 | 29
August 25 | 24 | 23 | 22 | 21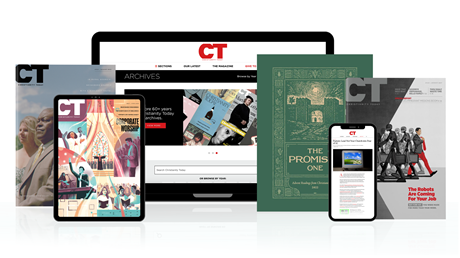 Annual & Monthly subscriptions available.
Print & Digital Issues of CT magazine
Complete access to every article on ChristianityToday.com
Unlimited access to 65+ years of CT's online archives
Member-only special issues
Subscribe
Teens Too Busy for Church Says Survey
Teens Too Busy for Church Says Survey