High-profile companies keep low profile on porn sales
Companies have long been using sex to advertise for phones and cars, but perhaps you're not aware that major corporations like AT&T and General Motors are currently raking in big bucks for peddling "adult entertainment." According to this story from The New York Times, Americans spend $4 billion a year on graphic sex videos and at least $800 million on less explicit sexual films. That makes up about 32 percent of business for most general retail video stores. "None of the corporate leaders of AT&T, Time Warner, General Motors, EchoStar, Liberty Media, Marriott International, Hilton, On Command, LodgeNet Entertainment or the News Corporation—all companies that have a big financial stake in adult films and that are held by millions of shareholders—were willing to speak publicly about the sex side of their businesses," noted the Times, quoting an AT&T official as responding "How can we? It's the crazy aunt in the attic. Everyone knows she's there, but you can't say anything about it." Bryn Pryor, technology editor for the trade magazine Adult Video News, said that it was more than the ease of delivering porn through technology like DirectTV and the Internet driving larger companies' interest in the porn market. "It's not just technology that made the big boys get into it," he told The New York Times. "This just happens to be a business where you can't lose money."
What is revival?
This U.S. News piece does a great job of outlining some spiritual trends like the 75 percent increase of Christian music sales and popularity of the Left Behind series, but then manages to call these economic/entertainment trends what they are: economic and entertainment trends. The editors write, "If America is in the midst of another religious revival, it surely lacks the 'fire and brimstone' sermons of its predecessors. In fact, beyond the rise of the Christian right, recent years have seen a rise in 'Christianity lite.' Prime-time TV shows like Touched by an Angel and 7th Heaven are prime examples of what some call 'low-cal' Christianity. Religion and entertainment mesh in the Left Behind novels, an apocalyptic fiction series that has collectively sold 18 million copies. Hardly the stuff of New England fireball preacher Jonathan Edwards." Kudos to U.S. News for not equating America's measure of success (big cash booms) with heaven's currency, or spending trends with righteous repentance.
Speaking of awakenings ...
Weblog recently mentioned Alan Wolfe's Atlantic Monthly cover story, "The Opening of the Evangelical Mind." Wolfe's piece, combined with Christianity Today's recent article on predestination, "Free To Be Creatures Again," spurred New York Times columnist Peter Steinfels to ask why evangelical intellectuals seem so rare in mainstream academia. After many paragraphs lauding Jennifer L. Bayne and Sarah E. Hinlicky for the "charm" of their predestination piece, Steinfels concludes, "It is not only evangelical or Christian or religious minds that can use a little opening. The mind of the cosmopolitan culture could also open itself to new blood and fresh views."
Jews for Jesus advertises for Israel
Yesterday the Messianic group Jews for Jesus ran a full-page ad in The New York Times saying, "The only hope for peace was born in the Middle East. Y'shua the Messiah is the Prince of Peace." The ad called for Christians to support Israel, to call for restraint on both sides of the conflict, and to share Christ with Jews and Arabs alike. What is Joan Rivers going to say about this one?
11th Circuit reconsiders—and still likes prayer in schools
The Supreme Court has been legislating up a storm these days. The most recent decision regarding school prayer by the Supreme Court outlawed public religious addresses when students were selected by the school and used the school's P.A. system to pray before football games. Because this wasn't private speech, the Supreme Court said it was not constitutionally protected. After ruling on this case from Santa Fe, the Supreme Court ordered the 11th Circuit Court to review its recent decision to allow schools to continue student-led prayer over the intercom and before graduation and other school events. Now the 11th Circuit Court is done with its review process and sticking to its decision to allow student prayer in Alabama schools. "Private speech endorsing religion is constitutionally protected—even in school," said the decision, written by Senior Judge James C. Hill. "Such speech is not the school's speech even though it may occur in the school. Such speech is not unconstitutionally coercive, even though it may occur before nonbeliever students." (See the text of the decision in HTML format, or as a Zipped WordPerfect document at the court's official site.)
Related Elsewhere
See our past Weblog updates:
October 23
October 20 | 19 | 18 | 17 | 16
October 13 | 12 | 11 | 10 | 9
October 6 | 5 | 4 | 3 | 2
September 29 | 28 | 27 | 26 | 25
September 21 | 20 | 19 | 18
September 15 | 14 | 13 | 12 | 11
September 7 | 6 | 5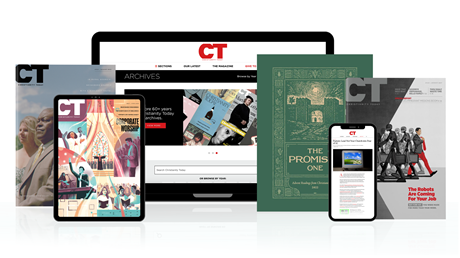 Annual & Monthly subscriptions available.
Print & Digital Issues of CT magazine
Complete access to every article on ChristianityToday.com
Unlimited access to 65+ years of CT's online archives
Member-only special issues
Subscribe
Mega Corps Make Mega Bucks with Porn
Mega Corps Make Mega Bucks with Porn