Texans to split from the SBC?
The Baptist General Convention of Texas voted yesterday to redirect $5 million in funds away from the Southern Baptist Convention (SBC), in a move that many feel is a precursor to a denominational split. Texans make up one-fifth of the SBC, and half of Southern Baptists seminarians attend Texas's more moderate schools. The Baptist General Convention of Texas voted to withdraw $4 million from six SBC seminaries, which it claims teach an "over-direct" approach to evangelism at the expense of Christian social work. Texas Baptists also cut off $1 million in support for the SBC's headquarters in Nashville. The state convention will continue to contribute $20 million directly to missionary work at home and abroad, but Texas leaders also changed their constitution to welcome other states to join the Texas convention and serve on its committees. Many see this move as the beginning of a competing denomination. More on this story is available from The Los Angeles Times, The Baltimore Sun,The National Post, and The Miami Herald. Also read up on denominational perspectives from the more general Associated Baptist Press or the SBC's Baptist Press (Baptist Press didn't have anything on its site this morning, but might post something later.)
Dependents won't seek independence, says Globe
Also, don't miss this gem from The Boston Globe that intimates that while many SBC congregations in New England might be more philosphically linked to moderates, the majority of New England's SBC churches are financially dependent on the denomination. That means no one's jumping ship up North, according to the Globe.
He's a giver, not a fighter
AOL's Steve Case has been in hot water with homosexual-rights advocates for the past month after it came to light that he and his wife, Jean, gave $8.35 million to Jean Case's alma mater, Westminster Academy. Westminster is associated with James Kennedy's Coral Ridge Ministries, which runs a ministry for ex-gays. Leaders of the Human Rights Campaign, a prominent homosexual-rights group, told Case that "from our point of view, your gift will only create an assembly line of hate and intolerance, where the minds of impressionable young men and women will be poisoned with divisive rhetoric that tears apart the fabric of our diverse society." Jean Case replied with a letter explaining that while her school is closely affiliated with Kennedy, her gift was designated to build a new high school, not support anti-homosexual activities. The Human Rights Campaign insisted her reply was inadequate and pushed for Case himself to explain his charitable contribution. Case said that he and his wife gave to each of their alma maters at the same time out of thankfulness for their academic experiences. This was not acceptable to many pro-homosexual organizations who said even slight affiliation with Westminster and Coral Ridge casts aspersions on the Cases' character. "I could not find that a dime had gone to a gay organization of any kind, while we now know that millions of dollars goes toward conservative and anti-gay organizations," said Michelangelo Signorile of Gay.com after Case's donation led him to research the AOL chairman's pattern of giving. Signorile noted Case has given six-figure gifts to, among other Christian groups, the McLean Bible Church (which Case has been known to attend) and the Billy Graham Evangelistic Association.
Low-powered FM fight gets Wired
Not a lot of new news in this Wired story, except that Wired paints the fight for low-powered FM as a David vs. Goliath battle "pitting churches against big business" and faith-based organizations like the National Association of Evangelicals against the National Association of Broadcasters. But churches and religious broadcasters aren't the only groups who want more 10- to 100-watt stations to be granted licenses from Federal Communications Commission—religion-related organizations make up 47 percent of the requests for new licenses. Christianity Today has also covered this story ("More Talk, Less Static") and will continue to keep you updated as legislative initiatives move forward.
Preaching Mahon
Tom Mahon, author and technology guru, recently gave a great interview to the Silicon Valley News about the role of religion in a digital society. Mahon says, "Digital technology is powerful and often beneficial. But it's not a lifestyle choice. We need some other more lasting foundation." His solution to the accelerating speed of a tech-hyped life? A digital Sabbath. Mahon also lets loose on how few engineers and scientists feel a moral responsibility to their community equal to their technological capability. One way that he hopes to work against that is by creating Engineers Without Frontiers, modeled on the noble-winning charity Doctors Without Borders. Mahon says that changing technology means we must update our view of God: "The creed of the Christian church, the Nicene Creed, was written in the 4th century when Ptolemy's view of the earth was dominant. So the core belief statement of the largest religion in the developed world still reflects Ptolemy's flat-earth physics in which the earth is a flat disk in between the dome of heaven and the bowl of hell." Mahon also believes technology makes us like our maker. "We are mastering the quantum, the gene, the bit," he says, "We can manipulate the world at the most fundamental levels, but we're exercising these God-like powers without God's sense of responsibility."
Related Elsewhere
See our past Weblog updates:
October 30 |
October 27 | 26 | 25 | 24 | 23
October 20 | 19 | 18 | 17 | 16
October 13 | 12 | 11 | 10 | 9
October 6 | 5 | 4 | 3 | 2
September 29 | 28 | 27 | 26 | 25
September 21 | 20 | 19 | 18
September 15 | 14 | 13 | 12 | 11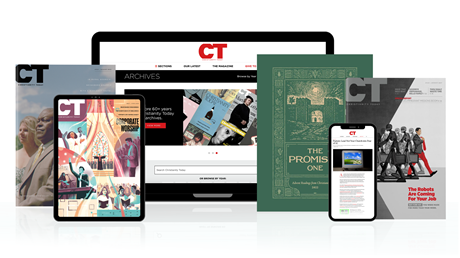 Annual & Monthly subscriptions available.
Print & Digital Issues of CT magazine
Complete access to every article on ChristianityToday.com
Unlimited access to 65+ years of CT's online archives
Member-only special issues
Subscribe
Texas Baptists Redirect $5 Million from the SBC
Texas Baptists Redirect $5 Million from the SBC