Moment of Silence
Virginia's controversial law requiring students in public schools to observe a minute of silence at the beginning of each day has been upheld by a federal judge in Alexandria. The ACLU, which brought suit for several Virginian students, said it will continue to appeal on the grounds that the silence violates the separation of church and state. U.S. District Judge Claude M. Hilton said that the law, adopted by the Virginia Legislature in hopes that a moment of contemplation could prevent incidents like Columbine, "was enacted for a secular purpose, does not advance or inhibit religion, nor is there excessive tanglement with religion." The law itself reads: "each pupil may, in the exercise of his or her individual choice, meditate, pray, or engage in any other silent activity." Students say the minute is wasted anyway. A student editorial in the George Mason High School (Falls Church, Virginia) paper last week said, "Anyone in this school could tell them now in a paragraph memo that the majority of students ignore the government-sponsored reverie."
Bill Bright diagnosed with lung condition
Bill Bright, founder of Campus Crusade for Christ, has been diagnosed with pulmonary fibrosis of the lung. Bright spent three days undergoing tests at the Mayo Clinic in Rochester, Minnesota—the same hospital where Billy Graham recovered from his health problems last August—only to learn that he has a lung condition with no known cure. Pulmonary Fibrosis is a buildup of scar tissue in the lung which destroys the tissue's ability to transport oxygen. Bright, 79, has agreed to slow down in the near future, but told his staff, "I'm here to do what God still has for me to do on this earth and whenever that is finished, I am ready to be with him in heaven. There is still so much work to be done." Steven Douglass, president designate of Campus Crusade for Christ, was scheduled to officially assume Bright's duties in August of 2001, but whether that transition needs to progress more rapidly is still unclear. Bright's wife, Vonette, said that the couple consider themselves extremely blessed seeing their successors "in action with a smooth transition in leadership, and our children serving in full-time ministry."
Exorcisms on the rise, says The Los Angeles Times
This story not only traces Catholic trends like the growing the number of church-appointed exorcists from one in 1990 to between 15 and 20 today, and Cardinal George's request that an exorcist be appointed to the Chicago Archdiocese, but it also examines how evangelicals are responding to increased exorcism requests. Bob Larson has built an entire radio and video ministry centered on public exorcisms, while Hank Hanegraaff of the Christian Research Institute says such exorcisms are simply "a sensational, fast-food solution to long-term problems that absolves you of any responsibility for your vices." Both Biola University and Fuller Theological Seminary are offering courses in spiritual warfare and discernment to help ministers deal with the controversial topic.
Too mature for God, now, are we?
British columnist Joan Smith is rejoicing at the Archbishop of Canterbury's recent sermon statement that "a tacit atheism" prevails throughout Britain. Smith is thrilled that "a majority of the population no longer accepts the central tenets of Christianity," which proves "the poverty of the church's contemporary vision." Smith says, "Clerics may disapprove of Prozac, but fairy stories are all they have to offer as an antidote to the human condition." All in all, Smith concludes that a dwindling number of believers "is in my view a very good thing, although I am not sure that Dr Carey is accurate in diagnosing a surge in atheism. I am dismayed by how often people express views that resemble deism or even animism, suggesting disillusionment with traditional forms of worship as much as the notion of a supreme being." Her lowest blow: "We have, for the most part, outgrown such infantile attitudes in this country." I wonder how many letters The Guardian has gotten over that last sentence alone?
Beginning at the end
The producers of Left Behind have decided to do film distribution backwards: they began releasing the film on video yesterday, four months before its February big-screen release. But is this a sign of their confidence in the film, or a sign that the numbers don't support a nationwide release in theaters just yet? "The video release is really about giving people a chance to see what it is they're going to support, and then to mobilize it for the Feb. 2 release," producer Peter Lalonde told The Ottawa Citizen. Video cassettes include coupons to buy theater tickets for reduced prices, but a big part of the marketing strategy for Left Behind is getting church groups to sponsor a theater. So far, 400 screens are committed to show the film in its first weekend. Left Behind is based on a best-selling series of books about the apocalypse by Tim F. LaHaye and Jerry B. Jenkins. The books' authors have seen the film, and Jenkins said, "I liked it a lot." Will audiences who have faithfully consumed the series in print feel the same?
Related Elsewhere
See our past Weblog updates:
October 27 | 26 | 25 | 24 | 23
October 20 | 19 | 18 | 17 | 16
September 29 | 28 | 27 | 26 | 25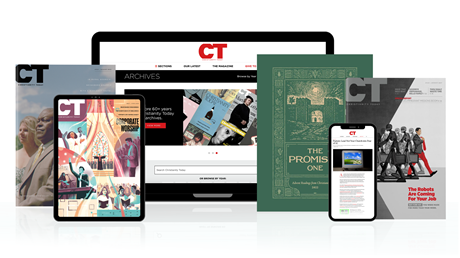 Annual & Monthly subscriptions available.
Print & Digital Issues of CT magazine
Complete access to every article on ChristianityToday.com
Unlimited access to 65+ years of CT's online archives
Member-only special issues
Subscribe
A Silent Celebration of Prayer
A Silent Celebration of Prayer