Having burned through its initial $30 million investment from Family Christian Stores, Madison Dearborn Partners, and Andersen Consulting, Christian Web site iBelieve.com was unable to get another penny—and was forced to shut down. "We met or exceeded all of our traffic metrics, experienced revenue growth every month since launch and realized our goal of becoming the leading Christian Internet site," said Jef Fite, president of iBelieve.com, says in the press release. "However, like many other Internet companies, we were not able to raise capital given the current market conditions, and we are left without options." The site's home page now has a letter explaining the shut down, but earlier today there were signs of perhaps disgruntled employees—or just bad luck. An instant e-poll asked: "How would you describe your financial status?
[ ] No financial problems right now,
[ ] Money is tight, but not serious,
[ ] Major financial problems."
IBelieve.com had conveniently already checked the final box.
The former president—probably one of the most famous Southern Baptists other than Billy Graham—is announcing his departure from the denomination in a letter to 75,000 Southern Baptists across the nation. "This has been a very difficult thing for me," Carter told The Atlanta Journal-Constitution. "My grandfather, my father and I have always been Southern Baptists, and for 21 years, since the first political division took place in the Southern Baptist Convention, I have maintained that relationship. I feel I can no longer in good conscience do that." Carter says the last straw was the new Baptist Faith and Message, which excludes women from being pastors, and eliminates the line that "The criterion by which the Bible is to be interpreted is Jesus Christ." "I have always felt and feel very deeply that the ultimate interpreter of Scripture is Jesus Christ," he tells the Journal-Constitution. James Merritt, president of the SBC, calls Carter's leaving "an unfortunate turn of events" and acknowledges Carter as "a man of sincere faith," but suggests the former president's concerns are antibiblical. "[We] cannot maintain a relationship with anyone that would come at the expense of what we believe to be biblical truth," he tells the paper. Excerpts from Carter's letter are available in a related article in The Dallas Morning News, which places Carter's leaving in the context of the expected vote next week by the Baptist General Convention of Texas to reduce funding for SBC agencies and seminaries, and to essentially form a separate denomination. The Associated Press also picked up the story, but it's a summary of the Journal-Constitution piece. The Associated Baptist Press piece extends Carter's remarks, while the denomination's official Baptist Press basically claims there's no news here and that has long been a moderate whose sympathies have been with the Cooperative Baptist Fellowship.
Just two days after Baylor University released a report legitimizing the Michael Polanyi Center's research into Intelligent Design, the Polanyi Center's director, William Dembski, was fired from the position. He will still be an associate professor at the school. Reportedly, Dembski's demotion came for an e-mail press release he sent out celebrating the report. "The report marks the triumph of intelligent design as a legitimate form of academic inquiry," he wrote. "This is a great day for academic freedom. I'm deeply grateful to President Sloan and Baylor University for making this possible, as well as to the peer review committee for its unqualified affirmation of my own work on intelligent design. The scope of the Center will be expanded to embrace a broader set of conceptual issues at the intersection of science and religion, and the Center will therefore receive a new name to reflect this expanded vision. My work on intelligent design will continue unabated. Dogmatic opponents of design who demanded the Center be shut down have met their Waterloo. Baylor University is to be commended for remaining strong in the face of intolerant assaults on freedom of thought and expression." It's those last two sentences that apparently got him into trouble. "The theme of the report emphasized the need for the individuals associated with the center to work in a collegial manner with other members of the Baylor faculty," said Michael Beaty, director of the school's Institute for Faith and Learning. "Dr. Dembski's actions after the release of the report compromised his ability to serve as director." Dembski disagrees. "Intellectual McCarthyism has, for the moment, prevailed at Baylor," he says. See our earlier article on the faculty's antagonism toward the Polanyi Center and a few articles by Dembski in Books & Culture. The Houston Chronicle also covers the story. More to come.
Related Elsewhere
See our past Weblog updates:
October 18 | 17 | 16
October 13 | 12 | 11 | 10 | 9
October 6 | 5 | 4 | 3 | 2
September 29 | 28 | 27 | 26 | 25
September 21 | 20 | 19 | 18
September 15 | 14 | 13 | 12 | 11
September 7 | 6 | 5
September 1 | August 31 | 30 | 29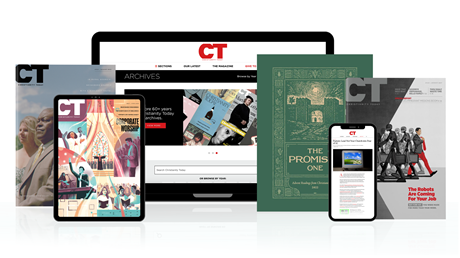 Annual & Monthly subscriptions available.
Print & Digital Issues of CT magazine
Complete access to every article on ChristianityToday.com
Unlimited access to 65+ years of CT's online archives
Member-only special issues
Subscribe
Plug Pulled on IBelieve.com
Plug Pulled on IBelieve.com