After nine days of hearing 22 plenary speakers and a dozen seminar and workshop leaders, and meeting countless coworkers from around the world, participants of the Amsterdam 2000 conference for preaching evangelists heard what they really wanted: they got to hear Billy Graham tell them he loved them and encourage them in their work."I have been with you every day by satellite and have been convicted, challenged, and blessed with what my ears have heard, my eyes have seen, and my heart has felt," the 81-year-old evangelist said in a taped message from the Mayo Clinic in Rochester, Minnesota. "As you go home, I want you to know that I love you, individually and collectively, with all my heart." Due to health concerns relating to his Parkinson's Disease and hydrocephalus, Graham had to cancel plans to attend the conference himself. He was also too tired to address the conference via satellite at its opening session. The final session of the conference focused on the most multinational celebration of the Lord's Supper in history, with participants from 209 countries and territories. The conference finale was also marked by the distribution of two documents, a 14-point "Covenant for Evangelists" and a 10-page report from the conferences' three task groups titled "The Amsterdam Declaration: A Charter for Evangelism in the 21st Century."Neither holds any major surprises and reflected the recurring themes of the conference. The Covenant for Evangelists, for example, contains pledges to "worship the one true and living God," "be part of a local fellowship of believers," "maintain financial integrity and accountability," and "serve the needy and oppressed."The Amsterdam Declaration also includes pledges, which differ slightly in tone and depth from the Covenant. Because Graham felt that delegates to the 1974 Lausanne Congress on World Evangelization were not given sufficient time to reflect on that meeting's Covenant before being asked to sign it, Amsterdam 2000 organizers are not immediately seeking signatures on the Declaration. Instead, they are instead commending it "to God's people everywhere as an expression of evangelical commitment and as a resource for study, prayer, and evangelistic outreach."Like the Amsterdam 2000 conference itself, the document is less concerned with methodology and specific plans as it is with correct theology, priority, and reasserting the importance of evangelism."The mission of the church has at its heart world evangelization," the statement notes early on. Later, it echoes plenary sessions on the evils of postmodernism, the primacy of the Bible, the need for cultural relevancy, and the uniqueness of Christ. "As we enter into dialogue with adherents of other religions, we must be courteous and kind," the Amsterdam Declaration notes in its section on religious pluralism. "But such dialogue must not be a substitute for proclamation."The Declaration also touches on a few controversial issues that were peripherally addressed at the conference. For example, the document says, "We must give special attention to encouraging women … in their work of evangelism."Earlier in the week, John Corts, general director of Amsterdam 2000 and president of the Billy Graham Evangelistic Association, said the conference leadership was "trying not to deal with that as an issue," but the dearth of women on the plenary address schedule came up at almost every daily press briefing. (Anne Graham Lotz was the only woman to deliver a plenary address alone, though Bill and Vonette Bright shared their address and other women gave brief testimonies.)Paul Eshleman, chairman of the evangelism strategists task group and head of Campus Crusade for Christ's Jesus Film Project, says that "more training and more empowerment" of women was a focus of his group, though it was apparently not specifically addressed in the other two groups, for theologians and church leaders. The document uses what is perhaps its strongest language to rebuke lax moral standards among evangelists. "In recent times God's name has been greatly dishonored and the gospel discredited because of unholy living by Christians in leadership roles," it says. "Evangelists seem particularly exposed to temptations relating to money, sex, pride, power, neglect of family and lack of integrity."J.I. Packer, professor of theology at Regent College and chairman of the theologians task group, thinks the document will be seen as a landmark for the evangelical movement."It merits benchmark status," he says. "Whether it will come to pass, I don't know." Packer believes the Amsterdam Declaration should be "bracketed with" the Lausanne CovenantPacker and Timothy George, who headed the Amsterdam Declaration drafting committee (both Packer and George serve as Christianity Today senior editors), say their document goes further than the Lausanne Covenant by asking for pledges. And, they say, it is more relevant to today's evangelistic task."There are issues here that weren't treated in 1974 because they weren't issues in 1974," says George, noting that postmodernism was "not in our consciousness" 26 years ago. The Amsterdam Declaration does not address such issues as homosexuality, abortion, or many other hot social issues, says Packer, because "doctrine must precede ethics."
The Amsterdam Declaration: A Charter for Evangelism in the 21st Century and the Covenant for Evangelists are available at the official Amsterdam 2000 site. The Lausanne Covenant is available at Lausanne.org. Amsterdam2000.org has streaming video and transcripts of the plenary addresses, biographical sketches of the speakers, press releases and news coverage of the convention, and other resources. Our earlier coverage of Amsterdam 2000 includes:Healing Genocides at Home and Abroad | Commentary from Amsterdam 2000. (Aug. 4, 2000) The Prodigal City? | While 10,000 evangelists take the day off in Amsterdam, local ministries continue their long, personal mission. (Aug. 3, 2000) Amsterdam 2000 Called the Most Multinational Event Ever | 10,287 evangelists and other participants represent 209 nations and territories. (Aug. 2, 2000) Drilling the Evangelists on the Evangel | Doctrinal training takes center stage at Amsterdam 2000, while staffers work against theological controversy. (Aug. 1, 2000) Billy Graham a No-Show at Amsterdam 2000 | Evangelist, watching from Minnesota, bows out of satellite address, will probably forgo later remarks as well. (July 31, 2000) Billy Graham Too Ill For Amsterdam 2000 | Evangelist will deliver address via satellite. (July 21, 2000) Graham Unveils Evangelism Conference (Nov. 16, 1998)Recent coverage of Amsterdam 2000 from other media sources include:World Evangelical Meeting Ends -- Associated Press (Aug. 6, 2000) Evangelicals Conclude Conference -- Associated Press (Aug. 5, 2000) -- The New York Times (Aug. 5, 2000)
Have something to add about this? See something we missed? Share your feedback here.
Our digital archives are a work in progress. Let us know if corrections need to be made.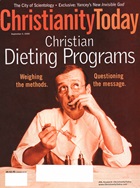 This article is from the September 4 2000 issue.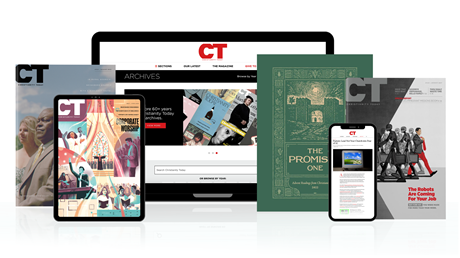 Annual & Monthly subscriptions available.
Print & Digital Issues of CT magazine
Complete access to every article on ChristianityToday.com
Unlimited access to 65+ years of CT's online archives
Member-only special issues
Subscribe
Netherlands: Keeping the Covenant
Netherlands: Keeping the Covenant