Three mainline Protestant denominations—the Episcopal Church, the Presbyterian Church (U.S.A.), and the United Methodist Church—faced organized pressure this summer to revise their historic and biblical teachings on marriage. Despite the media-savvy civil disobedience of Mel White's Soulforce activists at three church conferences, the denominations declined to equate homosexual unions with marriage. Christianity Today shares the relief of evangelicals within these large denominations. Nevertheless, we agree with the Chicago Tribune's Steve Kloehn when he writes that "the controversy is only beginning."Homosexual people are far more visible and vocal than they were before the protests inspired by the Stonewall Inn raid in 1969. Homosexual men and women will not return to the collective closet, the centuries-old practice of culturally imposed silence. Nor should they. Homosexual activists rightly insist that they not face verbal and physical abuse, threats, or even murders because of their sexual orientation.Further, we need to resist the notion that any individual vote of a national church conference will send pro-homosexual activists limping away from mainline Protestantism's marketplace of theologies, never again to return. These activists show a remarkable tenacity and an unflinching commitment to their goals. Homosexual people should not fear for their safety, but whether their behavior should enjoy cultural approval is an altogether different question. If Christians are foolish to expect homosexuals to return to their closets, many homosexual activists are naïve to expect that they can achieve cultural affirmation by demanding it frequently and loudly enough.
What should the church bless?
Whether homosexual couples should receive the church's blessing is a still more important matter, one which strikes at the heart of God's revealed and unchanging purposes for human sexuality. Leading homosexual activists within churches, such as journalist Andrew Sullivan (a Roman Catholic) and English professor Louie Crew (an Episcopalian), correctly frame the debate as concerning the boundaries of marriage: they ask that the church revise its doctrine of marriage to encompass homosexual couples. These activists are more intellectually rigorous than those who dodge the question of marriage, but they ask that Christian churches do the moral and theological equivalent of squaring a circle. Through out Scripture, God clearly defines his design for marriage as uniting one man and one woman for a lifetime. Despite the best efforts of such authors as John Bos well, William Countryman, and Robin Scroggs, there is no explaining away the consistent words of Scripture and apostolic tradition that homosexual intercourse strays from God's will. But quite apart from what homosexual activists dismiss as "the clobber verses," churches must face an increasingly clear reality: the advocates of sexual liberation generally proclaim a gospel at odds with historic Christianity. On such basic questions as the Creation, the Fall, and the Atonement, they are far more likely to invoke Matthew Fox's new-agey notion of Original Blessing and a vaguely defined sense of "God's all-inclusive love."Just how these competing gospels will continue to coexist in major denominations, or part ways, will remain an important news story for years to come. Given the often close votes of this summer, the story could well take a dramatic turn at the next meeting of Episcopalians or Presbyterians.Scripture, reason, and tradition support the church's received doctrine of marriage. Still, churches have much work ahead to become places of hospitality and pastoral care for homosexual Christians. Something is deeply wrong if a Christian suffers ostracism after admitting to struggles with same-sex attraction. A willful refusal to repent of sin is one matter; confessing to temptation is entirely another.We fail both the compassionate ministry of Jesus Christ and our fellow Christians when we avoid homosexual men and women who strive to obey the words of Scripture. We dare not send homosexual Christians back into closets of self-loathing and terror. The answer to temptation is mutual confession, accountability, and Christian community, not shunning.Too often our idea of such community begins and ends with referring people to a chapter of an "ex-gay" ministry like Exodus International and bidding them Godspeed. Evangelicals have much to learn from the Roman Catholic ministry known as Courage, which measures success more by chaste lives than by changed orientations. We affirm that God does heal wounded sexual identities, but we recognize that such healing often involves some of the most difficult psychological work imaginable. In a fallen world, insisting that all homosexual Christians must change their orientation is as reckless as the sexual Left's stubborn denial that anybody can make such changes.Why are North American churches mired in this debate in this era? Perhaps only eternity will make that fully clear. Still, this historic moment offers churches rich opportunities—not only to make the case for the doctrine of marriage but also to walk in compassion beside Christians who struggle with homosexual desires.
Related Elsewhere
The Soulforce Web site documents every protest the activist organization plans, as well as offering the correspondence between Mel White and Jerry Falwell in the years preceding their 1999 Lynchburg meeting.To read the testimonies of former homosexuals, locate "ex-gay" ministries, or find resources about reaching out to homosexuals, visit the Exodus homepage .Previous Christianity Today articles about compassion for homosexuals include:Building a Bridge | A gay journalist and evangelical pastor correct their mutual misperceptions. (July 13, 2000) The Jerry We Never Knew | He hangs out with liberal pundits and gay activists. Is this the same Jerry Falwell who founded the Moral Majority? (May 2, 2000) Sex and Saints | A new vocabulary for an oversexualized culture. (Apr. 3, 2000) Building outreach and friendship with the homosexual community | What Jerry Falwell really said at the Anti-Violence Forum. (Nov. 5, 1999) Just Saying 'No' Is Not Enough | How should Christians address homosexuality? (Oct. 4, 1999) Who Killed Matthew Shepard? | Human nature being what it is, we can too easily cross the line between hating the sin and hating the sinner. (Dec. 7, 1998) Revelation and Homosexual Experience | Can it be said of us that we surprise others by the sympathy and compassion we extend toward homosexuals? (Nov. 11, 1996)Recent Christianity Today news stories about homosexuality and church policy include:No Balm in Denver | Episcopalians defer debate over same-sex blessings for another three years. (July 17, 2000) Presbyterians Propose Ban on Same-Sex Ceremonies | Change to church constitution, which passes by only 17 votes, now goes to presbyteries. (July 5, 2000) Sticking With the Status Quo | United Methodists reject gay marriage, ordination. (May 15, 2000) Presbyterians Support Same- Sex Unions | Northeast Synod rules 8–2 in favor of continuing church's "holy union" ceremonies. (Dec. 10, 1999) Creech Stripped of Clergy Credentials | United Methodist minister guilty of breaking church law at gay ceremony. (Dec. 10, 1999) Anglicans Deem Homosexuality 'Incompatible with Scripture' | Setback at Lambeth for homosexual activists. (Sept. 7, 1998)
Have something to add about this? See something we missed? Share your feedback here.
Our digital archives are a work in progress. Let us know if corrections need to be made.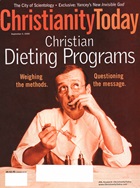 This article is from the September 4 2000 issue.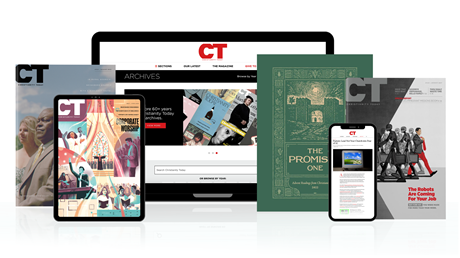 Annual & Monthly subscriptions available.
Print & Digital Issues of CT magazine
Complete access to every article on ChristianityToday.com
Unlimited access to 65+ years of CT's online archives
Member-only special issues
Subscribe
Walking in the Truth
Walking in the Truth