Christians in Pakistan are waging a vigorous campaign against the Separate Electorate System (SES) which many church members believe imposes a form of religious apartheid on elections in the mainly Muslim nation.The election system, they claim, marginalizes them and other religious minorities by allowing to vote only for candidates of their own faith.Protestant and Catholic leaders are particularly concerned about proposals, known as the "Plan 2000" and the "Devolution Plan," which have been drawn up by the government of Pakistan and will allow elections on a non-party basis for local governing bodies at village level. While the church leaders do not condemn the main measures of the devolution plan, they claim that because it retains the SES, which the government had promised to abolish, it is a "counterfeit to basic democracy." The religious leaders made their criticisms in a statement released at a press conference on September 5 in Multan, in Punjab province. Bishop Victor John Mal, of the Church of Pakistan, said that the churches' rejection of the Devolution Plan was "prompted by government's decision to continue with the separate [religion-based] electorate" within village elections. The proposals were announced by the country's leader, General Pervez Musharraf, on August 14, the 53rd anniversary of the Pakistan's independence."So far nothing has done to redress our grievance. So, we keep protesting," Bishop Mal told ENI in a telephone interview.The press conference was part of the ecumenical campaign led by Christian Organizations for Social Action (COSAP), which is demanding the abolition of the SES.Churches throughout Pakistan observed Sunday, September 3 as a "day of prayer" for the abolition of SES and "for courage to fight religious apartheid peacefully and non-violently."The SES was introduced in 1979 by the military government of General Zia-ul Haq. Initially it applied to local elections (village and municipal), but in 1985 it was extended to provincial and national elections.According to the system, Christian and other minorities—Hindu, Parsee, and Buddhist—are confined to separate electorates in which they are allowed only to choose from among candidates belonging to their own religion. They claim that SES makes their votes "irrelevant." Technically Muslims also come under the SES. But since they are the overwhelming majority, it makes little difference to them.About 96 percent of Pakistan's 140 million inhabitants are Muslim. Of the 217 seats in Pakistan's National Assembly, ten are reserved for religious minorities (four for Christians, four for Hindus and two for others).Churches are particularly concerned about the SES because General Musharraf promised, after coming to power last year, to abolish it.David Elisha, a Christian layman and secretary general of the Minority Advisory Council of Punjab, a government agency, recently resigned in protest at the government's failure to abolish the SES. In his resignation letter of August 22, Elisha pointed out that the council, set up in February, had "demanded [an] end to electoral inequality and discrimination by burying the 'mother' of all discriminatory laws—the separate electorate," which he described as a form of "religious apartheid."The continuation of the "universally discredited" SES was "a resounding slap in the face of not only of non-Muslim Pakistanis, but of all progressive forces," he said. "This heavy-handedness leaves me no choice but to dissociate myself from oppressive forces that seek to shackle non-Muslim Pakistanis in continued servility and inferiority on account of their faith."On August 14, only hours before General Musharraf unveiled his Devolution Plan, Derrick Cyprian, a Roman Catholic and federal minister for minority affairs in the Musharraf government, also resigned.Although it was officially announced that Cyprian resigned for "personal" reasons, Peter Jacob, coordinator of the COSAP campaign, told ENI that the resignation of Cyprian, who had previously assured Christian delegations that SES would be abolished, was linked to his "opposition to the continuation of the separate electorate."General Musharraf said in his Independence Day speech: "For the minorities, the system of separate electorate will continue. This, I feel, is in their interest since no member of the minority community would otherwise be elected."But Jacob, who is also the executive secretary of Pakistan's Catholic bishops' Justice and Peace Commission, said that Christians, other minorities and human rights activists did not agree. He said that on August 2 COSAP had submitted a memorandum to General Musharraf—with the signatures of 200,000 Christians, Hindus and Muslims—demanding the restoration of a joint or common electorate. Jacob added that General Musharraf had assured a delegation of Protestant, Catholic and other minority religion leaders in February that his government would abolish the SES.Victor Azariahs, general secretary of National Council of Churches of Pakistan (NCCP), told ENI: "There are no two opinions on the need to abolish the separate electorate to ensure equal rights to minorities in Pakistan." The NCCP is a forum of mainstream Protestant churches, including the Protestant Church of Pakistan, Presbyterian Church, the Salvation Army and Association of Reformed Presbyterian Churches.Azariahs said that because of the SES "Christians have been marginalized. We are treated as second-grade citizens with no right to join political parties or to talk about national issues or share power."Christians can never come up in public life under this system," Azariahs said.Bishop Mal told ENI that as the separate electorate was now deeply entrenched in the political system, it was going to be "very difficult" to get rid of it. Although it had been created by a military regime, political parties that had won government since its implementation had "not bothered [to] undo it."Jacob said that the Musharraf government was being pressured by the Islamic lobby to ignore the "Christian cry for justice and equal rights."Copyright © 2000ENI.
Related Elsewhere
The U.S. State Department's recently released Annual Report on International Religious Freedom has more information about Pakistan's religious freedom record over the last year.Visit the Islamic Government of Pakistan's official site.Read the 1973 Constitution of the Islamic Republic of Pakistan.Other media coverage of the issue includes:Reserve seats demanded for minorities in local bodies polls—Business Recorder (Sept. 13, 2000) Why this electoral apartheid?—Dawn (Aug. 21, 2000) Pakistani Christians protest 'apartheid' voting—UPI (Aug. 16, 2000) Minorities' anger over 'separate electorate'—BBC (Aug. 15, 2000)Previous Christianity Today articles about Pakistan include:Rapes of Christians Put Pakistani Justice on Trial | "Religious apartheid is coming," says human rights leader. (Sept. 12, 2000) Two Pakistani Christians Sentenced to 35 Years in Prison | Musharraf retracts new blasphemy law policy in wake of protests. (May 23, 2000) Churches Welcome Pakistan Promise to Ease Restrictions on Minority Faiths | October coup turns out to be beneficial to Christians as blasphemy laws are overhauled. (May 4, 2000) Pakistan's Christians 'Not Shocked' by Life Sentence for Former PM | Life has improved, persecution has eased under new leader, say church leaders. (Jan. 15, 2000) Pakistan's Despised Christians | Despite a Catholic bishop's protest suicide in 1998, Christians hold little hope for repeal of blasphemy law. (April 26, 1999) Muslims Destroy Christian Village | Rumors of a damaged copy of the Qur'an incite riot. (April 7, 1997)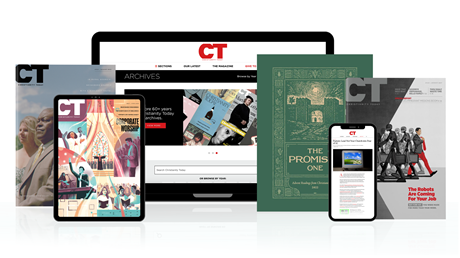 Subscribe to Christianity Today and get access to this article plus 65+ years of archives.
Home delivery of CT magazine
Complete access to articles on ChristianityToday.com
Over 120 years of magazine archives plus full access to all of CT's online archives
Subscribe Now
Pakistan's Christians Demand End to 'Religious Apartheid' at Polls
Pakistan's Christians Demand End to 'Religious ...