Procter & Gamble is fighting back against Satanism rumor
The next time you forward that horrible e-mail message about the president of Procter & Gamble supporting the Church of Satan, you might want to think twice. You just might get sued for it. The company's lawsuit against Amway Corporation for propagating the rumor, dismissed in 1999, has been reinstated by the Fifth Circuit U.S. Court of Appeals. Amway insists that it has tried to quash the rumor itself, but that some of its distributors have fallen for the ruse. Amway officials say that no fraud was ever intended, and that the company wouldn't be responsible for it anyway. "The suit deeply troubles First Amendment advocates," reports The New York Times.
Speaking of non-Satanic associations …
Route 666 in Morris County, New Jersey, is being cast into the bottomless pit, and shut up, and set a seal upon, that it should deceive the nations no more. Back in the 1970s, New Jersey ruled that all country roads had to have three digits, so Route 66 became Route 666. But that led to all sorts of evil. Well, one sort of evil, anyway—sign theft. "This thing has got me crazy," Joe Stuppiello, a general supervisor in the county road department, tells The Star-Ledger. "Every time we put one up, it doesn't last a day or two before it's stolen. Gone. … Six six six. It's the devil, isn't it? That's what they say." Other Routes 666 have been changed around the country: U.S. Route 666 is now U.S. 191, for example.
UPI's religion correspondent attacks National Council of Churches for Sudan silence
The National Council of Churches of Christ seems to relish causes that are not theological by any stretch of the imagination," writes Lutheran theologian and journalist Uwe Siemon-Netto. "Lately, it concentrated its energies on campaign financing, a topic not covered anywhere in Scripture. While promoting forcefully the McCain-Feingold bill in public pronouncements, the NCCC has been curiously mum about the most burning issue Christianity is facing in the entire world: the genocide perpetrated chiefly against Christians in southern Sudan. One should ask the question why an organization of 36 Protestant and Orthodox denominations does not cry out in protest when Muslim militiamen pierce and padlock the lips of black Christians so that they may not talk about the horrors they have seen and endured?" Ouch. Actually, one thing Siemon-Netto doesn't even bring into his article is that the NCC has actually played down the persecution of Christians in Sudan, saying "civil war and racial hostility play a far larger role" than religious tensions. "What is reported as religious persecution is often understood locally as something quite different," Associate General Secretary for Public Policy Albert M. Pennybacker said in a 1998 letter to the U.S. Congress as it was considering international religious freedom legislation.
Other articles about Sudan:
Eugene Rivers says he's taking a break
Boston pastor EugeneRivers says he's going to "disappear" from the public eye, reports The Boston Globe. "I don't need any additional psychodrama," he says. "I am not interested in being local news. … All I want to do is reduce my negatives and … wherever it is possible, promote good will." Rivers caused a big stir a few weeks ago when he claimed white evangelicals were opposing Bush's faith-based initiative because the beneficiaries would be "poor, black, and brown." Will he really take himself out of the public eye? Weblog will believe it when it doesn't see it.
More stories:
Church and state:
Popular culture:
Christians in the media:
Politics and law:
Catholicism:
Eastern Orthodox confessions:
Other stories of interest:
Related Elsewhere
See our past Weblog updates:
April 5 | 4 | 3 | 2

March 30 | 29 | 28 | 27 | 26

March 23 | 22 | 21 | 20 | 19

March 16 | 15 | 13 | 12

March 9 | 8 | 7 | 6 | 5

March 2 | 1 | February 28 | 27 | 26

February 23 | 22 | 21 | 20 | 19

February 16 | 15 | 14 | 13 | 12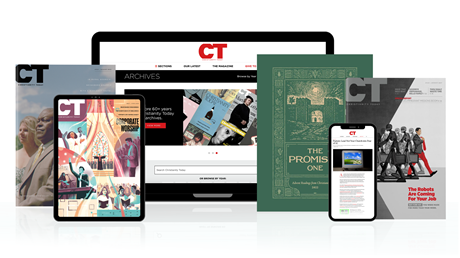 Annual & Monthly subscriptions available.
Print & Digital Issues of CT magazine
Complete access to every article on ChristianityToday.com
Unlimited access to 65+ years of CT's online archives
Member-only special issues
Subscribe
"Of Satanic Symbols, Donations, Numbers, and Other Things that Aren't Really Satanic"
"Of Satanic Symbols, Donations, Numbers, and Other ...