Christmas in April
We just got done celebrating Easter, and it's still three months until those annoying "Christmas in July" sales, but Weblog is sure that some stores are already selling ornaments for Christmas 2001. In any case, Christmas came early this year—for Christmas itself. The U.S. Supreme Court declined to hear the case of a Cleveland attorney who argued that allowing Christmas as a state holiday violated the First Amendment. In 1999, you may remember, U.S. District Judge Susan Dlott ruled against the case as well—in rhyme. It read, in part:
We are all better for Santa
The Easter Bunny too
And maybe the great pumpkin
To name just a few!
An extra day off
Is hardly high treason
It may be spent as you wish
Regardless of reason.
…
There is room in this country
And in all our hearts too
For different convictions
And a day off too!
(The full poem is available at the end of this 1999 Cincinnati Post article.) The lawyer, Richard Ganulin, said he was disappointed with the decision not to hear the case, but the Cincinnati Posteditorialized that it was the right way to go, calling his efforts "persistent, conscientious—and alas, misguided." "Giving people the day off work does not impose Christian beliefs on people of other faiths," the editorial said. "It merely shows a practical acceptance of existing culture."
Unitarians split, saying church is "extremely intolerant" of those who actually want to talk about God
Of all the things you could possibly call a Unitarian Universalist, "extremely intolerant" would be just about the worst. But at least two dozen dissidents who are leaving the church say that's exactly what it is. So they're leaving, and forming the American Unitarian Association. "An organization that believes in everything really in effect believes nothing," says David Burton, one of the founders. Most of the new members of the AUA, he says, are Unitarian Christians. "Jesus is central to their religion. In most UU congregations, if you got up and started talking about Jesus, you'd be run out on a rail. … The UUA [Unitarian Universalist Association] is extremely intolerant." Chief among Burton's other complaints is that the UUA is largely full of atheists and "almost devoid of religious content." Whether or not the UUA is "extremely intolerant," they're not letting the AUA form without a fight. "They're trying to steal our identity," UUA president John Buehrens tells The Boston Globe, "and they're not going to get away with it."
"You will be a vegetable"
"Imagine Luther Vandross jacked up on 10 espressos and dressed as a giant vegetable, and you have some sense of what we're dealing with here." That's Baltimore Sun columnist Kevin Cowherd's description of Kenny Carter, a.k.a. Peppy the Pepper at Rosedale Super Fresh. "He's a whirlwind of activity, cruising the aisles at warp speed, greeting customers, hugging old ladies, even singing to them." Carter, apparently, used to be a drug dealer and pimp until the day he heard God at church. "It was a very powerful worship," he tells Cowherd.
I was crying out in the middle of church: "Oh, God! Oh, God!" And suddenly I heard an audible male voice that said: "You will be a vegetable." … I looked around, thought I was going crazy! I began to worship again. I said: "Lord, speak to me." And I heard it again: "You will be a vegetable." I turned to my wife Paula and said: "I just heard from God." She said: "You did? What did he say?" I said: "I'm going to be a vegetable." And she just cracked up right there.
Yeah, you laugh. But if God told you to be a vegetable, would you have a bell pepper costume made, get a job at the supermarket, and sing "I'm Peppy the Pepper, how do you do? Welcome to Super Fresh, we love you!" to everyone who walked in the door?
Faith-based initiative:
Black church:
Church life:
Peru missionaries:
Philadelphia minister shot:
Missions and ministry:
Naked Jesus painting at JFK airport raises concerns:
Popular culture:
Youth:
Life ethics:
Sudan:
Persecution:
Kaiser report:
Family:
Homosexuality:
Other articles of interest:
Related Elsewhere
See our past Weblog updates:
April 25 | 24 | 23

April 20 | 19 | 18 | 17 | 16

April 12 | 11 | 10 | 9

April 6 | 5 | 4 | 3 | 2

March 30 | 29 | 28 | 27 | 26

March 23 | 22 | 21 | 20 | 19

March 16 | 15 | 13 | 12

March 9 | 8 | 7 | 6 | 5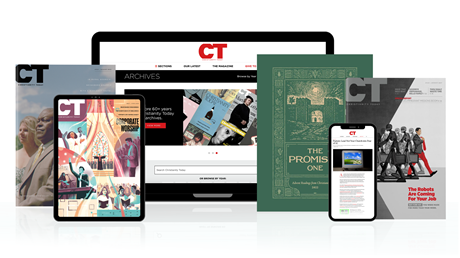 Annual & Monthly subscriptions available.
Print & Digital Issues of CT magazine
Complete access to every article on ChristianityToday.com
Unlimited access to 65+ years of CT's online archives
Member-only special issues
Subscribe
Christmas Lives in Cincinnati
Christmas Lives in Cincinnati