White House to pope: We're going ahead with execution
Pope John Paul II requested clemency for Oklahoma City bomber Timothy McVeigh, but the White House says it will proceed with the execution May 16. "The president has great respect for the pope and this is a tragic situation," says White House spokeswoman Claire Buchan. "The president also has deep compassion and sympathy for the 168 victims of the Oklahoma City bombing and their families." Vice President Dick Cheney went even further, saying granting the pope's request would be "a mistake." "I think if there was ever a man who deserves to be executed it's probably Timothy McVeigh," he said yesterday on Fox News Sunday.
Meanwhile, Attorney General John Ashcroft says McVeigh's probably won't be the last federal execution. "We'll remain open to arguments and information and make sure that our justice system is fair," he told The Washington Post. "But when we have people who have committed heinous crimes, and there's no question about their guilt, I don't know any reason to suspend the imposition of an appropriate penalty."
The pope's reason—"nations today have other means of efficiently repressing crime without definitely taking away the possibility of self-redemption"—doesn't resonate with Ashcroft, who calls the death penalty "a way to demonstrate the value of life."
The overwhelming majority of Americans apparently agree. A Reuters/Zogby poll found that while 22 percent of Americans oppose executions in all circumstances, 75 percent support its implementation in some instances. In fact, 21 percent want to see capital punishment extended to more crimes, such as rape and drug trafficking.
While Americans are generally united in support of capital punishment, much of the rest of the world is uniting against it. The United Nations Human Rights Commission voted 27-18 in support of a resolution "to establish a moratorium with a view to completely abolishing the death penalty." The United States—which argues that capital punishment is a domestic affair—was joined by Japan, China, Indonesia, Saudi Arabia, and other countries in opposition to the resolution, which had been put forward by the European Union. Amnesty International says 87 countries still use the death penalty, while 108 have either abolished it or placed moratoriums on it.
Meanwhile, billboards are being posted around Terre Haute, Indiana—where McVeigh is to be executed—encouraging prayer in the face of the execution. Two say "Pray For the Families," one says "Pray For McVeigh." The latter, says Indianapolis TV station WRTV, was posted by a "devout Christian" cab driver from Alabama who spent $700 on the billboard. It stands less than a mile from McVeigh's prison. (The two "Pray for the Family" billboards were put up by the billboard company, worried about public reaction.)
Meanwhile, as Roman Catholics and others protest capital punishment, another form of criminal justice is garnering attention around the country: prison rape. "A coalition of Christian and Jewish organizations and policy groups, including Human Rights Watch, is pressing for federal law that would require data collection, give prisoners a way to file complaints and encourage prisons to meet standards on training, rape prevention, investigation and disease treatment and prevention," reports the Chicago Tribune. That coalition contains many of the same names that pushed to make religious persecution a major issue a few years ago; one of the leaders is the Hudson Institute's Michael Horowitz. But while the issue isn't making many waves in the public at large—or even in the religious press—it has received quite a bit of attention lately in the mainstream media. The coalition, and a Human Rights Watch national survey of prisoner-on-prisoner rape, have led to editorials and op-ed pieces in the Chicago Tribune, The New York Times, The Washington Post, The Baltimore Sun, The Philadelphia Inquirer, The Toledo Blade, Milwaukee Journal Sentinel, and elsewhere.
Related Elsewhere
See our past Weblog updates:
April 27 | 26 | 25 | 24 | 23

April 20 | 19 | 18 | 17 | 16

April 12 | 11 | 10 | 9

April 6 | 5 | 4 | 3 | 2

March 30 | 29 | 28 | 27 | 26

March 23 | 22 | 21 | 20 | 19

March 16 | 15 | 13 | 12

March 9 | 8 | 7 | 6 | 5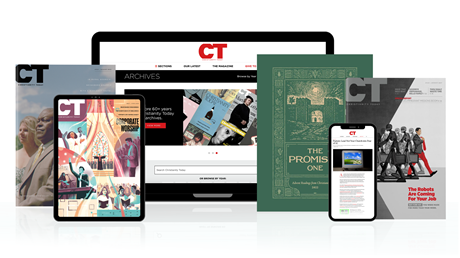 Annual & Monthly subscriptions available.
Print & Digital Issues of CT magazine
Complete access to every article on ChristianityToday.com
Unlimited access to 65+ years of CT's online archives
Member-only special issues
Subscribe
Criminal Justice and Injustice
Criminal Justice and Injustice