A growing number of nonprofit charities are encouraging direct online contributions, but new for-profit "giving portals" are also developing sites that allow visitors to contribute to multiple charities in one place—and earning commissions and fees for the service.
Giving portals like Createhope.org, iGive.com, and Charitableway.com list a variety of charities and accept money on their behalf. In return, they deduct a handling fee and pass the remainder of the donation on to a designated charity.
Michael Nilsen of the National Society of Fund Raising Executives told ABC News that these sites operate with a different mindset from most charities because they are businesses first and foremost.
"There's a bottom line," Nilsen said. "While they are certainly useful in raising awareness of philanthropy and acting as a conduit for donations … they need to make money."
Some for-profit portals take commissions as high as 15 percent off every contribution. Most deduct a service fee of about $5 per contribution, depending on the size of the gift.
Thegivingnetwork.com withholds 8 percent of donations and Helping.com deducts about 3 percent of the gift.
Many sites list charities and ministries among their sharing clientele without permission. Organizations like the American Lung Association (ala) now receive so many small contribution checks from various sites that they find it impossible to monitor the actual amount of money flowing in through indirect giving. The amount of money passed on to the ALA is "so minimal that we don't even track it," CEO Joseph Bergen told The Chronicle of Higher Education.
Bad press?
Some nonprofit Web sites worry that unregulated for-profits could sour people to online giving.
Stan Goude of the Salvation Army told Christianity Today he hopes that, as some giving portals' operating practices come to light, "the charities that are being responsible don't suffer from bad press too."
"About $200,000 was given at our site last year," Goude says. "All of that money was maximized to help people in keeping with our financial standards for contributions." The American Red Cross raised $1 million online in a single month last year.
The lack of regulation has the Internal Revenue Service (IRS), the Evangelical Council for Financial Accountability (ECFA), and the Better Business Bureau all searching for the best way to create guidelines for e-charity.
"There is a serious need for Christian organizations to set quality standards for Internet giving," ECFA president Paul Nelson told CT. "We encourage all our members to implement credit-card security, firewall protection, and to register as a nonprofit organization in every state they plan to accept donations from."
The IRS is concerned that many donations people make may not be tax deductible. It advises online donors to make sure any charity they give to is registered as a 501(c)3 nonprofit organization, and to always request a receipt for each donation. The IRS site allows users to check the status of a charity (www.irs.gov/search/eosearch.html), but Guidestar.org offers more complete information.
But the best advice for consumers is to give directly at the sites of charities they know and trust, says Bennett Weiner of the Better Business Bureau.
"We don't usually get complaints when people give online to institutions they have contributed to by mail for years," Weiner says. "Our concerns are more about the legitimacy of some of the newer sites springing up that don't answer to anyone."
Such a wide variety of charitable sites has developed that some portals now run contests and give prizes to try to distinguish themselves. 4charity.com offers the charities it lists a percentage of its stock. Other sites, like Greatergood.com and Shop2give.com, send a small percentage of customers' purchases, through links to online shops like Amazon.com and CDNow.com, to the charity of the customers' choice.
Nonprofits that hope to compete against giving portals by promoting direct giving at their own sites might soon follow the model of Food for the Hungry (FFH). Through its eSponsorship.org Web site, FFH allows sponsors to send e-mail directly to sponsored children. FFH also provides periodic audio and video clips of sponsored children's villages.
"We are reducing our overhead and allowing people to interact more directly with the people who benefit from their gifts," says Roe Ann Wood, director of FFH's eSponsorship program. "Our site is proof that online giving can be more than a credit transaction."
Related Elsewhere
Some of the charity mall sites mentioned in the article include: 4Charity.com, Createhope.org, iGive.com, Greatergood.com, and Charitableway.com.
Christian non-profits like World Vision and Food for the Hungry allow you sponsor a child or make other direct contributions online.
HitDonate.net tells how much various nonprofits are making online.
Other media stories about e-charity include:
Can E-Commerce and Charity Co-Exist? — Newsfactor (Dec. 12, 2000)
Article continues below
E-charity isn't an efficient way to donate — The Holland Sentinel (Dec.3, 2000)
The Business of E-Charity — Newsfactor (Aug. 8, 2000)
A Brave New World of Giving | Rapid rise of online 'portals' raises big questions for charities — The Chronicle of Philanthropy (June 15, 2000)
Online Philanthropy | Charity web sites let donors give with a click — ABCNews.com (Dec. 11, 1999)
Welcome to E-Charity — The Financial Express (Oct. 3, 1999)
Valley Talk: E-Charity — Fortune (June 18, 1999)
Earlier Christianity Today articles on giving and technology include:
Electronic Giving Struggles to Catch On | Despite benefits, automatic electronic transfers still rare in churches. (Jan. 31, 2001)
Nonprofits Tap New Donors with Internet Fundraising (Dec. 7, 1998)
IRS Spurs Nonprofit Disclosure on Internet (Jan. 12, 1998)
Have something to add about this? See something we missed? Share your feedback here.
Our digital archives are a work in progress. Let us know if corrections need to be made.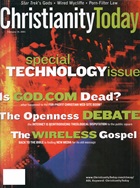 This article is from the February 19 2001 issue.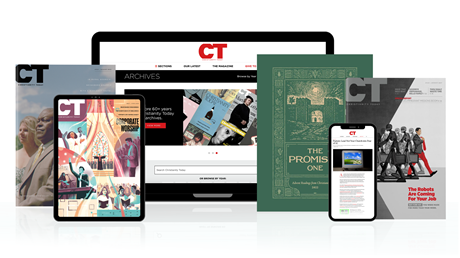 Subscribe to Christianity Today and get access to this article plus 65+ years of archives.
Home delivery of CT magazine
Complete access to articles on ChristianityToday.com
Over 120 years of magazine archives plus full access to all of CT's online archives
Subscribe Now
Charity: Businesses Find Money in Charity
Charity: Businesses Find Money in Charity