The Visual Bible Inc. bought out failing American Uranium last August in a takeover designed to acquire the company's stock listing. The renamed company, Visual Bible International (VBI), is producing a movie version of the Bible book for book, word for word.
Todd Heinzl, VBI's vice president of investor relations, told Christianity Today he thinks people are eager to see the story they have read so often come alive in a new way. The Visual Bible's The Gospel of Matthew has already sold 500,000 copies, earning $50 million in the past three years. VBI followed up that film with the release of The Book of Acts. If all 66 books of the Bible are released and priced similarly, buying the entire set will cost around $6,600.
Now VBI is preparing to film the remaining Gospels—Mark, Luke, and John—as well as the books of Genesis and Revelation.
"It's a visual age," Heinzl says. "The marketplace is ready to embrace the world's most popular text in a visual format."
But can the Word become film? Gary Burge, a professor of biblical studies at Wheaton College, says this type of translation might be problematic.
"Something is always lost when you translate language to language, but imagine the gaps and leaps when you try to transfer from one medium to another," Burge told CT. "Film demands that you supply context and narrative, and the Bible doesn't always follow a strict narrative or supply the details of every action as it unfolds."
Some of the changing context for VBI includes different actors for principal roles. Mark, Luke, and John are being filmed simultaneously in Morocco with the same actors and director, but they will differ from the Matthew and Acts videos. (Most notably, Kevin Sage replaces Bruce Marchiano as Jesus, who turned down an offer to reprise his role.)
Each of the Gospels is also being filmed in a different version of the Bible: Mark is from the Good News Version; Luke is from the Holman Christian Standard Bible; and John from the New International Version.
Besides wrestling with Bible versions, VBI is hard-pressed to find creative solutions for filming entire books of the Bible like the regulation-heavy chapters of Leviticus or the long genealogies of other books. Filming a visual form of each book of the Bible is unlikely to be completed in less than 10 years, VBI reps say.
In the meantime Visual Bible fans can tune into Webcasts for behind-the-scenes film action in Morocco.
The $400 million project now sports a Web site (visualbible.com) full of merchandise. VBI hopes to eventually develop a search engine that would allow surfers to seek specific chapters and verses of streamed video segments.
The schedule and budget to film large-ensemble epics is also enormous. VBI's gospel movies alone consist of about 345 roles, 12,000 extras, and 1,500 animals. Gospels director Jakob deBoer is trying to manage astronomical expenses, and says it costs as much to rent the Moroccan village of Ait Ben Haddou as it does to film in downtown Paris.
DeBoer says one of the most challenging difficulties so far was finding pigs for a scene in which Jesus delivers a man from demons and sends the demons into a nearby herd of swine. Because pigs are taboo in Muslim society, Morocco is virtually pig-free. The crew eventually decided to edit the porkers into the scene later.
Most of the funding for VBI's current projects comes from Trinity Capital, a Toronto bank that specializes in high-tech investments and some biotechnology enterprises.
VBI also hopes to attract investor attention through unusual advertising projects like sponsoring a stock car in the Pepsi 500 NASCAR competition and staging a massive Passion Play in Toronto's Skydome.
VBI's public stock traded at a monthly average of $10 a share for the year 2000, according to the company's literature, although VBI revenues fell 18 percent in 2000. At press time, stock was trading around $3 a share. The company's net loss for 2000 was $4 million, with earnings of $42,000.
According to company records, American Uranium was preparing to mine a piece of land in Colorado last summer when investors suddenly decided the Visual Bible was a more promising option.
Not everyone was pleased with the move. Former American Uranium President Gene Akselrod told CT that he has since dissolved all ties to American Uranium and the Visual Bible, as have some of his partners.
VBI's staff is optimistic. "We wouldn't be involved in such a costly venture if we didn't believe we were investing in something of eternal value," VBI's chairman and CEO, John Hamilton, told CT. "This is how we will engage the youth of tomorrow with God's Word."
Related Elsewhere
Visit the Visual Bible International's official Web site.
Pictures from the movie set in Morocco are available here.
Check out Visual Bible International's stock price at Yahoo and other financial Web sites.
Another organization presenting scripture in a new format is the American Bible Society (ABS). ABS's New Media Bible Web site presents the parable of the Good Samaritan in streaming video, in a dozen musical works, in paintings and sculptures, in a historical setting, and in commentaries on the text.
Other media coverage of the Visual Bible includes:
Canadian companies big into Bible video project | Business is betting on long term demand for a visual Bible — ChristianWeek (Oct. 31, 2000)
Film-makers Use Bible As Their Screenplay | At 2,000 hours, some viewers may find this movie a bit long — Fox News (Oct. 9, 2000)
Have something to add about this? See something we missed? Share your feedback here.
Our digital archives are a work in progress. Let us know if corrections need to be made.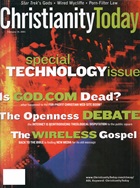 This article is from the February 19 2001 issue.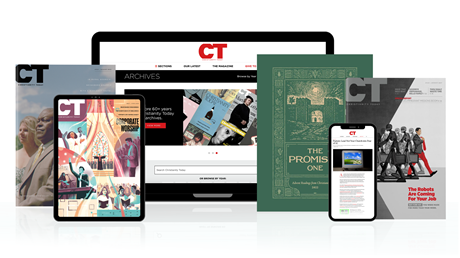 Subscribe to Christianity Today and get access to this article plus 65+ years of archives.
Home delivery of CT magazine
Complete access to articles on ChristianityToday.com
Over 120 years of magazine archives plus full access to all of CT's online archives
Subscribe Now
Video: And the Word Came with Pictures
Video: And the Word Came with Pictures