Disappearing pastor who claimed amnesia will step down
For those of you who've missed the past installments of the story of James Simmons, here's a brief recap: Wesley Barrett "Barre" Cox was a married youth minister from San Antonio who one day disappeared. According to his story, he was found beaten, in the trunk of a car in Memphis. When he awoke from a coma two weeks later (so goes his story), he had amnesia and could not remember his identity. He took the name James Simmons and continued with his life. Sixteen years later, an old acquaintance found him, still amnesiac, applying to be senior pastor at another Texas church. By the time the story made worldwide news, he had been hired as senior pastor of White Rock Community Church, a predominantly gay congregation in Dallas. As reporters and others prodded at his story, however, holes were uncovered. Doubts surfaced. Frustrated, Simmons/Cox demanded that his church support him by a two-thirds majority or he'd leave. On Friday, the congregation took a vote, and Simmons/Cox received only a 106-76 majority. Church member Les Spradlin was one of the 76. "I don't believe a word the man says," he told The Dallas Morning News. "With someone who leads a church, you have to be able to trust and have confidence in that person." Simmons preached for the last time on Sunday (the sermon was on unity and can be heard at the sermons area of the church's Web site) and said he would stay at the church as a member. "God has been very good to me," he said Friday (his comments from that evening are also available in streaming audio). "He will provide me with a ministry and a setting." (The Abilene Reporter-News offers a great collection of background articles, from July 14, 1984's "Ex-ACU employee missing: Ransacked car found; foul play suspected" to news about his stepping down as pastor of White Rock.)
Another resignation under a cloud of criticism:
Jehovah's Witnesses win case; 1997 religion law receives major blow
A Moscow court threw out a case Friday that sought to outlaw the Jehovah's Witnesses in the city. Prosecutors had argued that the sect was promoting religious discord, breaking up families, and posing a threat to society. "Today is a historic day for religious freedom in Moscow and throughout Russia," the Witnesses' lawyer, Galina Krylova, said in a press release. Indeed, it might actually be. Politically, at least, Russia's controversial 1997 Law on Freedom of Conscience and Religious Association suffered a huge setback. And the law was already loosened a bit last year (but try telling that to the Salvation Army). Still, the Jehovah's Witnesses may not be out of the woods yet. "A court verdict is a powerful thing, of course. But it is tricky to say whether we are talking about the final decision on this particular problem," says Father Vsevolod Chaplin, representative of the patriarch of the Russian Orthodox Church. "In any case, this is a matter for state powers." In other words, the Russian Orthodox Church will keep pushing; and if it does, so will the state.
Though some celebration of religious freedom may be in order, Jehovah's Witnesses aren't the only ones that may hold off rejoicing. As Christianity Today reported earlier this month, more than 9,000 religious organizations registered with the state in accordance with the 1997 religion law. But as Catholic news agency Zenit reported Saturday, "Some churches are finding that Russia and some of the former Soviet republics can be very cold places indeed." Some Pentecostal groups have refused to register on principle, and other groups (including the Salvation Army and some Buddhists) were denied registration. Though the Russian Justice Ministry says only 10 percent of organizations didn't register, presidential human-rights ombudsman Oleg Mironov upped it to about 30 percent, or about 4,500 groups.
More on Russia and the Russian Orthodox Church:
And the winner of the dumbest headline contest is …
It doesn't get much more obvious than this headline, which appeared in Friday's Chicago Tribune: "Minister uses sermons to make services more relevant." All you readers in the pastorate should consider this earth-shattering idea. Actually, Weblog is being unkind. The article is actually somewhat interesting, and is about a United Methodist pastor who has quit using the lectionary and is now writing his sermons as he feels led. "I believe this is the first time in 24 years I'm not talking about why the transfiguration is important on the Sunday before Lent," Phil Sheets tells the Tribune (he instead preached on "ways to infuse patience in day-to-day living"). "It was always a struggle to find new ways to talk about the same Scripture readings, but this year, I didn't have to worry." (Chicago Tribune) There's a sermon illustration here, to be sure …
Religion, schools, and the courts:
Faith-based organizations and government grants:
Colorado's anti-faith-healing bill:
More religion and politics:
Communion controversies:
Chicago's Christian radio:
China has more Christianity in it than it would like to admit:
The Subcontinent:
Catholic Church's new cardinals:
Faith and film:
Related Elsewhere
See our past Weblog updates:
February 26

February 23 | 22 | 21 | 20 | 19

February 16 | 15 | 14 | 13 | 12

February 8 | 7 | 6 | 5

February 2 | 1 | January 31 | 29

January 26 | 25 | 24 | 23 | 22

January 19 | 18 | 17 | 16 | 15

January 12 | 11 | 10 | 9 | 8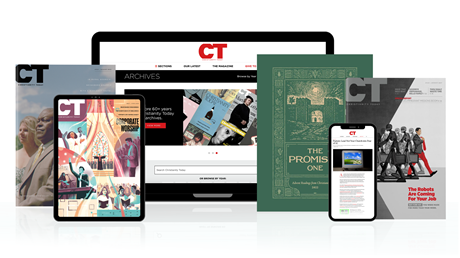 Annual & Monthly subscriptions available.
Print & Digital Issues of CT magazine
Complete access to every article on ChristianityToday.com
Unlimited access to 65+ years of CT's online archives
Member-only special issues
Subscribe
Forget About Working Here Anymore, Amnesiac Pastor Told
Forget About Working Here Anymore, Amnesiac Pastor Told