Almost 400 people, including an estimated 20 church ministers and several politicians, were arrested during a protest in Scotland outside the Faslane naval base on the River Clyde, where Britain's fleet of Trident nuclear-armed submarines are based.
Among those arrested was Norman Shanks, leader of the renowned Iona Community, the multi-denominational worship community on the island of Iona where Celtic Christianity first came to Scotland.
Shanks, a Church of Scotland minister and a member of the central committee of the World Council of Churches, told ENI: "Most Scottish people find something offensive about Britain's nuclear fleet being based within 20 to 30 miles of half of the Scottish population." (Faslane is close to Glasgow and surrounding towns.)
Another of those arrested, Labour parliamentarian George Galloway, said: "We are worried about how to pay for care for the elderly and reducing class sizes in schools. However, we are spending millions on weapons of mass destruction that will never be used."
Britain has four Trident submarines. Although a regular event, the protest drew the biggest crowd for many years, with at least 850 attending, according to the organizers, the anti-nuclear campaigning group Trident Ploughshares.
The protest started early on February 12, with the two gates to the base blocked for several hours.
Police arrested 379 people for public order offences. Those arrested included slightly more women than men.
A Trident Ploughshares spokesman said a further six people were arrested during the following night when trying to break into the base through the perimeter fence.
Leaders of most of Scotland's mainstream churches attended this year's protest, although some had come to give moral support rather than to protest. There were several acts of worship during the day.
The Church of Scotland moderator, Andrew McLellan, said at the event: "I am here to demonstrate the Church of Scotland's long-standing opposition to nuclear weapons in general and Trident in particular."
An estimated 16 of the 20 clergy arrested are Church of Scotland ministers.
Bishop Bruce Cameron, primus (leader) of the Scottish Episcopal Church, was among church leaders present at Faslane.
The Roman Catholic Church was not officially represented, although Catholic priests were among the estimated 70 clergy at the protest. Scotland's Catholic bishops said in a statement that they shared the concern of many Scots about nuclear weapons and that their support for the ultimate objective of nuclear disarmament "could not be clearer."
But the bishops added: "We do, however, have misgivings about the methods of civil disobedience which are likely to be used during the protest and which our presence would appear to condone.
"The Catholic Church in Scotland has been very careful not to condone such acts by anti-abortion demonstrators, for example. While we respect the opposite point of view, we do not believe that chaining people to railings, lying down in the street and disrupting life for workers going about their lawful business is an effective means of changing hearts and minds. We have said so in the abortion debate and we must be consistent on this issue too."
Demonstrators came from Finland, Denmark, Germany, Spain, South Korea, Belgium, The Netherlands, and Australia, as well as throughout the United Kingdom, according to the organizers.
Norman Shanks said the strong support was "a reflection of growing concern" with the nuclear issue.
"Some say this is an old cause but, particularly with the end of the Cold War, it is more relevant than ever," he told ENI. "Trident submarines are a danger and a misuse of resources."
The strong church presence, many people had indicated to him, "gave a dimension that these events don't always have—call it ethos or ambience."
Shanks said that after being arrested at Faslane last year he had received "a stiff warning letter" from the authorities. This time he expected a fine, and had not decided whether to pay it.
Related Elsewhere:
Trident Ploughshares, a group dedicated to nuclear disarmament, offers its take on the blockade, as well as information about future action at its Web site.
Both the Scottish Campaign for Nuclear Disarmament and its British counterpart have Web sites detailing Trident submarine actions and the Faslane Peace Camp.
Christianity Today's Social Justice area has several stories about efforts for peace including CT's December cover story "Anonymous Are the Peacemakers" and it's companion piece "100 Years of Beatitude."
Other media coverage of the Trident protest includes:
Winning refused to attend Faslane demo — The Scotsman (Feb. 14, 2001)
MPs arrested in Trident protests — The Daily Telegraph (Feb. 13, 2001)
MP among 350 held at nuclear submarine base protest — The Guardian (Feb. 13, 2001)
Fourth Trident ready for service — BBC (Feb. 12, 2001)
Anti-Nuclear Protesters Arrested — Associated Press (Feb. 12, 2001)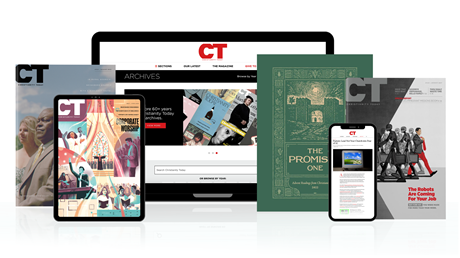 Annual & Monthly subscriptions available.
Print & Digital Issues of CT magazine
Complete access to every article on ChristianityToday.com
Unlimited access to 65+ years of CT's online archives
Member-only special issues
Subscribe
Pastors Aim to Sink Battleships
Pastors Aim to Sink Battleships