A bishop from Gujarat, the Indian state devastated on January 26 by the nation's worst earthquake in 50 years, has warned that survivors need more than mere material assistance.
Vinod Malaviya, the Church of North India bishop of Gujarat, told ENI: "It is not enough that relief material is distributed to the affected people. We need to send counselors to help the people overcome the trauma. We are making arrangements to train young people urgently in counseling before sending them to the villages."
Interviewed by ENI at his diocesan office in Ahmedabad, capital city of Gujarat, Bishop Malaviya said that he had witnessed much of the destruction in a trip home after a church meeting on the day the earthquake occurred. He said he had been particularly shocked by "the total devastation in Bhachau town," not far from the epicenter of the earthquake.
"I stopped there and found a man desperately searching among the rubble," the bishop said. "He told me he was looking for a glass to get some water. He had just returned from cremating his three children. When I touched his shoulder, he leaned on to me and wept for several minutes."
The earthquake, which is now estimated to have measured 8.1 on the Richter scale, caused widespread destruction in Gujarat, especially in the district of Kutch bordering Pakistan. While the state government puts the death toll at 35,000, social workers and independent observers claim the figure is more than 100,000.
Major townships in the region like Bhuj, Anjar, Bhachau and Gandhidham were worst hit, while most of the 900 villages in the district were reduced to rubble.
Thousands of bodies are still buried under debris, but many villages have not even been visited by rescue workers. Although it is most unlikely any more survivors will be found, there have been some amazing survival stories, including the discovery six days after the earthquake of an eight-month-old baby.
"Most of the people are still living in the open," said Prabhat Failbus, who is coordinating the relief work in Kutch of a major Indian relief organization, Churches Auxiliary for Social Action (CASA).
Failbus, national coordinator of CASA's human potential development program, told ENI: "I have visited several villages around Bhuj. But, I have not come across a single structure intact. We need to reach out to these villages and arrange shelters for them immediately."
Telephone links, electricity and water are yet to be restored to many parts of Kutch. In many areas tents are highly prized, especially in this region that can be bitterly cold at night.
The CASA official was talking to ENI in a tent near a three-story building belonging to Kutch Vikas Trust (KVT). The building, which is now in ruins, was a home for blind and disabled children run by the Catholic diocese of Rajkot, which includes Kutch. The 320 residents of the center escaped unhurt even though six buildings in the KVT complex collapsed on January 26. At the time of the earthquake the residents were all outside for the hoisting of the national flag for India's Republic Day.
But the town of Anjar, between Bhuj and Gandhidham, had a different story. About 400 schoolchildren and teachers were buried under debris as they marched through a narrow street to celebrate Republic Day.
Himanshu Pandya, a water department employee in the state government who saw the event, said: "I can't sleep at all. The screams of the children haunt me."
The 2,200 children at another school, Mount Carmel in Gandhidham, survived the quake. But many of them lost parents and other relatives. The school's principal, Sister Fabiola, told ENI that the joy of the children at surviving the earthquake was "short-lived". Many of them had been shocked to discover when they went home that their flats had been reduced to debris, burying their parents, brothers, sisters and other relatives.
Nearly 500 students in the school have lost at least one family member. The earthquake claimed almost 5,000 lives in the prosperous town of Gandhidham.
"Two of our children have no one left to care for them," said Sister Fabiola. She added: "We have no idea as to how and when we could restart the school. Even our convent is not livable."
Relief workers have come from agencies and churches across India and abroad to help the survivors. But some have complained that as well as dealing with the destruction caused by the earthquake, they also face obstruction from Hindu fundamentalists.
"I have received a report from our colleagues yesterday that they [Hindu fundamentalists] were conducting village-to-village enquiries to find out whether any Christian missionaries have reached there," said Samson Christian, a member of the Church of North India (CNI) and a prominent Christian activist in Gujarat.
When a team of church workers, led by nuns, arrived in a remote village in Gujarat, Hindu fundamentalists holding batons stood at the entrance to the village and asked the church workers: "Why have you come here?"
"They told us 'We do not need you here,' and we had to go to another village," Sister Fatima, one of the nuns, told ENI at a relief camp run by the Catholic Church in Bhachau.
In other developments, Ashok Singhal, the secretary general of the Vishwa Hindu Parishad (VHP) - World Hindu Council - said on February 4 that India should "boycott" the $4.3 million given by the Catholic Church to help those hit by the earthquake. Singhal said that the money should be refused because of the call by Pope John Paul II, during his 1999 visit to India, for the conversion of Asia. (Pope John Paul visited New Delhi in November 1999 to release the apostolic exhortation Ecclesia in Asia that calls for evangelization of Asia in the third millennium.)
In New Delhi, Father Dominic Emmanuel, spokesperson of the Catholic Bishops' Conference of India, told ENI that "it is better to ignore" Singhal's comments. "This espouses VHP's pettiness," said Emmanuel.
Related Elsewhere:
Christianity Today has covered some of Gujarat's post-quake response in "Quake Rocks Hindu Hotbed | Agencies appeal for funds to aid victims" and "Politician Who Saw God's Hand in Gujarat Quake Forced to Resign | Civil aviation minister had told Christians that quake was God's judgment against persecution of Christians."
Other Christianity Today stories about India include:
Christians Hammered by Pre-Christmas Violence | 200 Christians driven from a small town in Gujarat, India, and their church converted into a Hindu temple. (Dec. 22, 2000)
Indian Christian Youth Form Protection Group | Non-violent group aims to counter attacks on Christians through peaceful solidarity. (Nov. 12, 2000)
A Chinese Model for India's Churches? | No thank you, say Indian Christians to Hindu proposal for government church regulation. (Oct. 12, 2000)
U.S. Religious Freedom Commission Criticized | Indian churches reject U.S. inquiry, but Pakistani Christians welcome it. (Oct. 3, 2000)
Plans to Resolve India's Interfaith Tensions Face Delays and Accusations | Did India's National Commission for Minorities plan a meeting to discredit Christians? (July 20, 2000)
India's First Dalit Archbishop Holds 'No Grudge' Over Predecessor's Attack | Once "untouchable" Dalits make up bulk of country's Christians. (May 11, 2000)
India's Christians Resist Move to Register Conversions | State's legislation unconstitutional, says leaders. (May 2, 2000)
Build Bridges, but Fight Fanaticism, India's Churches Told | National Council of churches in India will work against strengthening of caste system. (Mar. 9, 2000)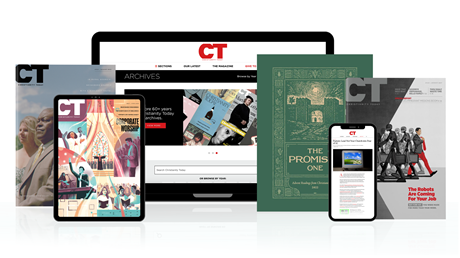 Annual & Monthly subscriptions available.
Print & Digital Issues of CT magazine
Complete access to every article on ChristianityToday.com
Unlimited access to 65+ years of CT's online archives
Member-only special issues
Subscribe
India's Quake Survivors Need Counseling
India's Quake Survivors Need Counseling