true

downhere
Word
Don't see this as me sticking this album on at the end of my list, because I really debated moving it up quite a bit. downhere is simply one of the best debuts to come along in quite a while. They're a band from Canada with a great acoustic alternative rock sound. Many people who have discovered this album are saying that they're "wearing it out" in their CD player … including myself! The quality of the musicianship and lyrical content for such a young group is astonishing. I can't wait to hear how far these guys will go with future albums.
Read the original review here.

Nicole C. Mullen
Word
If stage presence could come through on a non-live album, this might very well be that one. Nicole commands attention on stage (see her sometime if you haven't!), and she is equally captivating on Talk About It. Nicole deservedly won the Dove Award for Song of the Year in 2000 for her song, "My Redeemer." This year's winner from her will most likely be "Call On Jesus" — it's that good, though it's certainly not the only stunner on the album. You'll find quite a few flavors of music mixed up in this one. That Nicole managed to outdo her debut album is truly an achievement. Make sure you give this one your attention and then talk about it with other music-lovers you know.
Read the original review here.

P.O.D.
Atlantic
This project may not have made it to number one on my list, but it had to be in here for sure. Satellite is quite possibly the most influential album of the year. How so? Consider the mission of these guys. They grew up in some of the roughest streets of our country and they know the reality of what that situation can bring, yet they can't stop talking about the love of God every chance they get. What's more, MTV can't get enough of them — their video hit the top of the "secular" chart. In their interviews, they give all credit to God in a way that comes across as real. They fill stadiums, and then they take hours afterward to speak with their fans one-on-one about how their faith has changed and saved them. When it comes to their passion for the Gospel, these guys don't hold back. They may look rough in appearance, but this album has a message worthy of a pastor's sermon, set to music that kids are rapidly embracing.
Read the original review here.

Third Day
Essential
This is the baby of this list, the newest-born if you will. It hasn't been out very long, but it's already made an impact on me, and I know I'm not alone. Third Day's sound remains intact, but this isn't just a project of leftovers from their last album. It's all new material with a strong message to it, perfectly summed up by the album title. The band has felt a strong sense of community with their audience over the past few years, and this album was created to express that as only they could. There's enough variety on Come Together to not only bring back those who own any of the band's other releases, but also to draw in a new group of listeners who haven't discovered Third Day yet.
Read the original review here.

Kevin Max
Forefront
Kevin Max's solo debut is just right. Listeners will want to scramble back to the CD player to replay that last song to work through the lyrics again. It has influences bursting out of it from all different angles that the listeners will find familiar and enjoy. Kevin set out to be himself, and it comes through very clearly. The variety from song to song doesn't confuse, but it galvanizes the ideas that Kevin attempts to express. He accomplishes this through his well-known vibrato tones and his nuanced performance and production. Expect something different, and Stereotype Be will take you a step further than that.
Read the original review here.

The Elms
Sparrow
This is well done pop-rock without the crackling in your mouth (Read: Candy eaters from the early 1980's will get that one). Big Surprise is stimulating and fun, giving a double dose of ear-candy in both the music and the lyrics. Other than the publicity department over at Sparrow Records, I doubt anyone expected such a great album from these rookies … at least not so soon. We got a taste of what The Elms could do from their debut EP last year, but this surely was a big surprise for anyone who has this album.
Read the original review here.

Sara Groves
INO
If you enjoy focusing on the lyrics of songs, this album is for you. It stays true to its title, Conversations, in that the album is full of honest thoughts of God's creation talking to its Creator. The words and phrases from song to song will continue to surprise and resonate with the listener. I find myself drawn to writers who can express the thoughts and emotions that I feel better than I ever could. It's a way for me to get those thoughts out of my heart to God when I most need to. This album helps me do that, and I eagerly await Sara's next project and all she has to say through it.
Read the original review here.

Shaun Groves
Rocketown
Putting out an album on a major record label and landing top songs on the radio charts was never in Shaun's plans. He simply wanted to minister and the secondary blessings of musical success came with God's plans. This album is an open invitation to take a look at God through the imperfect life, experiences, and thoughts of an imperfect man. As much as any other album put out this year, Shaun's songwriting enables the listener to be honest with themselves and with God in a way that is very easy on the ears.
Read the original review here.

Caedmon's Call
Essential
This album was already going to be a part of my list before I went to the first concert of their tour for this album. The concert experience glued all of my thoughts and reactions to this music together in my mind. It's a different kind of worship album. The group has a knack of not only producing great sounding tunes, but they consistently speak the truth of God's Word clearly with incredible artistic integrity. Their dedication and commitment to leading people in their home church in Houston, TX, is extended into this album for all to enjoy and to be lead into the presence of God.
Read the original review here.

Steven Curtis Chapman
Sparrow
This is another album that was high on my list before the 9/11 tragedies, but became necessary listening after that day. Steven was even in D.C. the day of the attacks. Declaration was partly born out of the intense struggles Steven experienced during the time of writing and recording this project. That spirit of struggle without compromise bursts out of this album, causing me to have no choice but to rank this project high on my list. It's his best album to date in this listener's opinion, and one to tell others about.
Read the original review here.

Selah
Curb
Selah's self-titled debut beat out Charlotte Church and a number of other top projects for Inspirational Album of the Year in the 2000 Dove Award voting — and they recorded that album in just two weeks. With a lot more budget and time in their schedule to put together their 2001 release, Press On, they have raised the bar for both themselves and the entire Inspirational genre. This is a gem, the exciting, powerful vocals complimenting the beautiful arrangements perfectly. It was a universally applicable album before the 9/11 attacks, but it became a needed and effective resource of hope after that day. Simply put — do what you have to do in order to own this album.
Read the original review here.

Bebo Norman
Watershed/Essential
Bebo's textured voice, his perspectives on life through his songwriting, his unique guitar playing (with those funky acrylic fingernails), and his personable presence make me want to listen to his music over and over again. It's his honesty on this album that makes it top my list. Bebo shows his willingness to explore and openly express his feelings about singleness, loneliness, death, God's faithfulness, and other parts of his life that relate to the lives of his listeners as well. I can't help but highly respect an effort like this, and I just as highly recommend it to you.
Read the original review here.
Browse All Music Reviews By: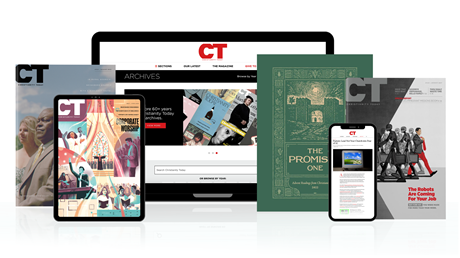 Annual & Monthly subscriptions available.
Print & Digital Issues of CT magazine
Complete access to every article on ChristianityToday.com
Unlimited access to 65+ years of CT's online archives
Member-only special issues
Subscribe
Top 12 Christian Albums of 2001
Top 12 Christian Albums of 2001