Bush launches faith-based initiative
As expected, President Bush on Monday unveiled what he calls the "most important initiatives" of his administration; namely, allowing religious organizations to receive government funds for social services. With executive orders, he established the White House Office of Faith-Based and Community Initiatives, and established centers at five federal agencies to encourage cooperation between government and charities. "It is one of the great goals of my administration to invigorate the spirit of involvement and citizenship, Bush said as he signed the orders. "We will encourage faith-based and community programs without changing their mission. We will help all in their work to change hearts while keeping a commitment to pluralism." In the spirit of that pluralism, he said, "We will not fund the religious activities of any group, but when people of faith provide social services, we will not discriminate against them." On Tuesday, he detailed more of his plans, which include tax changes to encourage more charitable giving, and new federal grants. He also outlined some of the rules and guidelines faith-based organizations must follow to receive federal funds. For example, a secular alternative must be available in a neighborhood if a faith-based program in the area is to get funds, and the money can't be used to buy Bibles or crosses, or other uniquely religious items.
Bush named University of Pennsylvania social scientist John J. DiIulio Jr. as head of the White House office, and said DiIulio will report directly to him. The appointment was generally praised, particularly because DiIulio isn't a typical White House denizen. "John J. DiIulio Jr. is going to get noticed around the White House," notes The Boston Globe, which calls him a "large man with a salty vocabulary and an Ivy League intellect." (Add to that description The Philadelphia Inquirer's note that he's "a self-described new Democrat and 'card-carrying Catholic'.") "Friend and colleague" E.J. Dionne Jr. adds to the praise in his Washington Post column. "DiIulio is not one of those policy entrepreneurs who thinks his favorite idea can cure everything that ails us," he writes. "On the contrary, he thinks the faith-based approach will work only if debated honestly and evaluated carefully." Perhaps the most effusive is the New York Post's John Podhoretz: "To say DiIulio is an inspired choice, and that Bush is lucky to have him, understates the case." But as Chuck Babington notes in The Washington Post, "he also has numerous detractors who say his predictions of waves of 'juvenile superpredators' have proven to be overheated and overstated." The Chicago Tribune goes into more detail on those detractors. Christianity Today sent senior writer Tim Stafford to profile DiIulio for our June 14, 1999, issue.
Reaction from religious leaders was expectedly mixed, but not necessarily from the voices one might expect. Democrat-leaning evangelicals are busy praising the initiative, while the more conservative are wary. "The real issue here is not a church-state controversy," Jim Wallis tells the Los Angeles Times. "The real issue is developing the political will to overcome poverty and to rebuild shattered lives and neighborhoods. Creating partnerships that respect the pluralism of America and that honor the First Amendment does not mean separating faith from public life." Ron Sider has a positive op-ed piece in The Boston Globe, in which he writes, "Surely the most open, objective … approach would be to test a wide variety of strategies for a decade or two." And Eugene Rivers, who gave the benediction at last year's Democratic National Convention tells The (Newark) Star-Ledger the plans are "one of the most promising opportunities black churches have had in the last 30 years." On the other hand, Pat Robertson tells CNN's Wolf Blitzer that though he's generally positive on Bush's plans, he's concerned about "intrusion into the faith-based groups by federal agencies and federal rules." Charles Colson (one of several attendees at the signing of Bush's executive order, as was Rivers) promises The Star-Ledger, "Evangelicals are going to come around—they'll see this is the wave of the future."
More coverage of Bush's new initiative:
More opinion on the proposal:
Bush's other policies:
The Bushes at church:
Inaugural prayer still provoking debate:
More religion and politics:
Related Elsewhere:
See our past Weblog updates:
January 29
January 26 | 25 | 24 | 23 | 22
January 19 | 18 | 17 | 16 | 15
December 22 | 21 | 20 | 19 | 18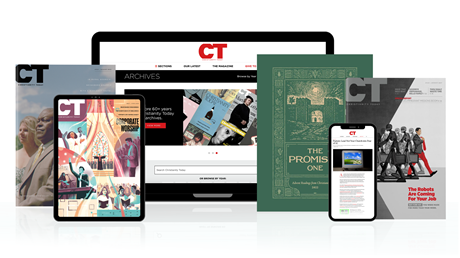 Subscribe to Christianity Today and get access to this article plus 65+ years of archives.
Home delivery of CT magazine
Complete access to articles on ChristianityToday.com
Over 120 years of magazine archives plus full access to all of CT's online archives
Subscribe Now
Bush Opens Office for Faith-Based and Community Initiatives, with John DiIulio at the Helm
Bush Opens Office for Faith-Based and Community ...