Associate editor Douglas LeBlanc says he hates to write in the first person. I, me, and mine, he says, appear in his stories maybe once a decade. "I'm an old-school journalist—'You are not the story,' " Doug says about the writer's relation to his subject matter.
Yet every now and then, there is a piece that can only be written this way. "Waging Peace" is one of those once-a-decade articles. "There was such a personal involvement in researching this story," Doug says, "that I found that was the only way I could write it."
Doug labored for many years to save the Episcopal Church from itself—primarily by telling the clear-eyed truth about a denomination that had gone from having a few crazies at the margins to seeming to be dominated by a loopy liberalism. As a journalist working for Episcopalians United (EU), a reform and renewal movement, Doug approached his work with passionate fairness, believing that the truth itself was healing.
This year he became a participant-observer, reporting on a ministry of reconciliation between conservatives and liberals. And he found himself working side-by-side with someone he calls "the worst nightmare of my fellow conservatives." But it was someone for whom he had developed a "cautious respect."
The result of this encounter may be his second-most personal article ever, certainly the most personal article he has written for CT. (Doug's most personal article? A piece he wrote about a close friend who was killed in an auto accident.)
Personal, yes, but Doug's passion for fairness shines through even here.
To speak of Doug's fairness is not to say he is blandly evenhanded. He once wrote a rollicking account of a "Rave Mass" for EU's newspaper. And though it clearly made something that bordered on high heresy into broad comedy, the essay has been reposted on the Web by a fan of Rave Masses. (You can read "Stark Raving Mad" at www.christianitytoday.com/go/rave.cgi)
In that piece Doug said the Rave Mass "was the most oppressive spiritual experience I've known in more than 10 years as a religion writer," oppressive "because it supplanted Christianity with a careless brew of paganism, manipulative imagery, and an environmentalist hysteria unmatched by any apocalyptic street preacher."
Doug has a word for those experiences that are so bad they bring a perverse tinge of pleasure. That word is hathos—a blending of hatred and pathos, seasoned with disgust and embarrassment. The word itself was coined in a New Republic essay by Alex Heard (now of Wired). Heard was responding to the so-disgusting-they're-fun experiences of certain entertainers, particularly Frank Sinatra. But the word fits so many other things Doug has encountered.
Another of Doug's favorite words is straightforward. "I really love people who communicate clearly," he says, "who do not hide behind artifice and jargon—the unique weasel-words you expect from institutionalists." Thinking back on his interaction with some institutional church leaders, he reflects on their ability to "use language that doesn't commit them to anything. They have mastered the art of not saying anything, yet sounding like they're saying everything that could be said on a topic." Not straightforward.
In this issue, Doug (who edits The CT Review) is also straightforward in his commentary of the new made-for-TV movie of The Mists of Avalon . You'll want to miss the movie, but don't miss the review.
Related Elsewhere:
Related articles appearing on our site today include:
Identity-Based Conflicts | Father Brian Cox has preached reconciliation in Eastern Europe, Southern California, and now in his own denomination. (July 6, 2001)
Getting Personal | Behind Douglas LeBlanc's story of reconciliation in the Episcopal Church. (July 6, 2001)
"I have seen the future of trendy ritual in the Episcopal Church, and its name is the Planetary Mass," wrote LeBlanc in his analysis of Rave Masses for Episcopalians United.
Have something to add about this? See something we missed? Share your feedback here.
Our digital archives are a work in progress. Let us know if corrections need to be made.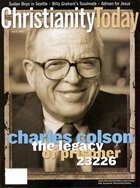 This article is from the July 9 2001 issue.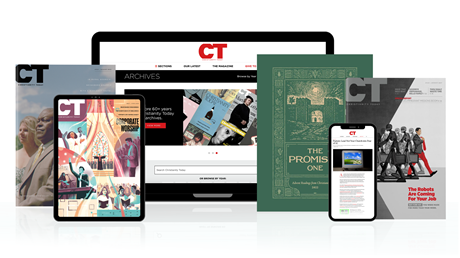 Annual & Monthly subscriptions available.
Print & Digital Issues of CT magazine
Complete access to every article on ChristianityToday.com
Unlimited access to 65+ years of CT's online archives
Member-only special issues
Subscribe
Getting Personal
Getting Personal