What is the real reason for writing history, specifically as a Christian? It might be helpful to start with one man's answer.
In introducing The Bruce—an epic, 14th-century historical poem—John Barbour suggested three reasons. A story in and of itself gives pleasure, but a well-told story ("said on gud maner") serves up twice the pleasure. Pleasure comes from the narrating ("the carpyng") and from learning what actually happened ("the thing rycht as it wes"). The third reason is to honor and praise the dead and their good deeds ("suld weill have prys"). Entertain, gratify curiosity, and honor our ancestors—that's it. Not a whiff of providentialism. And to think, Barbour the historian was not only a Christian but a clergyman.
Tim Stafford does well to bring a similar discussion of Christian historiography—how Christians write history, their philosophy and methodology—to the readers of Christianity Today (April 2, p. 42). On the one side you have an ambitious cadre of evangelical historians, like George Marsden, who in their specialties dominate the study of American church history. They are writing what they and Stafford call "ordinary" history, which to some looks more or less secular. On the other, you have those who argue that Christian history should be more explicitly Christian. The former rule the conversation and balk at their detractors, the "providentialists."
I actually lifted that example of The Bruce from another discussion of how Christians write history. The author is not Mark Noll, Marsden, or Nathan Hatch. It's C. S. Lewis. His treatment of historiography in The Discarded Image: An Introduction to Medieval and Renaissance Literature is, as expected, timely, even-handed, erudite.
Contrary to what providentialists assume, not all Christian historians before the professionalization of the guild were providentialists claiming to have a God's-eye view of history. As we are reminded by Lewis, "No doubt all history in the last resort must be held by Christians to be a story with a divine plot. But not all Christian historiographers feel it their business to take much notice of that."
In defending the "ordinary approach" to history, Noll and company claim they are mere historians, not theologians. In other words, discerning the handiwork of God in history is not their job. What goes unnoticed is the fact that this entire discussion is fundamentally framed by theological commitments.
Protestants have artfully constructed a barrier between history and theology, between tradition and Scripture. To safeguard the Bible, we maintain that only the biblical text is inspired and infallible—nothing else. Claims to knowledge of God's activity beyond the confines of Scripture are therefore suspect. Add to that dichotomy certain Reformed commitments and you have an insurmountable wall: not only must the Bible be safeguarded, but so too must God's sovereignty. We simply cannot accord the historian that level of inspiration and authority, nor believe the historian is capable of acquiring the requisite God's-eye-view over history. Framed this way, it's no wonder that providentialism seems laughable.
Theological presuppositions notwithstanding, Grant Wacker, Harry Stout, and the others are ultimately working with pragmatic, professional commitments; they are writing from within and for academia. I suppose an "ordinary" approach to history, an approach that is "publicly accessible," makes sense in that case. Yet if their primary audience is the academy, who is writing our story—the story of the church—for the church? The academy's playbook is different than ours. Ours presupposes faith and trusts that God is at work in history. Pinpointing God's activity is no less difficult. Does that mean we write him out of the script? No. Evangelicals, like Marsden, are more than happy to deride the secularization of academia. What about the secularization of the church? Indeed, we would do well to question the church's consumption of histories written essentially for "the world."
These questions are ever present for historians working within the Pentecostal tradition, as I do. Frankly, ordinary approaches to history fail to tell the story adequately. A secular approach requires that important historical material be shelved. What, for instance, do you do with claims of the miraculous? In the court of opinion where public accessibility is paramount, they are ruled inadmissible.
Granted, the issues are complex and I realize that we are all fallible, that we see only through a glass darkly. But if we are going to be credible historians in the church, we must reexamine our central commitment. I would love to place a challenge on the table. Would one of these Christian historians write history for the church, history that takes seriously our playbook? Infallibility not required—nor a God's-eye view. Just the Spirit and a little faith.
Edward J. Gitre is campus minister for Chi Alpha Campus Ministries at the University of Chicago.
Opinions expressed in Speaking Out do not necessarily reflect the views of Christianity Today.
Related Elsewhere:
See Tim Stafford's article, "Whatever Happened to Christian History?" and the related article, "How to Serve Time" by Preston Jones.
John Barbour, author of The Bruce, was a typical prosperous churchman of the fourteenth century.
Christianbook.com offers C.S. Lewis's The Discaraded Image: An Introduction to Medieval and Renaissance Literature.
Not only does our magazine's Web site have a special history section and a weekly history column, but our sister publication Books & Culture has another history section. In fact, another of our sister publications, Christian History, is devoted to the subject (and is planning a special issue on historiography).
The Christian History Institute offers more church history profiles and stories.
Those interested in the history and practices of Christian historians may be interested in Maxie Burch's The Evangelical Historians: The Historiography of George Marsden, Nathan Hatch, and Mark Noll. It's now five years old and has Marsden's name misspelled on the cover, but also offers insightful personal and professional histories and analysis of these men.
The Atlantic Monthly's Web site not only offers Alan Wolfe's October 2000 cover story, "The Opening of the Evangelical Mind," but also interview transcripts with Noll, Mouw, Marsden, and literary critic Alan Jacobs.
In one of her recent Christian History Corner columns, Christian History associate editor Elesha Coffman reported that the Conference on Faith and History was experiencing a kind of identity crisis.
Christian Reviews in History: A Journal of Historical Understanding had big plans for being "a new forum for engaging Christian historical discourse," but nothing seems to have come of it.
Mark Noll's "Traditional Christianity and the possibility of historical knowledge" is reprinted from Christian Scholar's Review at the Web site of the Council for Christian Colleges and Universities.
The Graduate & Faculty Ministries of InterVarsity Christian Fellowship offers bibliographies on the integration of faith and scholarship both in general and specifically about history.
Have something to add about this? See something we missed? Share your feedback here.
Our digital archives are a work in progress. Let us know if corrections need to be made.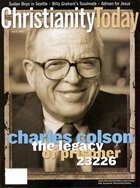 This article is from the July 9 2001 issue.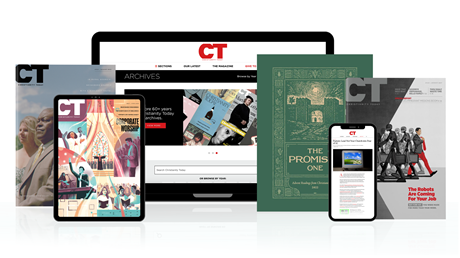 Subscribe to Christianity Today and get access to this article plus 65+ years of archives.
Home delivery of CT magazine
Complete access to articles on ChristianityToday.com
Over 120 years of magazine archives plus full access to all of CT's online archives
Subscribe Now
History for Us
History for Us