Prolife, pro-stem-cell research?
The majority (57 percent) of Americans who oppose abortion support embryonic stem-cell research, according to recent polls. And among these prolife research supporters are some key Republican members of Congress. "Stem cell research facilitates life," says Orrin Hatch, one of the Senate's most consistent voices against abortion. "Abortion destroys life; this is about saving lives." Likewise, former Florida senator Connie Mack is lobbying the Bush White House for stem-cell research. "For me, as long as that fertilized egg is not destined to be placed in a uterus, it cannot become life," he says.
Such surprises are not only the subject of a front-page article in today's Washington Post, but the cover package of this week's Newsweek. "Sometime in the coming weeks, President George W. Bush is expected to decide whether to allow federal funding for research on stem cells taken from human embryos," writes Sharon Begley. It clearly won't be an easy decision, but in a related piece that shifts more to the opinion side, Evan Thomas and Eleanor Clift accuse the president of putting votes before lives. "Pure politics helps explain why the White House has long been expected to ban federal funding for research on stem cells extracted from human embryos," they write, explaining that Bush is courting Catholics. Meanwhile, religion writer Kenneth Woodward gets to the nub of the ethical debate and offers some perspective:
The voices of religion are naturally more skeptical of promised biomedical miracles than are the scientists themselves. Mindful of human sin and the hubris of the powerful, religious ethicists are wary of any proposals that might exploit the weak to benefit. By contrast, the voices of biotechnology are Promethean, proactive and impatient with ethical restraints. Both need to exercise wisdom and prudence, always in short supply. Both stand at the edge of a new world where human beings can virtually reinvent themselves. Together with politicians and the people, they must decide what is really meant by human life and progress.
(Sorry for the short Weblog today, folks—the computer ate my links.)
Related Elsewhere
See our past Weblog updates:
June 29 | 28 | 27 | 26 | 25

June 22 | 20 | 19 | 18

June 15 | 14 | 13 | 12 | 11

June 8 | 7 | 6 | 5 | 4

June 1 | May 31 | 30

May 18 | 17 | 16 | 15 | 14

May 11 | 10 | 9 | 8 | 7

May 4 | 3 | 2 | 1 | April 30

April 27 | 26 | 25 | 24 | 23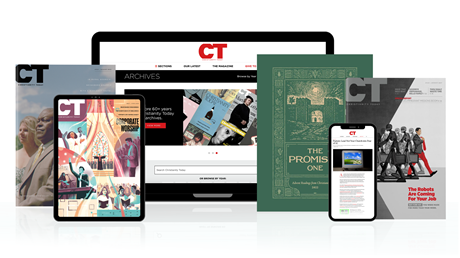 Subscribe to Christianity Today and get access to this article plus 65+ years of archives.
Home delivery of CT magazine
Complete access to articles on ChristianityToday.com
Over 120 years of magazine archives plus full access to all of CT's online archives
Subscribe Now
"Hatch, Mack, and Other Prolife Politicians Promote Stem-Cell Research"
"Hatch, Mack, and Other Prolife Politicians ...