According to a human rights monitor, Saudi Arabian authorities in Jeddah arrested two underground Christian leaders in July. At approximately midnight of July 25, agents of the Ministry of Interior raided the home of the second Christian leader, Ethiopian worker Eskinder Menghis and took him to police headquarters for interrogation, according to Washington, D.C.-based International Christian Concern.
On July 18, authorities arrested Indian hospital worker Prahbu Isaac, who is considered to be a key leader among house churches in Jeddah. Isaac's home also was raided. Personal effects, including his computer, were confiscated. Saudi Arabia prohibits all public expression of religion apart from Muslims who follow the strict Wahabi interpretation within the Hanbali school of Islam, expounded by 18th century Islamic scholar Muhammad ibn Abd al-Wahhab. Saudi officials have publicly stated that non-Muslims may worship in private but many leaders of house groups have been arrested and deported, human rights groups say.
The arrests appear to be part of a campaign to eliminate house churches in Jeddah, according to spokesperson (who asked not to be identified) for the United Churches of Saudi Arabia, an underground network. The group is a network of about 250 house churches consisting almost entirely of expatriate Protestants and Catholics. The spokesperson is an American citizen who became involved in the expatriate churches during two years of employment in Saudi Arabia and now, from the United States, maintains regular contact with colleagues there.
Over the past three years Saudi authorities have arrested house church leaders in Riyadh, the capital, but have left Jeddah alone until now, the United Churches of Saudi Arabia said. According to Isaac's wife, the Indian leader was tortured into revealing at least six names of underground leaders in Jeddah. Menghis, the Ethiopian worker, was on that list.
"It's only a reasonable deduction to say another of the six is next," the United Churches spokesperson said. "It is also known that Prabhu's computer contained the list of a huge majority of the church leaders and churches that are in Jeddah and probably the rest of the country."
ICC said that Isaac remains under arrest in the Farifia Prison in Jeddah. His wife has made an international appeal for help, but so far no government has been willing to intervene, the group said.
ICC has accused the U.S. government of taking a relatively light stance on alleged infractions of religious freedom in Saudi Arabia due to the country's economic and political importance as an ally in the volatile Middle East.
In any case, Saudi officials are not open to listening to the concerns of religious liberty advocates, according to Firuz Kazemzadeh. He traveled to the country earlier this year with a five-member team from the United States Commission on International Religious Freedom (USCIRF), an independent panel established by the U.S. Congress to make policy recommendations. "I think that they are trying their best to put a good face on it, by telling us that people can practice their religion at home," he said. "But at the same time they have a law that prohibits the presence of any (foreign) clergyman on Saudi Arabian soil."
Two members of the USCIRF delegation, Rabbi David Saperstein, director of the Religious Action Center of Reformed Judaism in Washington, D.C, and Catholic Archbishop of Washington Theodore Cardinal McCarrick, came back from Saudi Arabia with a more optimistic view of Saudi officials willingness to discuss religious liberty.
In an addendum to the panel's official report, Saperstein wrote "while the Saudi government's treatment of religious exercise fails to meet international human rights standards, this willingness to engage on this issue ought to be acknowledged, encouraged, and factored into our government's policies and discussions with the Saudi government."
Saperstein said Saudi officials argue that their school of Islam mandates that they deny other religions the right to function openly on the Arabian Peninsula. The commission, he said, must continue to study and develop a fuller position regarding the "claim that one party's religious doctrine provides a justification for oppression of another party's religious freedom."
Kazemzadeh explained that clerical officials he met in Saudi Arabia claim that a tradition going back to the prophet Muhammad asserts that there can be only one religion in Saudi Arabia. "My scholarly friends who have studied Islam in detail say that they were not aware of any such tradition," Kazemzadeh maintained.
According to Muhammad and the Koran, "in religion there must be no compulsion," he pointed out. "But these people make their claims," Kazemzadeh said. "They say that that's the way they understand it, and what are you going to do about it? So you try to bring some international pressure on them to enlighten them. It's going to be a long time before there is any substantive change in Saudi Arabia."
The United Churches spokesperson said the pattern for arrested church leaders follows that they are released after a few weeks or months and then deported. He thinks Isaac, who has worked in Saudi Arabia for 17 years, will eventually be let go and deported, "but it appears that they will have extracted all the information they need."
Related Elsewhere
The U.S. Department of State's Annual Report on International Religious Freedom for 2000 gives more background on religious freedom in Saudi Arabia.
Previous Christianity Today articles on religious persecution in Saudi Arabia include:
Four Christians Released By Saudi Authorities | One detained Filipino still waiting for employer's guarantee. (March 6, 2000)

Saudi Arabia Keeps Four Christians Under Arrest | Wives and children released after two weeks (Jan. 31, 2000)

Riyadh Police Raid Christian Worship Service | Ten adults, five children arrested; engineer still detained from previous arrest. (Jan. 10, 2000)

Christian Engineer Arrested in Saudi Arabia | Charges Against Filipino Termed "Religious-Related." (Dec. 27, 1999)

Arrested Christians Face Deportation | Popular Christians meetings lead to house-church raids. (Dec. 6, 1999)

Filipino Christians Released By Saudi Authorities | Local Employees Ordered to Fire and Deport Imprisoned Worshipers" (Nov. 3, 1999)

Two Filipino Christians Beheaded (Sept. 1, 1997)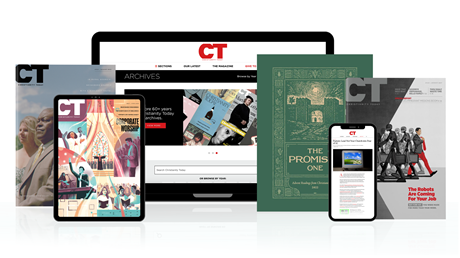 Annual & Monthly subscriptions available.
Print & Digital Issues of CT magazine
Complete access to every article on ChristianityToday.com
Unlimited access to 65+ years of CT's online archives
Member-only special issues
Subscribe
Two Christian Leaders Arrested by Saudi Arabian Authorities
Two Christian Leaders Arrested by Saudi Arabian Authorities