The Archbishop of Canterbury, George Carey, has made an impassioned plea for Christians to strengthen their presence in the Holy Land, warning that the Christian community here is at risk of becoming a vanishing minority.
Carey, the leader of the world-wide Anglican Communion, said he was "shocked and disturbed" at the violence and economic hardships in the region that are driving many Christians to flee the area.
Speaking in Jerusalem, Carey called on the Christian minority—most of whom are Palestinians—to remain in the Holy Land and for followers of the faith abroad to make pilgrimages in large numbers.
"We want to urge you [local Christians] to stay put," he said. "I [also] want to tell Christians around the world to come back to Jerusalem. Come back in your tourist buses and flood Jerusalem."
He said that local church leaders feared that unless Christians made a concerted effort their holy shrines might become nothing more than museums or tourist curiosities.
"It is in the best interests of Muslims and Jews to have Christians here who can make their own contribution because none of us want Jerusalem and Bethlehem to become Disneyland sites," he said. "We want this to be a place of living worship."
Carey was speaking at a news conference at the end of a four-day visit to the Holy Land.
He called on Palestinian Christians, who account for two percent of the total population of the Holy Land, to "make your mark but share your message with the rest of us around the world."
Carey said this was easy for him to say as "an outsider," adding that he empathized with the plight of the Palestinians, who have faced long closures of their areas and other restrictions on their movements because of Israel's stringent security measures.
He said that "security at any price will not do," adding: "We are frightfully concerned [about] Christians from the Holy Land leaving in despair, and we have to say it is because of frustration, a daily sense of humiliation.
"The situation facing the churches is very serious, it's compounded by problems such as the economic situation in Jerusalem, the West Bank, Gaza [and] added to by the inability to move freely."
During his visit, Carey met Israel's prime minister, Ariel Sharon, and the president of the Palestinian Authority, Yasser Arafat. He called on both leaders to tone down what he called their "dehumanizing" rhetoric and to work to end to the current violence that has taken more than 650 lives in the past 10 months.
Article continues below
Related Elsewhere
Media coverage of Carey's visit includes The Jerusalem Post (before | after), CNN, NEWS24, and Worldnews.com.
On Jan. 12, the U.S. Department of State warned against travel to Israel, the West Bank and Gaza.
For articles on the Palestinian and Israeli conflict, see Yahoo's full coverage area.
Previous Christianity Today articles on violence in the Holy Land:
Greek Orthodox Priest Falls Victim to Middle East Conflict | Monks worry they may appear as threats to each warring side. (June 21, 2001)

Violence Puts Archaeologists Between Rocks, Hard Places | About half of the planned excavations in the Holy Land this summer have been canceled. (June 27, 2001)

Pilgrimages Drop and Workers Lose Jobs as Middle East Violence Continues | Silence fills places normally crowded with pilgrims, reports British group. (April 11, 2001)

Holy Land Roadblocks | Christian pilgrims learn about Palestinians' everyday indignities. (Apr. 9, 2001)

Christian Zionists Rally for Jewish State | More than 600 Christians from around the world flock to Jerusalem to show solidarity with Israel as peace process collapses. (Apr. 9, 2001)

Between a Rock and a Holy Site | Muslims have stepped up their efforts to take control of places revered by Jews and Christians. (Feb. 13, 2001)

The Peace Regress | What's behind the current outbreak of hostilities in the Holy Land? (Jan. 11, 2001)

Conflict in the Holy Land | A timeline of trials for the most contested piece of real estate in the world.

Christmas in Palestine: Hunger and War | Starvation threatens Palestinian villages if U.N. aid continues to be delayed, Vatican official warns. (Dec. 13, 2000)

Between the Temple Mount and a Hard Place | Palestinian Christians want both peace in their villages and justice for their Muslim brothers. (Dec. 5, 2000)

Messianic Ethiopians Face Discrimination | Sisters appealing decision to revoke Israeli citizenship. (Dec. 4, 2000)

Christmas Plans for Bethlehem Scrapped | Escalating violence cancels millennial celebration in town of Christ's birth. (Dec. 1, 2000)

Lutheran Bishop's Appeal from Jerusalem | Religious leader's letter requests prayer for Christians, Jews, and Palestinians in troubled region. (Nov. 10, 2000)

Latin Patriarch tells Israel to Surrender Lands to Palestinians | Catholic leader says Israel will never have peace unless it "converts all of its neighbors to friends." (Nov. 1, 2000)

Fighting Engulfs a Christian Hospital in Jerusalem | Lutherans call conflict on their hospital grounds "an affront" to humanitarian purposes. (Oct. 16, 2000)

Preparing for Pilgrims | Religious rivalry complicates millennial planning. (June 14, 1999)

How Evangelicals Became Israel's Best Friend | (October 5, 1998)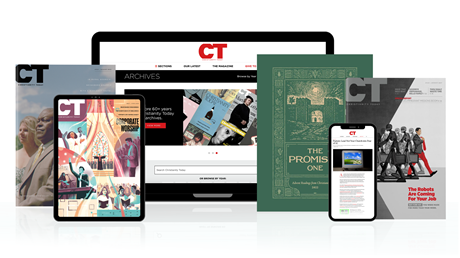 Annual & Monthly subscriptions available.
Print & Digital Issues of CT magazine
Complete access to every article on ChristianityToday.com
Unlimited access to 65+ years of CT's online archives
Member-only special issues
Subscribe
"Strengthen Christian Presence In The Holy Land, Carey Pleads"
"Strengthen Christian Presence In The Holy Land, Carey Pleads"