What newspaper editorials are saying about religious clubs in elementary schools
As promised, here's Weblog's roundup of commentary over the Supreme Court's 6-3 decision (PDF | HTML) to allow the Good News Club of Milford, New York, to use public school buildings.
The New York Times saw the "otherworldly" decision as a stunning about-face: "Barely a year after its proud decision refusing to allow organized student-led prayers before public high school football games, the Supreme Court lurched alarmingly in the opposite direction."
But others, including The Boston Globe, remind readers that the First Amendment has always been about a balancing act: "Read in full, the Establishment Clause creates a nice balance that mandates church-state separation while avoiding repression of religious speech or other free speech. … Vigilance against breaches of church-state separation does not require banning a religious meeting from an otherwise-empty school hall."
In fact, says the Times Union of Albany, New York, "Who can, and who can't, use the facilities of the Milford Central School District, is actually more of a freedom-of-speech issue than a freedom-of-religion issue. … Prior Supreme Court rulings have applied the same right of free speech to religious groups at public high schools and colleges. It now logically applies as well to elementary schools." The Times Union especially criticizes the dissent of Justice John Paul Stevens, who wanted to distinguish between religious speech that discusses ideas and religious speech that seeks to "promote the gospel."
The argument as also made by Justice David Souter, whom the San Francisco Chronicle says "rightly suggested there should be a distinction between allowing religion-oriented discussions on campus and 'an evangelical service calling children to commit themselves in an act of Christian conversion.'"
The Seattle Times also says such distinctions must be made—and will soon make sense to the very people who support Good News Clubs. "Conservative Christians cheering the Supreme Court decision that opens the schoolhouse door to the evangelical pursuit of elementary students might be shocked by what comes next," the paper editorializes. "What will be their response when non-Christians, and nontraditional religions, with different moral values, queue up to enter schools?" The Seattle Times also argues that because the Supreme Court did not make such distinctions, the decision "cheapens religion by likening it to little more than a chess club with values." "At its worst," the paper concludes, "the ruling blurs the line between private worship and public education. Access to school facilities should not equate to a right to convert young children."
The "young children" argument—one of reasons for dissenting—is echoed by several papers. "The majority blithely dismisses the fact that the target of the proselytizing is children as young as 6, a vastly different audience from the relatively mature university students at the center of a previous equal-access decision," says The New York Times.
But most editorials focused on the Court's argument that there's a difference between what happens during schools hours and what happens afterward. "This muddying of the church-state boundary may be 'after school' in the minds of high court justices whose secondary education ended 40 or more years ago," says USA Today. "In today's world, the school day in Milford and elsewhere rarely ends when the last class is dismissed. … Now, based on the Supreme Court's order, schools' extended-day programs will have to share quarters and compete for attention with such groups as Milford's Good News Club, an evangelical program that uses the school as a recruiting station to 'save' the 'unsaved' children."
The Atlanta Journal-Constitution issued a blistering attack on that argument:
We don't believe there's a place for religious instruction in the public schools, either. But the critical distinction he has missed is the difference between the "public schools" and a public school building during non-school hours. Public schooling is a process, not a place; when the 3 o'clock bell rings, the building becomes walls, windows and doors, suitable for many community functions, none of which may have anything to do with education, none of which has to be interpreted as an activity of the school system.
It's not the Supreme Court but its critics who are out of touch, says the Journal-Constitution.
Some critics of the Supreme Court's decision have ridiculed the majority's conclusion that the Good News Club's efforts to teach children about the Bible and to invite them to become believers are not the same as an ordinary worship service. That commentary is actually quite telling: Perhaps the critics aren't sufficiently acquainted with religion to know the difference between what goes on in a youth Bible-study group and what happens in a church on Sunday. … The fear here is obviously something quite different: The politically correct view is that any effort to teach children about God is tantamount to luring them into drinking Kool-Aid with Jim Jones.
Other papers focus on the aftermath of the Court's decision. "To make the line between church and state clear, Milford's school board is on the verge of barring all outside-led groups, including the long-established 4-H Club, from meeting at the school until late afternoon or evening," says USA Today. "If that's what it takes to maintain the sanctity of the church-state separation, it's a sound move."
Not sound at all, says the New York Post. "Sadly, the Milford district is taking the point in a particularly perverse way. Its officials seem to find religion so terrifying that they're throwing the proverbial baby out with the bathwater: … Call it spite. Or maybe the district really is that scared of religion." (The Denver Post's AlKnight similarly laments such "sore loser" actions.)
(Weblog is out of time, and this entry is getting awfully long. If you want to see more, there's the response of Child Evangelism Fellowship's Marshall J. Pennell to USA Today, in which he starts off by invoking Columbine, and editorials by the Christian Science Monitor, Detroit Free Press, San Jose Mercury News, The Washington Post, Milwaukee Journal Sentinel, and The Denver Post. But if you've read this far, you've already got the idea of what folks are saying.)
Other articles
Religion and politics:
Church and state in Africa:
Homosexuality:
Sexual misconduct:
Noisy churches:
Christians and Jews:
Ecumenism:
Catholicism:
German Church:
Related Elsewhere
See our past Weblog updates:
June 13 | 12 | 11

June 8 | 7 | 6 | 5 | 4

June 1 | May 31 | 30

May 18 | 17 | 16 | 15 | 14

May 11 | 10 | 9 | 8 | 7

May 4 | 3 | 2 | 1 | April 30

April 27 | 26 | 25 | 24 | 23

April 20 | 19 | 18 | 17 | 16

April 12 | 11 | 10 | 9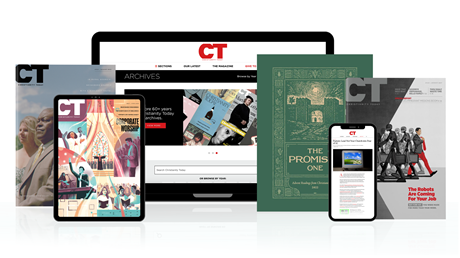 Subscribe to Christianity Today and get access to this article plus 65+ years of archives.
Home delivery of CT magazine
Complete access to articles on ChristianityToday.com
Over 120 years of magazine archives plus full access to all of CT's online archives
Subscribe Now
Beyond the 6-3 Votes That Mattered
Beyond the 6-3 Votes That Mattered