John Wesley may never have visited Macedonia, but Boris Trajkovski, president of that Balkan state, hopes that Methodist-inspired servant leadership, combined with military action, will keep his conflicted country from joining the list of former Yugoslav states traumatized by ethnic cleansing and warfare.
Trajkovski won't go it alone, however. He traveled 4,000 miles in January from the Macedonian capital of Skopje to have breakfast and pray with fellow Christians at the National Prayer Breakfast in Washington, D.C. Trajkovski lives out his Methodist faith in a country of 2 million people that barely registers a Protestant presence. Most Macedonians are Orthodox and more than one-fourth are Muslims of Albanian descent.
Despite the worries of being a head of state, Trajkovski has guileless eyes and a ready smile. During a lengthy interview with Christianity Today, Trajkovski laughs on hearing that some American supporters refer to him as the George W. Bush of Macedonia. "There are some similarities. His faith is very important to him."
Elected president in 1999, Trajkovski shares power with Ljupco Georgievski, the prime minister. Trajkovski directs all of Macedonia's security matters, including the army, police, and intelligence services, as well as its foreign policy. The more politically powerful prime minister executes the day-by-day domestic policies through the country's Parliament.
"I feel lonely sometimes," admits Trajkovski, who is almost 45. "I really struggle, and so I read the Bible. Isaiah 54 is my favorite for encouragement." The prophet's words remind the president that God's compassion extends even to tiny Macedonia and its fractious people.
A Strategic Sliver
The ongoing warfare between government troops and Muslim fighters in Macedonia, a sliver of a country about the size of New Hampshire, has sent jitters through Washington and the capitals of Europe. The United States has started sending spy planes to help the Macedonians, and NATO has cautiously committed more troops to the region.
Mountain passes make the country an important transportation hub for its neighbors. They make invasions easier, too. "Macedonia controls access to the sea, and all our supplies have to come through it," says one senior American NATO official. The country seceded peacefully from Yugoslavia in 1991. Compared with other states in the region, ethnic and religious groups in Macedonia live in relative harmony, although Muslim rebels launch sporadic grenade attacks against police.
During the recent conflict between Serbia and Kosovo, many Orthodox Macedonians were sympathetic to the Serbs (majority Orthodox). That sympathy increased tension with Muslim Macedonians who favor Kosovo, which has a Muslim majority. Neighboring Albania adds another level of ethnic complexity to the region since ethnic Albanians, mostly Muslims, live throughout the region, including Macedonia. "You can see that, sociologically, [Slavic] Macedonians and Albanians don't even like each other very much," says Saso Ordanski, editor of the Macedonian Forum magazine. "But they tolerate each other in this multiethnic democracy."
In late March, after a Macedonian police officer (a Slav) was killed in an Albanian Muslim neighborhood, Trajkov-ski swiftly gathered a diverse group of political leaders. The president has personal credibility, but not much room to maneuver. "Time here is a big factor," Ordanski tells CT. The ethnic Albanians, after seeing that Trajkovski spoke in support of laws to treat their fellow Muslims more justly, agreed to condemn the killing. Trajkovski had passed an important test of his skill in domestic politics.
A Compassionate Strength
Trajkovski's faith-inspired approach to governing means, first of all, practicing what he preaches. His treatment of Muslims illustrates a commitment to treating members of all religious groups with respect. "I treat [Muslims] as equals," Trajkovski says. "I have two Muslims on my staff for the very first time [for a president] in Macedonia, and I will soon add a third." Trajkovski's cabinet secretary, Loran Jovelski, is Orthodox.
Trajkovski, tall and upright but not stiff, with rich brown hair, a prominent nose, and hands that are often open in welcome, exudes vigor. "What characterizes the president is his strength," says Jovelski, his cabinet secretary.
Trajkovski's family has a history of political activism. His father, Kiril, was jailed for his political and religious ideas for several years after World War II. When the country was under communist Yugoslavian rule, Boris Trajkovski paid a price for being a Protestant, too. "I was driven out of society like a leper," he says. "When I finished law school, I was sent to a village."
The president believes that this banishment to an isolated village helped prepare him for his current assignment. "It was building my will, my courage, and my faith," he says. "It was growing my soul to be strong."
At that time, fresh from a speech given before the Queen of England, Trajkovski preached a Sunday sermon in a 10-by-12-foot room for a congregation of 50 Roma (Gypsy) Christians who had no pastor. In Macedonia, as in most of Europe, the Roma endure great suspicion and discrimination. Roma families often live in squalor. Trajkovski says a lot of people preach the "love of Christ to the Roma, but few will actually eat and sleep with them."
The congregation wondered if Trajkovski would be any different as a Methodist lay pastor. "I knew that you have to sit there to prove what you preach," Trajkovski says. "I ate with them and drank with them. I got to know that God was doing something special there. I discovered that the Gypsies are humans even in misery. I discovered myself, my humanity, too."
Village life was harsh. "It was during the winter, and they were wearing heavy clothes," he recalls. "There was a big smell in the room because of the misery of life."
Despite the ambiance, the future president continued preaching there, and the congregation grew to 150.
"The church gave me a special feeling for people, how to lead people," Trajkovski says. "So now, I meet poor people, rich people, and they respond to my care for them."
After the breakup of Yugoslavia and the creation in 1991 of an independent Macedonian state, Trajkovski returned to public life. His concern for all people has shone through during his political career. When he first ran for president, many Orthodox Macedonians were wary of his Protestantism. An Orthodox bishop denounced Protestants as "worse than vampires," according to local papers.
"Yes, there was some religious tension under the reflection of what's happened in other parts of Yugoslavia," Trajkovski says. But long before the elections, he declared, "The Muslims are our neighbors." As a result, Trajkovski received a majority of the Muslim vote (and even more from the Orthodox), which won him the electoral prize.
"Forgotten by the World"
Trajkovski says that Macedonia "is a model of the multireligious life" in the fractious Balkans, yet it is a model being tested by border fighting. The U.S. government is stepping up military assistance to help Skopje put down the nascent rebellion.
The country's socialist legacy brought corruption and depressed the economy. Then the war in Kosovo sent the economy into shock since 20 percent of exports went to Serbia, and many of Macedonia's trade routes go through Serbia. Says Linda Lynn Dennehy, a recent short-term missionary to Macedonia for the Christian and Missionary Alliance, "There is hopelessness and despair. When you take a cab, [the drivers] always talk of coming to America as the end-all and be-all."
Joe Hale, general secretary of the World Methodist Council, says that Trajkovski and the Macedonians "feel that they are forgotten by the world." The president says he worries that what aid the country receives from Christian missions may soon end, since most of their work in Macedonia is for Kosovo refugees. "I want to show the rest of the world that this part [of the region] deserves better treatment," Trajkovski says. "The Bible speaks of identifying ourselves with others."
Trajkovski fears that without more help from the U.S. government and Christian organizations, Macedonia won't be able to fulfill its promise. Its young institutions may be swept away in ethnic conflict fueled by poverty, corruption, and age-old resentments.
Trajkovski says his country has gone further in free-market reforms than most of the region. "The new leadership in the region, especially [in] Macedonia, is Western-oriented and solving problems in the Western way," he says. "On the political side, we are building democracy, democratic institutions, and uniting in elections."
Fighting Criminals, Guerrillas
The corruption that riddles both the public and private sectors poses a significant threat to progress in Macedonia. Organized crime groups transport heroin from Southeast Asia to Western Europe through Macedonia. Trajkovski says he takes corruption very seriously: "Corruption is a sin and inherited from the very beginning."
Trajkovski has boldly challenged both government and citizens to stem corruption. "I tell the prime minister that I am going to fight with everybody who is involved," he says. In late February, Trajkovski announced an agreement with Serbia to suppress organized crime.
Asked whether the members of his staff are uncorrupted, he takes a realistic view. "Maybe, maybe not," the president says. "Would I know?"
But Trajkovski says he has set such an example that no one comes to him with proposed deals.
Trajkovski hurriedly left Washington to sort out claims that state security police were wiretapping him, journalists, business owners, and opposition-party leaders. The Macedonian paper Dnevnik reports that the state security agency will be restructured because of those charges. Opposition-party leaders are to be included in running the state security agency.
Trajkovski and the prime minister, often without comment, oversaw the dismissals of the heads of the counterintelligence agency, several heads of public enterprises, and government financial personnel.
In addition to fighting corruption, Trajkovski is moving decisively to stem guerrilla groups. After a recent conflict 15 miles from the Macedonian capital, Trajkovski immediately asked for more patrols by NATO-led American troops. NATO keeps 6,500 troops in Macedonia.
"Macedonia is far more important to NATO's mission in Kosovo than the fighting in southern Serbia," a senior NATO official said. "If Macedonia is destabilized by fighting between Albanians and the Macedonian army, then we're in deep trouble."
Some people believe that Trajkovski might become prime minister, the highest executive office. The current prime minister, Georgievski, is an older man who belongs to the same political party as Trajkovski. Asked if he might one day become the prime minister, Trajkovski simply says, "Well, I am a young man."
Trajkovski, who is married and has two children, also knows that he is in a precarious position. "I am a castle on top and everyone looks at me," he says. "It is very difficult."
And dangerous. His appearance at a special session of the Macedonian Parliament took place under heavy security. Whatever happens, Trajkovski says he will continue to serve his people in the spirit of Psalm 25, which begins, "To you, O LORD, I lift up my soul; in you I trust, O my God. Do not let me be put to shame, nor let my enemies triumph over me."
"To serve God," says Trajkovski says, "is to be with the people and to follow Jesus' steps."
Tony Carnes, senior news writer for Christianity Today, is coeditor of the new book New York Glory: Religions in the City (NYU, 2001).
Related Elsewhere
Yahoo's full coverage area has links to news stories and resources about Macedonia.
USA Today recently reported that Trajkovski and U.S. President George W. Bush prayed together in the Oval Office earlier this month.
Last March, Ecumenical News International had a story about the tensions between Orthodox and Protestants in Macedonia, and how Trajkovski's election affected them.
United Methodist News Service and the United Methodist Reporter have also had several articles about Trajkovski.
Trajkovski's official site offers a biographical sketch, recent speeches, policy papers, and other resources in English.
Have something to add about this? See something we missed? Share your feedback here.
Our digital archives are a work in progress. Let us know if corrections need to be made.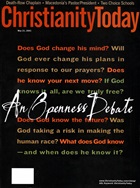 This article is from the May 21 2001 issue.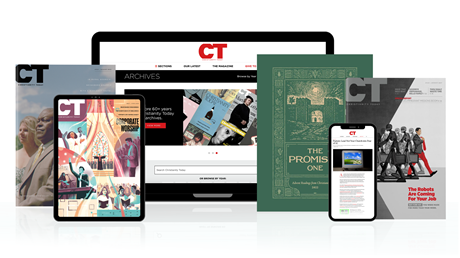 Annual & Monthly subscriptions available.
Print & Digital Issues of CT magazine
Complete access to every article on ChristianityToday.com
Unlimited access to 65+ years of CT's online archives
Member-only special issues
Subscribe
From Lay Pastor to President
From Lay Pastor to President