Dear Lord: John Ashcroft prays in office, makes front page of The Washington Post
"The purpose of the Department of Justice is to do the business of the government, not to establish a religion," an unnamed Justice attorney tells The Washington Post in a front-page story about the AG AG (that's Assemblies of God Attorney General). "It strikes me and a lot of others as offensive, disrespectful and unconstitutional. … It at least blurs the line, and it probably crosses it." Actually, John Ashcroft's daily Bible study with some of his staffers (including an Orthodox Jew) comes nowhere near the line. But that hasn't stopped church-state-separation absolutists like Barry Lynn from criticizing the meetings. The executive director of Americans United for Church and State—who has wormed his way onto way too many journalists' Rolodexes, says it's wrong for Ashcroft to "inject religion so blatantly into the agency." He also tells the Associated Press, "Justice Department employees who do not participate may feel their job advancement is hindered. Whenever a superior orchestrates a religious event, the people who work for him feel pressure to participate in order to advance their careers."
Actually, though it might be unwise to have private, voluntary meetings like this because they can create in-groups, there's certainly no Constitutional questions at stake here. "The attorney general didn't give up his First Amendment rights when he took his oath of office, and it would be dangerous to expect him to do so," writes syndicated columnist (and almost-fellow-Bush-cabinet-member) Linda Chavez. Another Creators Syndicate columnist, Mona Charen, defends Ashcroft: "Honestly, to suggest that Ashcroft is somehow compromising his position or offending the Constitution by praying every day—as scores of senators, congressmen and judges also do—really amounts to selective bullying. They are bullying the Christians and only the Christians."
According to the Los Angeles Times, the secularists' whines are a stretch. When it comes to Ashcroft's day-to-day work, the paper notes, "Ashcroft has led the Justice Department on a path that, to the surprise of many, is not altogether different on civil rights matters than that of his Democratic predecessor." Surprising, indeed. Now Ashcroft is sharing podiums and getting praise from the Anti-Defamation League's Abraham Foxman, who criticized him during confirmation hearings. And a few conservatives—no big names—are worried that he might be moderating himself too much. Still, a few liberals say "the jury is still out" on Ashcroft's commitment to civil rights, even though since February 1 he has postponed Timothy McVeigh's execution, "signed off on a landmark $500-million desegregation settlement in Mississippi … sent federal attorneys to Cincinnati to investigate white-on-black police shootings … declared racial profiling a top priority … [and] allowed the department to use its clout to enforce wheelchair access for the disabled and voting rights for the disenfranchised." Yeah, but one of these days he's going to start executing witches, I tell you!
Other political personalities:
Religion and politics:
Church and state:
Timothy McVeigh:
Other stories of interest:
Related Elsewhere
See our past Weblog updates:
May 15 | 14

May 11 | 10 | 9 | 8 | 7

May 4 | 3 | 2 | 1 | April 30

April 27 | 26 | 25 | 24 | 23

April 20 | 19 | 18 | 17 | 16

April 12 | 11 | 10 | 9

April 6 | 5 | 4 | 3 | 2

March 30 | 29 | 28 | 27 | 26

March 23 | 22 | 21 | 20 | 19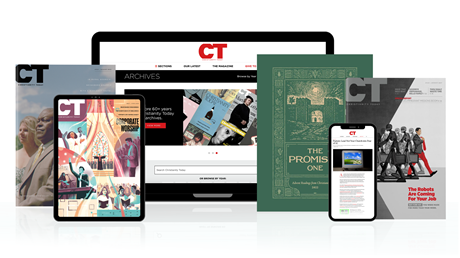 Subscribe to Christianity Today and get access to this article plus 65+ years of archives.
Home delivery of CT magazine
Complete access to articles on ChristianityToday.com
Over 120 years of magazine archives plus full access to all of CT's online archives
Subscribe Now
"Forget His Civil Rights Record, John Ashcroft (Gasp!) Prays!"
"Forget His Civil Rights Record, John Ashcroft (Gasp!) Prays!"