Yahoo cuts back on the smut—way, way back
A month ago, Weblog noted the unbelievable speed at which Internet site Yahoo! backed away from its plans to sell hardcore pornography in its video store. Apparently they got so much praise for the move that they've kept cutting. "The company has begun making it harder for users to find sexually explicit chat rooms and clubs," reports The New York Times. "The action has sparked anger and fear among users, prompting thousands of them to sign a petition demanding that the company continue to maintain the popular online forums." Yahoo's more sexually active users are claiming that the company's move—designed as a possible first step to eradicating such chat rooms and message boards completely—are a potential "blow to free speech everywhere." That quote comes from Aaron P. Dyson, a North Carolina Wesleyan College criminal justice student who probably won't be getting a law job any time soon. As The New York Times notes in several other quotes from civil rights lawyers, there's no First Amendment concerns if Yahoo isn't the government. "Yahoo isn't the only alternative," says ACLU spokeswoman Emily Whitfield. "I don't see any immediate cause for concern for us right now." (By the way, some Weblog readers who were upset with the initial announcement that Yahoo would be selling porn wondered how they could show their dismay. Now that Yahoo is becoming one of the cleanest major portal sites around, here's how to contact them to show your support: Yahoo, Inc.; 3420 Central Expressway; Santa Clara, CA 95051; Phone: (408) 731-3300; Fax (408) 731-3510; E-mail: investor_relations@yahoo-inc.com)
Secularizing Christianity.com
As part of its effort to move beyond the Christian Internet world, Christianity.com Inc. is changing its name to Starwire Corporation. Christianity.com will still exist, but only as part of a larger, less religious entity. "Think of Christianity.com as a banquet table. We invite all kinds of Christian organizations to pull up a chair and share the food that they brought with one another," president David Davenport explains in a press release. "Now envision a room with many other banquet tables where organizations can reserve a table of their own—this is one way to differentiate Starwire from Christianity.com." Or think of it another way: the Christians sitting at the banquet table aren't ordering big enough meals, and it's time to find bigger tippers. Only time will tell if Starwire Corporation will do any better at shaking the image Christiainity.com has had since its inception as being part of the Pat Robertson media empire.
Chicago-area religious leaders "fail" Beliefnet's "What religion are you" test
The Chicago Sun-Times asked four Chicago area religious leaders—Christian, Jewish, Muslim and Buddhist—to take Beliefnet's Belief-O-Matic religion test. The findings: maybe people don't really believe what they think they do. The "prominent Muslim leader" earned a score of 100 percent … for Orthodox Judaism. "The results should be a stark reminder of how much in common the Abrahamic faiths truly have," the unnamed Muslim told the paper. The Reform Jewish rabbi also scored 100 percent … for "Liberal Quaker" (he chalked it up to taking the quiz "right before sundown.") The Buddhist priest, said the quiz, would be better as a Neo-Pagan, New Age, Unitarian, Liberal Quaker, Christian Scientist or New Thought follower. However, the head of the Catholic Archdiocese of Chicago's Respect Life office scored 100 percent as Roman Catholic—which she is. Weblog is tempted to make a comment about the test demonstrating that all religions pretty much are the same except Christianity. But Weblog won't say such a thing.
Home-schoolers kick some serious sphingine
They're queens (and kings) of the bees. Home-schoolers are dominating at spelling bees (where they're spelling , geographic bees, and other academic contests. Home-schooling advocates say such wins—by spelling phrontistery and sphingine—demonstrate that home-based education works wonders. Public school advocates say the parents of the winners are spending too much time with the dictionary and atlas. "Education is not The Weakest Link or Who Wants to Be a Millionaire," Paul Houston, executive director of the American Association of School Administrators, tells the Chicago Tribune. "You're not an educated person because you can memorize pages of esoteric words. That's why you have spell check on your computer." That's write. Hew kneads spelling?
Church life:
Australia's archbishops:
Pope John Paul II:
Missions and ministry:
Pop culture:
Persecution:
Bible:
Related Elsewhere
See our past Weblog updates:
May 16 | 15 | 14

May 11 | 10 | 9 | 8 | 7

May 4 | 3 | 2 | 1 | April 30

April 27 | 26 | 25 | 24 | 23

April 20 | 19 | 18 | 17 | 16

April 12 | 11 | 10 | 9

April 6 | 5 | 4 | 3 | 2

March 30 | 29 | 28 | 27 | 26

March 23 | 22 | 21 | 20 | 19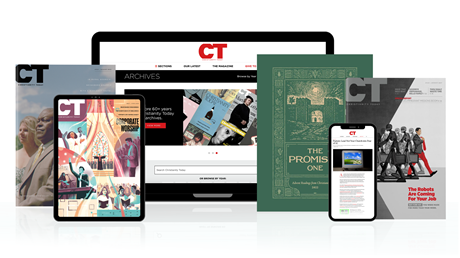 Annual & Monthly subscriptions available.
Print & Digital Issues of CT magazine
Complete access to every article on ChristianityToday.com
Unlimited access to 65+ years of CT's online archives
Member-only special issues
Subscribe
Is Yahoo On a Morality Crusade?
Is Yahoo On a Morality Crusade?