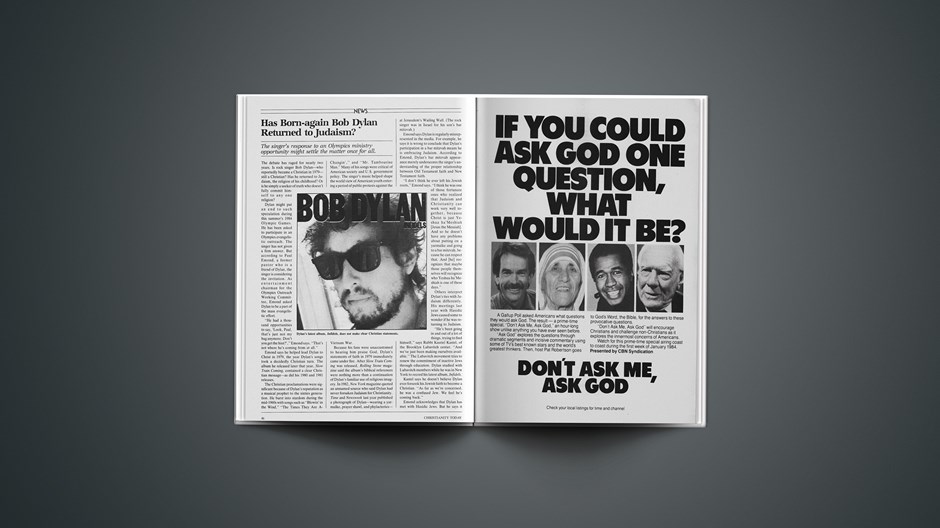 From the January 13, 1984, issue of Christianity Today:
The debate has raged for nearly two years. Is rock singer Bob Dylan—who reportedly became a Christian in 1979—still a Christian? Has he returned to Judaism, the religion of his childhood? Or is he simply a seeker of truth who doesn't fully commit himself to any one religion?
Dylan might put an end to such speculation during this summer's 1984 Olympic Games. He has been asked to participate in an Olympics evangelistic outreach. The singer has not given a firm answer. But according to Paul Emond, a former pastor who is a friend of Dylan, the singer is considering the invitation. As entertainment chairman for the Olympics Outreach Working Committee, Emond asked Dylan to be a part of the mass evangelistic effort.
"He had a thousand opportunities to say, 'Look, Paul, that's just not my bag anymore. Don't you get the hint?'," Emond says. "That's not where he's coming from at all."
Emond says he helped lead Dylan to Christ in 1979, the year Dylan's songs took a decidedly Christian turn. The album he released later that year, Slow Train Coming, contained a clear Christian message—as did his 1980 and 1981 releases.
The Christian proclamations were significant because of Dylan's reputation as a musical prophet to the sixties generation. He burst into stardom during the mid-1960s with songs such as "Blowin' in the Wind," "The Times They Are A-Changin'," and "Mr. Tambourine Man." Many of his songs were critical of American society and U.S. government policy. The singer's music helped shape the world view of American youth entering a period of public protests against the Vietnam War.
Because his fans were unaccustomed to hearing him praise God, Dylan's statements of faith in 1979 immediately came under fire. After Slow Train Coming was released, Rolling Stone magazine said the album's biblical references were nothing more than a continuation of Dylan's familiar use of religious imagery. In 1982, New York magazine quoted an unnamed source who said Dylan had never forsaken Judaism for Christianity. Time and Newsweek last year published a photograph of Dylan—wearing a yarmulke, prayer shawl, and phylacteries—at Jerusalem's Wailing Wall. (The rock singer was in Israel for his son's bar mitzvah.)
Emond says Dylan is regularly misrepresented in the media. For example, he says it is wrong to conclude that Dylan's participation in a bar mitzvah means he is embracing Judaism. According to Emond, Dylan's bar mitzvah appearance merely underscores the singer's understanding of the proper relationship between Old Testament faith and New Testament faith.
"I don't think he ever left his Jewish roots," Emond says. "I think he was one of those fortunate ones who realized that Judaism and Christianity can work very well together, because Christ is just Yeshua ha'Meshiah [Jesus the Messiah]. And so he doesn't have any problems about putting on a yarmulke and going to a bar mitzvah, because he can respect that. And the] recognizes that maybe those people themselves will recognize who Yeshua ha'Meshiah is one of these days."
Others interpret Dylan's ties with Judaism differently. His meetings last year with Hasidic Jews caused some to wonder if he was returning to Judaism.
"He's been going in and out of a lot of things, trying to find himself," says Rabbi Kasriel Kastel, of the Brooklyn Lubavitch center. "And we've just been making ourselves available." The Lubavitch movement tries to renew the commitment of inactive Jews through education. Dylan studied with Lubavitch members while he was in New York to record his latest album, Infidels.
Kastel says he doesn't believe Dylan ever forsook his Jewish faith to become a Christian. "As far as we're concerned, he was a confused Jew. We feel he's coming back."
Emond acknowledges that Dylan has met with Hasidic Jews. But he says it wasn't out of a desire to return to the Jewish faith. Emond says the meetings took place at the request of members of the Lubavitch movement.
"They can't take the fact that he (Dylan) was able to come to the discovery of his Messiah as being Jesus," Emond says. "Jews always look at their own people as traitors when they come to that kind of faith. … When one of their important figures is 'led astray,' they're going to do everything they can to get him back again."
But Kastel denies that his group is trying to take advantage of Dylan. "We don't want anyone to feel that he's being used in any way, which he's very sensitive to. So we're keeping this very, very low key."
For his part, Dylan isn't doing much to quell the debate. He does not grant many interviews, and Christianity Today was unable to contact him. When he does grant interviews, his statements often are ambiguous.
The Los Angeles Times last year quoted him as saying he did not regret "telling people how to get their souls saved." But he added, "Now it's time for me to do something else. … Jesus himself only preached for three years." The Washington Post quoted him as saying he believes in reincarnation.
In those articles as in others, Emond says, Dylan was misrepresented. "I know he doesn't believe in it [reincarnation], so it must have been taken out of context or misinterpreted. They [writers] can take what he says, if they want, and make it sound pretty bad, depending on what questions they're asking and how many words they leave out."
Dylan has said he lets his songs speak for him. But his latest album doesn't shed much light on his spiritual loyalties. The songs on the album make generous use of biblical imagery, but they make no clear declarations of faith. The absence of a Christian message leads some to wonder if the singer's spiritual commitment has waned.
Such speculation leads Emond to criticize the church for passing judgment on Dylan. "If the Christians spent as much time praying for guys like Bob as they do talking or speculating on him, then we wouldn't have these Christians like Bob that don't come out as boldly as we might like them to.
"I'm not saying that he's right in everything, because if I was in his position I would want to really capitalize on (his reputation as a vehicle for the gospel). And maybe that's in fact what he is doing, and he just has a different way of going about things." If Dylan uses his musical talent to share the gospel during this summer's Olympics, the speculation of the skeptics may be quieted.
This article originally appeared in the January 13, 1984, issue of Christianity Today, in the news section.
Related Elsewhere

Christianity Today's other articles on Bob Dylan include:
Watered-Down Love | Bob Dylan encountered Jesus in 1978, and that light has not entirely faded as he turns 60. By Steve Turner (May 24, 2001)

Bob Dylan: Still Blowin' in the Wind | Christianity Today reviews Dylan's work before the singer's conversion to Christianity. By Daniel J. Evearitt (Dec. 3, 1976)

Bob Dylan Finds His Source | A call into the bars, into the streets, into the world, to repentance. By Noel Paul Stookey (Jan. 4, 1980)

Not Buying into the Subculture | Slow Train Coming reveals that Bob Dylan's quest for answers has been satisfied. By David Singer (Jan. 4, 1980)
Tangled Up in Jews examines Dylan's Judaism, but hasn't been updated since 1997.
Have something to add about this? See something we missed? Share your feedback here.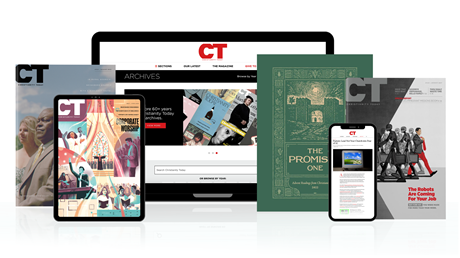 Subscribe to Christianity Today and get access to this article plus 65+ years of archives.
Home delivery of CT magazine
Complete access to articles on ChristianityToday.com
Over 120 years of magazine archives plus full access to all of CT's online archives
Subscribe Now
Has Born-again Bob Dylan Returned to Judaism?
Has Born-again Bob Dylan Returned to Judaism?