We shall not remain silent, say Christians in Ghana

Now that the center of Christianity has shifted away from Europe and the West to Africa, Asia, and Latin America, a lot of folks are worried about syncretism. As Weblog has earlier noted, such concerns tend to de-emphasize how much the West has syncretized Christianity with local values and customs and overlook the animosity that Christians often hold toward the beliefs they or their ancestors used to hold. The latter is currently being illustrated in Accra, Ghana, where Homowo, the harvest festival, has begun. Homowo is practiced by the Ga, a mostly animist people who constitute about 10 percent of Ghana's population but are most common in the capital city of Accra. Depending on who you ask, Homowo either means "hooting or jeering at hunger," or "hunger tomorrow," but in practice what it means is the outlawing of drums and loud music for a month. That's a problem for Accra's Christian churches, which regularly use loud music and drums in Sunday morning worship.
In most past years, the Ga Traditional Council (the ruling body of elders) simply ignored the churches, which in turn tried not to antagonize. But according to The Daily Mail and Guardian of Johannesburg, South Africa, this year is different. "The Ga people will not allow widespread violation of the ban," even in churches, acting Traditional Council president Nii Adottey Obuo said.
Sam Koranchie Ankrah, a leader of the Charismatic Churches Association, responds, "We will not be intimidated by the threat from the Ga Traditional Council. We have the right to worship and we would go ahead. It is up to the security authorities to ensure that a group of people under the name of tradition do not infringe our constitutional right to worship freely." But the security authorities are themselves worried that this year will see greater confrontation than in 1999, when violence broke out between Christians and animists (The U.S. State Department's 2000 Report on Religious Freedom in Ghana noted the incidents). "We have been receiving reports of the churches forming what they call 'warrior squads' to fight the Ga youth who may be attacking them for drumming within the churches," says an unnamed senior police officer. "Security wise, it doesn't look too good."
Liberia wants divine intervention in World Cup
We get some wacky sports-and-religion stories here in the U.S., but usually it's not taken all that seriously. In the qualifying rounds for the World Cup, however, Liberia and Nigeria are deadly serious about using prayer to ensure victory as they face each other. Liberia has formed at 57-man praying party, headed by the religious adviser to the Liberian government, to pray for victory at the matches. Team prayers have also been mandated. Nigeria has responded by organizing both Muslim and Christian prayer sessions, and team chairman Alhaji Waheed Yusuf has called for the whole country to pray for victory, saying "it is important at this crucial period."
Other articles about Africa:
More stories
Church and state:
Religion and politics:
Persecution:
Dara Singh trial for murder of missionary Graham Staines:
Sudan:
Energy and environmentalism:
Other stories of interest:
Related Elsewhere

See our past Weblog updates:
May 9 | 8 | 7

May 4 | 3 | 2 | 1 | April 30

April 27 | 26 | 25 | 24 | 23

April 20 | 19 | 18 | 17 | 16

April 12 | 11 | 10 | 9

April 6 | 5 | 4 | 3 | 2

March 30 | 29 | 28 | 27 | 26

March 23 | 22 | 21 | 20 | 19

March 16 | 15 | 13 | 12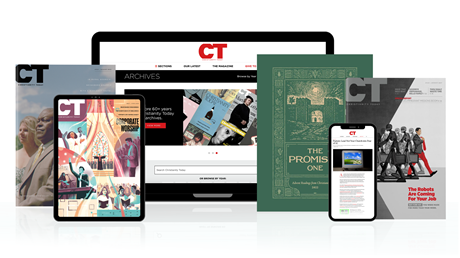 Annual & Monthly subscriptions available.
Print & Digital Issues of CT magazine
Complete access to every article on ChristianityToday.com
Unlimited access to 65+ years of CT's online archives
Member-only special issues
Subscribe
Christians and Animists Face Off Over Loud Worship in Ghana
Christians and Animists Face Off Over Loud Worship in Ghana