On October 26, the State Department released its third annual International Religious Freedom Report, which documents the status of religious freedom in 195 economies worldwide. The report is compiled and released under 1998's International Religious Freedom Act (IRFA).
On the same day, Secretary of State Colin Powell designated six countries and Afghanistan's Taliban regime as Countries of Particular Concern (CPCs). The countries were Burma, China, Iran, Iraq, North Korea, and Sudan. Such status makes a country subject to U.S. diplomatic and economic sanctions.
Nina Shea, director of Freedom House's Center for Religious Freedom and a commissioner of
the United States Commission on International Religious Freedom said the report is a "monumental effort"—but has flaws.
"It is better for the world of religious freedom to have this report than not to," Shea told Christianity Today last week. "But I find problems with the reporting on countries where the U.S. wants something such as oil or assistance in the war on terrorism."
The most glaring flaws, she said, appear in the report on Sudan, a country that has provided assistance in U.S. anti-terrorism efforts. "There is no real indication in the report that there is a genocide or jihad occurring," Shea said. The word jihad does appear, but only once and on page 5 of 6:
The Government is dominated by northern Muslims, while the southern ethnic groups fighting the civil war largely are followers of traditional indigenous religions or Christians. The Government has declared a "jihad" (Muslim holy war) against the southern rebels. One of the major factors in the continuation of the war is the Government refusal to agree to demands for a unified secular state.
Shea said the report's description of the civil war does not fully convey the fighting's terror or its religious nature. "The report deals more with customary issues of less significance such as prisoners being held, but there are no prisoners in the south because they are dead," Shea said.
Aid in the war on terrorism is not the only motivator for "political soft-pedaling" in country reports, Shea said. "In cases such as Egypt, [the careful treatment] must only be for political reasons to not upset Cairo. The Egyptian government has taken over all the human-rights groups in the country; nevertheless, the report find trends of improvement?"
Likewise, the Vietnam report "accentuates the positive," Shea said. According to the report:
While the status of respect for religious freedom remained fundamentally unchanged during the period covered by this report, there were improvements in some areas. In general there are amicable relations among the various religious communities, and there were no instances of societal discrimination or violence based on religion during the period covered by this report.
Shea said the report might be skewed by Vietnam's bilateral trade agreement with the U.S. "The only conclusion the report draws is that the situation stayed the same with some improvement," Shea said. "The overall conclusion doesn't at all highlight the negatives that are happening in Vietnam."
Last week, Robert Seiple, president and founder of the Institute for Global Engagement and former U.S. Ambassador at Large for International Religious Freedom, released a statement calling the State Department report "the best compilation of factual information about religious freedom that exists."
However, Seiple told CT, this resource is overshadowed each year by the "media-driven" list of CPCs.
"Our take is that emphasis should be put back on the very useful and informative report instead of a list meant to punish," Seiple said. "The report sets down markers meant to help the promotion of religious freedom. The ongoing reaction to designation and sanction is far more than necessary given the deep research and effort of this truth-telling document."
Countries of Particular Concern
In August, the USCIRF sent a list of CPC recommendations to Secretary of State Colin Powell. The letter recommended keeping last year's list (Burma, China, Iran, Iraq, Serbia, Sudan, and the Taliban regime) while adding Laos, North Korea, Saudi Arabia, and Turkmenistan. Only North Korea was added.
Serbia was dropped. The report cites improved conditions after former Yugoslav President Slobodan Milosevic's electoral defeat on September 24, 2000. Officials of the new government have expressed a commitment to improving respect for human rights.
While many religious freedom organizations have expressed satisfaction that North Korea was added, many are surprised at those left off.
"I thought for sure Turkmenistan would be designated," Seiple said. "The U.S. tried diplomacy but fell short at making any changes. There are no indicators that anything will be done differently in the future in that country. If you are not Sunni Muslim or Russian Orthodox, you don't stand a chance. They are hunted down."
Mark Albrecht, special advisor to the World Evangelical Fellowship Religious Liberty Commission, told CT that he was surprised by the exclusion of Saudi Arabia but also questioned the inclusion of Burma and Iraq.
Albrecht has visited Burma and said he heard little testimony of Christians being oppressed. "So far, I haven't been able to confirm that extensive persecution of the Christian church by the government is occurring," he said. "That is debatable information. It is hard to get sources and information from inside the country."
Iraq's inclusion is a political issue, Albrecht said. "I don't know that they have that serious of a religious freedom problem," he said. "But the U.S. government keeps pressure on them in a variety of fronts."
Todd Nettleton, assistant director of news services for Voice of the Martyrs, said a variety of issues might have kept countries off the list, such as cooperation in the war on terrorism.
"Some of the worst persecutors in the world are now our allies," Nettleton said. "It's hard to hold a country's feet to the fire when, on the other end, we are being their ally. We are not asking them questions about treatment of Christians. It's hard to have teeth in policies when they are not applied consistently."
Inconsistencies suggest that national-security concerns are outweighing religious freedom protection, he said. "If it walks like a duck and talks like a duck, then it's probably a duck," Nettleton said. "What does North Korea have to offer us now? Nothing, and they are named to the list. But what does Saudi Arabia have to offer? Bases and oil, so they are not."
Human Rights Watch says Uzbekistan, which is now hosting U.S. troops, should have also been named. In an October 26 press release, the advocacy group said that several thousand nonviolent Muslims have been arrested in the last three years for practicing their faith.
"By not designating Uzbekistan a country of particular concern, the administration missed an easy opportunity to show that the war on terrorism cannot be a campaign against Islam," said Malinowski, Washington Advocacy Director for Human Rights Watch.
Lawrence J. Goodrich, director of communications for the USCIRF, said that Laos, Turkmenistan, and Saudi Arabia should have been named but were not because "the commission and the State Department have different interpretations of what the law requires in the naming of a country of particular concern."
The State Department weighs outside interests into the equation before naming countries to the list of concern, Goodrich said. But the commission feels that whether a country is designated should be a factual question.
"If there is ongoing, systematic and egregious persecution, then it is a country of particular concern," he said. "Outside interests do not change the fact that a country is of concern."
The commission feels that once a country is designated, then outside concerns can be weighed into the decision on what action should be taken, Goodrich said.
He said that because CPCs can be designated any time throughout the year, the USCIRF will continue to push for Laos, Turkmenistan, and Saudi Arabia to be added.
To sanction or not to sanction
When a country is added to the list, the Secretary of State and the President have 90 days to take possible steps on the country, from diplomatic pressure to the application of sanctions.
However, most CPCs are already subject to U.S. pressure.
"The rationale always is 'Well, Iraq is already facing these economic sanctions, so this is another reason for them,'" USCIRF's Goodrich said. "We think there are cases where tools could be used more than they are. In the last two years, the State Department has taken no additional action on countries after their designation."
Seiple feels that while sanctions should not be removed from the quiver of available actions, they can backfire as often as they work.
"Sanctions have a very checkered career," he said. "Unilateral sanctions will usually drive a wedge between two countries. If there was any friendship, sanctions will end it. When sanctions are placed, someone feels a blow back, and it's not the President or the policy-makers but usually the people on the ground trying to help."
Seiple encourages the U.S. to use the CPC list to promote religious freedom and not as a tool of punishment.
"One thing we are learning from the terrorism coalition is that coalitions do work and countries can come around," he said. "This is what we need to look at for religious freedom. A coalition of countries could apply pressure to promote religious freedom."
Todd Hertz is assistant online editor for Christianity Today.
Related Elsewhere:
Also appearing on our site today:
Shaking Hands with Thugs | Sometimes setting aside human rights is the way to ensure their ultimate victory. (Nov. 7, 2001)
Media coverage of the religious freedom report includes:
China Says U.S. Report Is Distorted— Associated Press (Oct. 30, 2001)
Beijing attacks US religious report— BBC (Oct. 30, 2001)
Article continues below
U.S. singles out nations for repressing religion— The Chicago Tribune(Oct. 28, 2001)
U.S. Cites 6 Nations in Report on Religious Intolerance— The Washington Post(Oct. 27, 2001)
6 Nations Cited in Religion Report— Associated Press (Oct. 26, 2001)
Christianity Today's"Bearing the Cross" articles have focused on persecution in countries including Laos, China, Indonesia, Sudan, and North Korea.
See more articles on international persecutionfrom Christianity Today.
Related Christianity Todaycoverage includes:
What Does 09.11.01 Mean for Religious Persecution Policy? | Persecution watchdogs fear religious freedom will suffer. (Oct. 10, 2001)

Religious Liberty: How Are We Doing? | The challenges of being an international cop for human rights—a report by the first U.S. ambassador at large for religious freedom. (Oct. 10, 2001)

White House Takes Halting Steps on Religious Liberty | Bush invokes Washington's declaration of giving "persecution no assistance." (Oct. 10, 2001)

Gordon-Conwell Grad Nominated to Complete Administration's Religious Liberty Team | Hanford pledges to bring a balanced approach and a "passion for religious freedom." (9/27/2001)

Religious Freedom Delegation Gets Cold Shoulder | Some Coptic Christians worry that foreign intervention on their behalf would spell trouble. (May 1, 2001)

Religious Freedom Act: One Year Later | Little progress seen so far, but advocates see hope for future. (Dec. 27, 1999)

'America Legislates for the World!' Muslims respond to the U.S. State Department report on religious freedom" (Nov. 19, 1999)

Religious Freedom Report Released (Oct. 25, 1999)

Religious Persecution Bill Encounters Stiff Resistance (Oct. 5, 1998)

Congress Approves Modified Religious Persecution Bill (Nov. 16, 1998)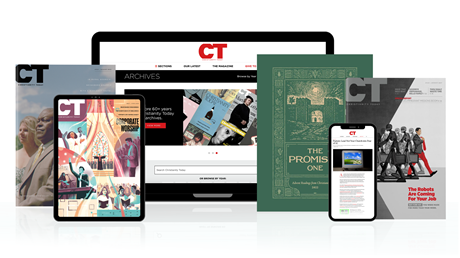 Annual & Monthly subscriptions available.
Print & Digital Issues of CT magazine
Complete access to every article on ChristianityToday.com
Unlimited access to 65+ years of CT's online archives
Member-only special issues
Subscribe
Naming Names
Naming Names