When the Jones Institute for Reproductive Medicine announced that it had created human embryos specifically for research purposes, it talked up the a priori endorsement of three separate panels of bioethicists. And at congressional hearings on stem-cell research and again on cloning, bioethicists both raised questions and calmed fears about the new technologies.
Bioethicist has certainly entered the American vocabulary, but its meaning remains murky. Classically speaking, an ethicist is a specialist in ethics, which, our dictionary says, is "a set of principles of right conduct; a theory or a system of moral values." A bioethicist would then be someone who applies principles of right conduct to the advancing borders of medical and biotechnical science. It seems, however, that few actually speak in that prophetic voice, while many are in danger of becoming priests who bless the moneyed interests who pay their bills.
This new priestly prominence of bioethicists came in two waves. First came new questions that went beyond what physicians and patients were prepared to face during the medical innovations of the 1960s and 1970s. When shall we unplug a comatose patient? Who best qualifies to benefit from scarce kidney dialysis machines? A group of thinkers emerged, willing to address new situations of life and death, scarcity and need.
Second came the public relations. Frightened by the passionate (and at times irrational) European reactions to genetically engineered foods, the biotech industry decided to prepare the public for developments in stem-cell research and cloning. And so companies such as Geron pioneered the formation of corporate bioethics advisory boards.
As Vicki Brower told it in a 1999 BioSpace article, "Biotechs Embrace Bioethics," these were originally composed of theologians who acted as unpaid consultants. Eventually, bioethics panels were made up of paid consultants (with some getting a pittance and others earning as much as $100,000 per year in company stock). While such compensation may be fair, it raises questions of compromise. And one thing is certain: whatever the motives of the ethicists, corporate interests are focused on public relations. Brower cited Millennium chief business officer Steven Holtzman as saying, "Many companies have become savvy enough to understand that the single greatest obstacle to utilizing new technologies is the potential for public backlash." Worried about negative reactions? Call in the ethicists.
As Brower pointed out, this approach is unlikely to produce ethical judgment: "To date, no company has reported suspending an ongoing research program or product on ethical grounds. … Most efforts at bioethical inquiry. … are inseparable from pr outreach: The former is often discussed as a way to smooth the path of research and product development."
No names, please
The Jones Institute for Reproductive Medicine tried to reassure the public with its three panels of ethicists. But when the institute was asked to identify the ethicists, it refused to divulge a single name. The public doesn't care, nor would it likely recognize, who sits on these panels, but it does care about what values and training they bring to their work.
According to bioethicist Nigel Cameron, bioethics is not an easy field to describe. "It isn't a discipline; it is an interdisciplinary field," says Cameron, who helped forge the first bioethics degree program at a Christian university and who now works with Charles Colson at the Wilberforce Forum. "Most bioethicists don't train in bioethics. They move sideways from other disciplines—law, theology, medicine, philosophy."
And as an interdisciplinary field, it is "quintessentially postmodern," Cameron told ct. Because few academic programs are specifically designed to prepare bioethicists, the field is "decentralized, more tied to periodic conferences than anchored to institutions." The field is "perfectly designed to be the midwife for the birth of a whole posthuman future," he said.
Classical ethics set forth sets of rules or principles to guide ethical judgment. The results of ethical inquiry could usually be predicted by applying those principles or rules to the facts. Not anymore, says Cameron. "Bioethics doesn't like being locked into any kind of framework that would involve predictability," he said. "From a Christian or traditional perspective, it isn't ethics at all, but uses items from the ethics toolbox so it can do what it wants in any situation."
According to William Saletan, who has written repeatedly about bioethics for the online magazine Slate, the chief tool plucked from the toolbox is proceduralism. The public can be distracted from the goals and results of biotechnologies, he argues, by elaborate protocols that ensure certain classical ethical worries (such as informed consent) are not violated. Indeed, corporate officers and scientists can deceive their own consciences by focusing on the how rather than the why, on the means rather than the end.
For example, Saletan wrote about the recommendations of the ethics panels employed by the Jones Institute, "The only question addressed is whether the donors properly consented. The propriety of what they consented to is ignored."
Thus, Saletan concludes, "The slickest way to make yourself look ethical is to narrow the definition of ethics so that it won't interfere with what you want to do. But that won't make you ethical. It'll just make you an ethicist."
The state of bioethics is not completely dismal. Indeed, this year two of the nation's most prominent bioethicists resigned in protest from the Advanced Cell Technology ethics advisory board. One of them, the University of Pennsylvania's Arthur Caplan, said that while act was using his name (and paying dearly for it), it wasn't seeking his advice. And after he resigned, Glenn McGee, also from the University of Pennsylvania, called corporate ethics boards "rubber stamps" created to give companies an aura of acceptability.
Next time you hear the word bioethicist, don't let your eyes glaze over, but ask who is paying the bills and what someone is hoping to slip past the American public.
Related Elsewhere
Also appearing on our site today:
A Matter of Life and Death | Why shouldn't we use our embryos and genes to make our lives better? The world awaits a Christian answer. (Sep. 28, 2001)

Recent media coverage and commentary on bioethics include:

The Ethicist's New Clothes — Slate (Aug. 16, 2001)

Bioethicists Fall Under Familiar Scrutiny — The New York Times (Aug. 2, 2001)

Bioethics: Toughest policy calls of era — Christian Science Monitor (Aug. 2, 2001)

Biotechs Embrace Bioethics — BioSpace (Aug. 14, 2001)

Bioethics in the Hot Seat — Wired News (Jan. 18, 2001)

Frankensteins's Minister — Slate (Dec. 9, 1998)
Media coverage of Advanced Cell Technology's ethics advisory board includes:
Ethicist spurs debate on biological research— The Philadelphia Inquirer(July 17, 2001)
Cloning Firm Is Accused of Ignoring Its Ethics Board— The Washington Post(July 14, 2001)
Company Using Cloning to Yield Stem Cells— The New York Times(July 13, 2001)
The Jones Institute for Reproductive Medicineis one of the world's foremost infertility and endocrine research centers.
ReligiousTolerance.org offers great resources on the ethical aspects of human cloningand stem cell research.
The Center for Bioethics and Human Dignityhelps individuals and organizations address the pressing bioethical challenges of our day and recently looked at the ethics of bioethics.
Article continues below
The American Journal of Bioethics Onlinehas plenty of resources and information including "bioethics for beginners."
Do No Harm, the Coalition of Americans for Research Ethics, is a national coalition of researchers, bioethicists, and others dedicated to the promotion of scientific research and health care which does no harm to human life.
As part of President Bush's decision to fund embryonic stem-cell research, he created a president's councilof leading scientists, doctors, ethicists, lawyers, and theologians. Dr. Leon Kass, a biomedical ethicistfrom the University of Chicago, will lead the council.
Even Miss Americawants to be a bioethicist.
Previous Christianity Todaycoverage of bioethics includes:
Two Cheers | President Bush's stem-cell decision is better than the fatal cure many sought. (August 10, 2001)

House Backs Human Cloning Ban | Scientists say they'll go ahead anyway. (August 27, 2001)

Embryos Split Prolifers | Bush decision pleases some, keeps door open for disputed research. (August 27, 2001)

House of Lords Legalizes Human Embryo Cloning | Religious leaders' protests go unheeded by lawmakers. (Feb. 2, 2001)

Britain Debates Cloning of Human Embryos | Scientists want steady stream of stem cells for "therapeutic" purposes. (Nov. 22, 2000)

Tissue of Lies? | Latest stem-cell research shows no urgent need to destroy human embryos for the cause of science. (Sept. 28, 2000)

Beyond the Impasse to What? | Stem-cell research may not need human embryos after all. But why are we researching in the first place? (Aug. 18, 2000)

Thus Spoke Superman | Troubling language frames the stem-cell debate. (June 13, 2000)

New Stem-Cell Research Guidelines Criticized | NIH guidelines skirt ethical issues about embryo destruction, charge bioethicists. (Feb. 7, 2000)

Human Embryo Research Resisted (August 9, 1999)

Editorial: The Biotech Temptation (July 12, 1999)

Embryo Research Contested (May 24, 1999)

Stop Cloning Around (April 27, 1997)
Have something to add about this? See something we missed? Share your feedback here.
Our digital archives are a work in progress. Let us know if corrections need to be made.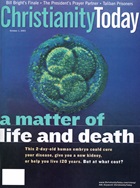 This article is from the October 1 2001 issue.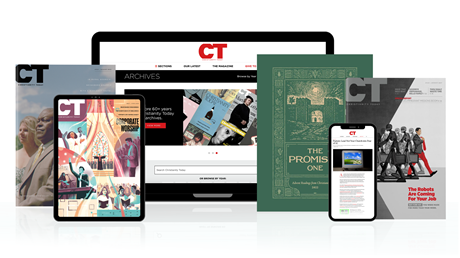 Subscribe to Christianity Today and get access to this article plus 65+ years of archives.
Home delivery of CT magazine
Complete access to articles on ChristianityToday.com
Over 120 years of magazine archives plus full access to all of CT's online archives
Subscribe Now
Wanna Buy a Bioethicist?
Wanna Buy a Bioethicist?