Bill Bright knows he is dying. But this knowledge doesn't discourage him. The founder of Campus Crusade for Christ (CCC) still has work to do. On Easter morning, he appeared with Robert Schuller in the Crystal Cathedral. He stood erect, smiling his familiar Pillsbury Doughboy smile, while Schuller introduced him as "the man of the century for Christ." Campus Crusade has converted and discipled millions of souls since its launch in 1951; over 4 billion people across the world have seen the CCC-produced Jesus film (which has been translated into 656 languages, at last count). "No person has been responsible for introducing more people to Christ in greater numbers than Bill Bright," said Schuller.
Gratified but not self-impressed, Bright took to the pulpit and said: "The number one tragedy of the century is that a large number of believers are not really excited about the Resurrection." Bill Bright is especially excited about the Resurrection these days, because his days in the "earthly tent" are fading as he combats pulmonary fibrosis, an incurable lung condition that gradually erodes one's ability to breathe. In July, the 79-year-old leader passed the mantle of CCC's leadership to his successor, Steve Douglass.
Senior writer Wendy Murray Zoba, who wrote CT's 1997 cover story on Bill and Vonette Bright, recently was invited to meet with him again in his Orlando home to talk about the release of what is likely his final book. Blessed Child (cowritten with Ted Dekker) is a novel about a 10-year-old boy with the power to perform miracles. The boy's life is touched by a dying evangelist—a character not unlike Bright. "I have come to the conclusion that a good novel on biblical themes can reach many more people than most theological works," Bright says. Zoba asked Bright for his thoughts on the Resurrection, the church, and the final chapter of God's wonderful plan for his life.
What is your current condition?
I've lost about 60 percent of my lung capacity and it keeps going down. One day I'll breathe my last breath, which is fine. I can say I've lived a pretty exciting life. But since it was announced to me that there is no cure for the disease, I've entered into a different relationship and a more wonderful intimacy with the Lord.
James says to rejoice when you're having difficulties. Paul speaks of rejoicing when you suffer. I know the reality of what they were saying. They were rejoicing in their adversities, and they had a lot of it. The Bible says, "Without faith, it is impossible to please God." So when problems arise, we say "Thank you" and—by an act of the will—rejoice. God then fulfills his promise, "If you obey me I will reveal myself to you." So the act of faith in saying, "Thank you, Lord," releases his presence in new dimensions.
Is this "different relationship" a departure from where you were spiritually the last time we met?
There's no departure; it's an enhancement. I've known the joy of his presence for 50 years-plus, in different degrees. To know Jesus is to love him, and to love him is to obey him.
When we met last time, you said, "For 46 years my life has been like a farmer who lifts a calf over a fence," referring to your mission to reach the world. Are there any calves you have left to lift?
I live according to Philippians 2:13, "God works in you to will and to do his good pleasure." There are some important things that I feel God wants me to do: Making the transition to Stephen Douglass as seamless as possible is one. Also, I am seeing a dream fulfilled that goes back to the early 1970s—that is to build a Christian international university. We are in the process of acquiring space for about 2,000 students. We took over the bankruptcy [proceedings] at King's College in New York at the request of their board and their president. It's a part of our worldwide training.
In addition, I have felt impressed to accelerate what God led me to do in 1994, which was to call the world to fast and pray for revival and his divine intervention. I'm more persuaded as I look back over the last eight years that fasting and prayer is the most important discipline of the Christian life. It destroys the strongholds of the enemy. We're training pastors and Christian leaders to fast and pray and seek God's face. There's no merit in fasting just for brownie points; we do it to remove all the impediments of sin that are hindering God's control of our lives. That's a very important item on my agenda. One of the great burdens of my heart is for pastors worldwide.
Why pastors?
The pastor is the key person to every community, if he's a godly pastor. Other leaders of the community often attend a church that ministers to them. Whether it's the President or the local precinct leader, the local pastor—if he's a godly, spiritual person—can have a profound impact. As you may know, the Barna and Gallup reports are not encouraging. Many pastors say they are not satisfied with what they're doing. Others have struggled with pornography. So my burden is to help pastors. They have a tough time.
What did you mean when you said at the Crystal Cathedral that a large number of believers are not excited about the Resurrection?
In America there will be about 120 million or so people in church on Sunday, but you would not realize that, seeing how little a contribution we make to our culture. A handful of anti-God forces are shaping the destiny of our culture. And Christians are strangely silent because they have, unfortunately, very little strong leadership.
Does that go back to your burden about the pastors?
If the pulpit is aflame, the pews will be.
Is this a failure of the seminaries?
I'm a strong believer in the church, and I'm grateful for the seminaries. But the average fellow who graduates from seminary is not ready to start a church, doesn't know firsthand what to do. It's survival of the fittest. When you figure that some surveys say 90 percent of American pastors are unhappy with their calling, there's something wrong.
What do you think accounts for the state of the church in America today?
Jesus came for what? So he can save the lost, right? He talked, he healed. But the purpose was to seek and save the lost. There are two kingdoms: Christ's kingdom and Satan's kingdom. They are at war.
I was once a member of Satan's kingdom, but nobody ever told me. I was a happy pagan in my youth. In a little church in Oklahoma, where my mother was a member and I was baptized, the pastor was a womanizer and an adulterer who finally left his family and divorced. It simply confirmed to my immature mind that Christianity had nothing to offer.
In 1944, I went to Hollywood and launched my own business. There I received Christ, and my life was changed. I used to be invited to speak in churches as a young Christian, because in those days anyone who had some degree of success was a popular speaker. I would ask members of various churches questions like, "What's the greatest thing that ever happened to you?" They would always say, "Knowing Jesus." I would ask, "What's the greatest thing you could do to help another person?" They would say, "Helping someone to know Jesus." I would ask, "Are you doing it?" They would say, "No."
I made up my mind then that I would spend my time with nonbelievers, and when they became Christians, I would do everything I could to keep them separate from the old diseased Christians. I didn't want them to catch their diseases.
But then how do you reach those "diseased Christians"?
In the years that have passed, I found very few people enjoy being miserable Christians. The spiritual life is the key to the abundant life, a life of joy and peace and adventure and wonder. Jesus said, "You will receive power after the Holy Spirit has come upon you." The disciples, you'll remember, had been with Jesus for 3 1/2 years or so, but they were miserable and frustrated and defeated and fruitless. Then after the Resurrection and Pentecost, they went out and died as martyrs getting the message to the world. My commitment all these years has been not to criticize the church but to help Christians leaders, students, and pastors discover the incredible life of adventure that is our heritage.
And you see prayer and fasting as the vehicle for this?
As you study Scripture, the number one problem in man is his pride, right? Can you think of anything more serious than that? Nobody is going to fast with an ego to boast about unless he's a strange person. Fasting is not pleasing to the flesh. When you humble yourself and pray and seek God's face and turn from your wicked ways, God will hear from heaven and forgive their sin [2 Chron. 7:14]. That's been the reason I've done 40-day fasts for the last eight years.
Your health is declining . …
But my spirit is soaring.
Does heaven seem nearer to you now than before?
I've been so busy. Even though I've always believed in heaven and hell, after I became a believer, I gave little thought to it. But in recent months I've been writing on heaven and hell. My logic is this: The God whom we worship created at least 100 billion galaxies—some astronomers would say 200 billion. Do we give God credit? They say it was the Big Bang. But it was this great Creator God who made all this majesty and glory.
You can imagine, then, what he's done to create a heaven? "Eyes have not seen, ears have not heard, neither knows the heart of man what God has prepared for those who love him"—beauty and magnificence beyond anything our little finite minds can imagine.
The most important moment in anyone's life as a believer is the last breath, because the next breath is in heaven. To be absent from the body is to be present with the Lord. My gracious wife of 52 years has been everything to me. Vonette and I have been anticipating heaven. It's something we look forward to. I just want to finish what he's called me to do.
Do you feel you have completed the mission for which you were put on Earth?
Who is Bill Bright? I'm a little nobody among 6 billion nobodies. God has given me several things I think he's wanted me to do, and yet there doesn't seem to be any assurance time will allow me to finish some of these. He doesn't need Bill Bright any more than he needs a twig on a tree. He created us in his image, and he loves us, and he esteems us, and we are of worth to him, but he can raise up sticks and stones to worship him. So, it's not as though my departure is going to leave a big hole.
Are there any dreams that you dreamt that haven't come true?
World revival, the fulfillment of the Great Commission—though we're very close in terms of taking the gospel to everybody on planet Earth, closer than ever in history. And, through our partnerships with churches and other ministries, we have taken the gospel to over 6 billion in 50 years and about 2 1/2 billion in the last two years.
In hindsight, is there anything you might have done differently?
If I had my life to live over, I would have concentrated on getting to know God better and love him more and trust him more. One of the best ways to maintain that first love is to share Christ with others. That can happen to everybody, every day.
What would be your parting words to believers?
The believer who is on the cutting edge—who walks in the light as God is in the light—lives the life of adventure. So my plea would be, become acquainted first with who God is, and then obey what he tells you to do and experience his blessing. The blessings of heaven are for everybody, no matter what the circumstances. Jesus said, "Come unto me, all you who are weary, and I will give you rest. Peace I leave with you." And so my word to believers would be: Let us awaken out of our Laodicean spirit and return to our first love, like the church at Ephesus was admonished to do. And let us share this most joyful news with everybody on the planet.
Related Elsewhere:
Read Wendy Murray Zoba's 1997 Christianity Today article, "Bill Bright's Wonderful Plan for the World."
Bright's official site includes information on his life, his books and materials, and a timeline of his life.
Campus Crusade for Christ's homepage includes links to Bright's famous Four Spiritual Laws, the daily devotional he writes, and a message from Bright.
Bright officially passed the Campus Crusade baton to Douglass in July.
Bill Bright's books, including Blessed Child, are available at Christianbook.com.
The JESUS Film project online allows viewers to watch the film in 55 languages.
In a recent TIME article on Blessed Child, Bright said, "If I die I'm going to heaven. If I don't die, I go on serving the Lord. I'm happy either way."
Christian Broadcasting Network said "no one has had more of an impact on world evangelism in the last 50 years than Bill Bright."
Religion & Ethics Newsweekly correspondent Kim Lawton interviewed Bright about his evangelical work and pulmonary fibrosis.
Have something to add about this? See something we missed? Share your feedback here.
Our digital archives are a work in progress. Let us know if corrections need to be made.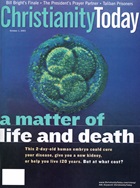 This article is from the October 1 2001 issue.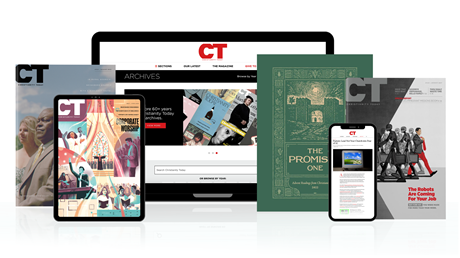 Subscribe to Christianity Today and get access to this article plus 65+ years of archives.
Home delivery of CT magazine
Complete access to articles on ChristianityToday.com
Over 120 years of magazine archives plus full access to all of CT's online archives
Subscribe Now
Bright Unto the End
Bright Unto the End