Robert Voorheis says he knew the instant he saw his partner of 23 years that it was a match meant to be.
"I saw him across the room and that was it," Voorheis says of his partner, Michael Sabatino. A year later in 1979, the two walked down the aisle of Washington Square Methodist Church in New York City after a commitment ceremony that included Gospel readings, hymns, and the Lord's Prayer.
Voorheis and Sabatino say they are pioneers in a movement that seeks equal recognition and legal rights for same-sex couples who want to wed. Both gay-marriage advocates and traditional marriage activists are stepping up their activity in courtrooms and statehouses across the county.
In July, for example, two lesbians living in Massachusetts became the first American couple to travel to the Netherlands to avail themselves of that nation's new homosexual marriage law. The couple is expected to seek recognition in Massachusetts courts.
Also in July, conservative forces began a new phase of the struggle against gay marriage when the Alliance for Marriage, a nonprofit educational organization, proposed an amendment to the U.S. Constitution. The proposed Federal Marriage Amendment is backed by a racially and religiously diverse coalition that includes Catholic Richard Neuhaus, Baptist Rich Cizik, and Muslim Aly Abu Zaakah, among 40 others.
"[Homosexual marriage] is a direct attack on the family as an institution," says Bishop George McKinney of the Church of God in Christ, one of the nation's largest African-American denominations. "The idea that marriage can be redefined because some people choose to live a different lifestyle is, in my opinion, utter foolishness."
The proposed amendment states: "Marriage in the United States shall consist only of the union of a man and a woman. Neither this Constitution or the constitution of any state, nor state or federal law, shall be construed to require that marital status or the legal incidents thereof be conferred upon unmarried couples or groups."
Battle on Two Fronts
The amendment would prevent legislatures from using the term marriage for homosexual unions and would prevent courts from ordering homosexual marriage or allocating marriage benefits to gay couples. It also would prohibit the recognition of same-sex marriages performed outside the United States.
Supporters say an important role for the amendment is to bar activist judges from issuing rulings in favor of homosexual unions. In Alaska and Hawaii, local judges ruled in favor of same-sex marriage, only to have those rulings later invalidated when lawmakers voted for new state constitutional amendments.
Chris Purdom of the Philadelphia-based Interfaith Working Group, says their chief concern is using the Constitution to "impose a particular religious view of marriage on others."
Same-sex couples, because they do not have marriage licenses, do not have access to federal benefits such as immigration and spousal Social Security and tax benefits. Vermont last year became the first state to grant marriage benefits to same-sex partners through "civil unions."
But under the 1996 federal Defense of Marriage Act (DOMA), such unions are not federally recognized and need not be recognized by other states. Unlike DOMA, which is expected to face legal challenges, a constitutional amendment could not be overturned.
While the amendment would prevent judges and courts from determining how marriage benefits might be approved for same-sex couples, the measure would not prevent state legislatures from enacting civil-union laws. In fact, if approved, the marriage amendment could accelerate efforts by liberal lawmakers to approve same-sex unions without the marriage label, says Purdom.
In Vermont, 1,500 homosexual couples entered into civil unions in the first six months after passage of the law.
Conservative Christian groups, including the Family Research Council and Concerned Women for America, have opposed the marriage amendment because of the state-level loophole. To date in half a dozen state legislatures, politicians have introduced some type of civil union or civil marriage bill. Some 35 states have adopted laws explicitly prohibiting same-sex marriages.
Marriage and family law is being tested nationwide in new ways. For example, a lesbian mother is using her Vermont-approved civil union to challenge Georgia's child-custody laws. The case could become the first test of whether Vermont's civil-union law is applicable elsewhere.
Matt Daniels, executive director of the Alliance for Marriage, says the strategy of pursuing simultaneous challenges to the legal status of marriage "virtually guarantees that our conventional legal defenses—including DOMA—will be insufficient to save the legal status of marriage in the U.S. from being undermined in the courts." He believes such challenges will provide a catalyst for public support of the marriage amendment.
Related Elsewhere:
The Alliance for Marriage site includes a section on the marriage amendment and comments delivered by members at a press conference in July. The site also has collected press excerpts.
Article continues below
An Alliance for Marriage poll found a majority of Americans agree that the health of marriage and families should be the primary domestic policy priority of both parties. The site also details the benefits of marriage.
The Defense of Marriage Act (DOMA) does two things: it provides that no State shall be required to give effect to a same-sex marriage law of another state, and it defines the words "marriage" and "spouse" for purposes of Federal law. It was passed in 1996.
National Review's July 23 editorial and cover story, "The 28th Amendment," called for the country to defend the valued institution of marriage. On National Review Online, Andrew Sullivan and Jonathan Rauch criticized the stand.
National Review Online's Contributing Editor Stanley Kurtz pointed out the link between "the rise of the movement for gay marriage and the decline of heterosexual courtship and marriage."
In a 1996 Christianity Today column, Charles Colson said that "accepting same-sex relationships as the moral and legal equivalent of marriage will transform the very definition of marriage—with far-reaching repercussions."
A Newhouse News Service article looked at an expanding political movement that promotes marriage as a powerful prescription for many modern-day ills.
Robert H. Knight and Timothy J. Dailey of the Family Research Council warned the Vermont legislature about the slippery slope of redefining marriage.
Concerned Women for America have an archive of articles in response to the same-sex marriage issue.
Columnist Maggie Gallagher said the need for the Alliance for Marriage amendment has recently became dramatically clear.
Other recent media coverage includes:
With Vermont in the Lead, Controversy Progresses — The Washington Post (Sept. 4, 2001)
No way to save broken marriages (Editorial) — The Seattle Times (July 15, 2001)
Marriage-Strengthening Constitutional Amendment Proposed — Fox News (July 13, 2001)
Constitutional amendment aims to block spread of Vermont's civil unions— San Francisco Chronicle (July 11, 2001)
Group Pushes Gay Marriage Ban — Associated Press (July 10, 2001)
Marriage Amendment Proposed by Some Groups — Fox News (July 10, 2001)
Past Christianity Today coverage of same-sex marriage includes:
Church Federation in the Netherlands Closes in on Blessing Same-Sex Unions | Three months after country recognized gay matrimony, proposal suggests distinguishing between "life unions" and marriage. (July 19, 2001)
Article continues below
No Balm in Denver | Episcopalians defer debate over same-sex blessings for another three years. (July 17, 2001)
Marriage Laws Embroil Legislatures | New Englanders push for domestic-partner benefits. (April 26, 2001)
Australia's Church Leader's Views on Sexuality Ignite Controversy | Head of country's Anglicans calls for blessing of same-sex "friendships." (April 26, 2001)
Churches Divided Over Amsterdam's Same-Sex Weddings | April 1 midnight ceremony said to be world's first official gay wedding.(April 10, 2001)
Presbyterians Propose Ban on Same-Sex Ceremonies
Change to church constitution, which passes by only 17 votes, now goes to presbyteries. (July 5, 2001)
Sticking With the Status Quo | United Methodists reject gay marriage, ordination. (May 15, 2000)
Presbyterians Vote Down Ban on Same-Sex Unions | Opponents say vague wording led to defeat. (March 29, 2001)
States Consider Laws on Same-Sex Unions California to vote on 'limit on marriage' in March (Jan. 10, 1999)
Presbyterians Support Same-Sex Unions (Dec. 10, 1999)
Pastor Suspended in Test of Same-Sex Marriage Ban (Apr. 26, 1999)
Same-Sex Rites Cause Campus Stir (Aug. 11, 1997)
State Lawmakers Scramble to Ban Same-Sex Marriages (Feb. 3, 1997)
Clinton Signs Law Backing Heterosexual Marriage (Oct. 28, 1996)
Have something to add about this? See something we missed? Share your feedback here.
Our digital archives are a work in progress. Let us know if corrections need to be made.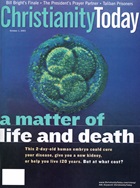 This article is from the October 1 2001 issue.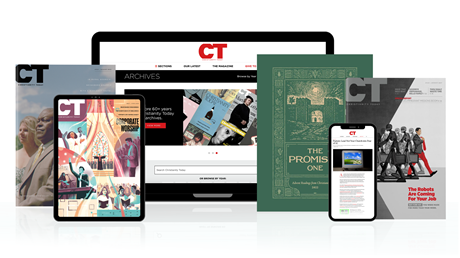 Subscribe to Christianity Today and get access to this article plus 65+ years of archives.
Home delivery of CT magazine
Complete access to articles on ChristianityToday.com
Over 120 years of magazine archives plus full access to all of CT's online archives
Subscribe Now
Marriage: Defining Marriage
Marriage: Defining Marriage