Thousands of Christians in northern Nigeria were displaced from their homes and took shelter in police and army barracks following violence this month between Christians and Muslims in Kano City.
Officials of the Nigerian Red Cross said that the agency had provided food and medical assistance to hundreds of Christians who took refuge in the barracks following riots that broke out after demonstrations protesting against the United States-led action in Afghanistan.
A police spokesperson in Kano, Kabiru Shehu, said 32 people had been killed in the violence that lasted from October 12 to 15. The police also said that 51 people were injured and five churches were burnt down.
However, a Nigerian Red Cross official in Kano put the death toll at more than 100 and Christian leaders in the region said the figure was twice this.
Zakka Nyam, Anglican bishop of Kano, said that he had received information from Christians working in two of Kano's hospitals that "over 200 dead bodies were deposited in these two hospitals." He said that this figure had been "authenticated by some top police officers who confided in us."
Gabriel Ojo, minister of the Kano Baptist Church and chairman of the Kano state chapter of the Christian Association of Nigeria (CAN), also put the number of dead at over 200. He said police were "trying to hide the casualty figures in order not to expose the fallacy of the government and their inadequacies in the conflict."
The riots broke out after protests on October 12, during which demonstrators burned five U.S. flags and an effigy of US President George W. Bush. Demonstrators denounced the U.S. and expressed support for Osama bin Laden and the Taliban regime in Afghanistan.
The demonstrations were aimed at drumming up support for Osama bin Laden, Ibrahim Umar Kabo, one of the organizers and leader of an Islamic group in Kano, said.
According to news reports, following the demonstrations youths began setting fire to cars and religious buildings, and the violence quickly spread to many parts of Kano, particularly those with large non-Muslim populations.
A number of Muslims were killed in retaliatory attacks by Christians. The police in Kano reported that one mosque was completely destroyed and other, smaller places of worship suffered heavy damage.
Tension has been increasing in recent months between Christians and Muslims in Nigeria. Hundreds of people were said to have died in September after 10 days of violence between Christians and Muslims in the central Nigerian city of Jos. In all, more than 2,000 people are believed to have been killed in ethnic and religious violence since the restoration of democracy in Nigeria in 1999.
Christian leaders have criticized the government for its apparent inability to deal with the violence.
Roman Catholic Archbishop Anthony Olubunmi Okogie of Lagos said, "It is time for the Nigerian government to curb the excesses of misguided elements that spill blood in the name of religion." He called for "a stern, more enduring law which will stamp these disturbances out once and for all."
Muslim leaders have also called for restraint.
Alhaji Muhammadu Maccido, the sultan of Sokoto and the spiritual head of Nigeria's Muslims, said that tolerance and peaceful co-existence were the cardinal principles upon which both Islam and Christianity stood.
"We shall fail as leaders if we do not seek to avert crisis, build bridges of unity in its aftermath and take pre-emptive steps to avoid its recurrence. This is a sacred duty we must all uphold. Otherwise marginalized people will seize the opportunity to foment crisis for selfish ends," he told Muslim leaders in Kaduna, a northern Nigerian city.
Abdulkadir Orire, secretary-general of Jama'atu Nasril Islam (JNI), an Islamic umbrella body that unites all Muslim organizations in the country, said that the frequent occurrence of ethno-religious riots in Nigeria resulted from the economic marginalization of the majority of the country's population. He stressed that Islam did not support these acts of violence.
Bola Tinubu, a Muslim who is governor of the state of Lagos in south-western Nigeria, said that Muslim leaders in Nigeria should "go out to all mosques and communities to preach peace. Allah didn't ask us to kill anybody. He didn't ask us to revenge.
"One religion must not extinguish the other. Islam must not extinguish Christianity and Christianity must equally not extinguish Islam."
Related Elsewhere
Media coverage of the Kano riots includes:
Nigerian Democracy Wobbles, Army's Profile Rises — Reuters (Oct. 29, 2001)
Rampant soldiers kill civilians — South African Press Association (Oct. 24, 2001)
Appraising the Ethos Behind Kano Riots — Daily Trust, Abuja (Oct. 24, 2001)
Exercise Restraint, Na'abba Urges Kano Indigenes — This Day, Lagos (Oct. 25, 2001)
Obasanjo Caused Kano Riots, Says Ex-Governor Rimi — This Day, Lagos (Oct. 19, 2001)
Red Cross helps Kano riot victims — Business Day (Oct. 19, 2001)
Assembly of Muslims Blames Ignorance — Daily Trust, Abuja (Oct. 18, 2001)
Article continues below
Nigerian Police: 32 Died in Clashes — Associated Press (Oct. 17, 2001)
Nigerian leader visits riot site — Reuters (Oct. 17, 2001)
Nigerian Leader Warns About Violence — Associated Press (Oct. 17, 2001)
Violent Clashes That Threaten Democracy Under Obasanjo — Vanguard, Lagos (Oct. 16, 2001)
Over 100 dead in riots — South African Press Association (Oct. 16, 2001)
Washington Unruffled by anti-US Protest in Nigeria — AllAfrica.com (Oct. 16, 2001)
200 May Be Dead in Nigeria Riots — The Washington Post (Oct. 14, 2001)
Nigerian City Shell-Shocked After Anti-U.S. Riots — The Washington Post (Oct. 14, 2001)
Christians, Muslims Riot In Northern Nigeria — Associated Press (Oct. 13, 2001)
For more articles, see Yahoo's full coverage on Nigeria and AllAfrica.com.
See Christianity Today's previous coverage of the riots in Jos.
Previous Christianity Today coverage of religious tensions in Nigeria includes:
Orphaned and Widowed | Christian families devastated since Shari'ah law adopted. (August 29, 2001)

Christians and Muslims at Odds Over Nigerian Constitution | Calls made to limit Shari'ah law in Northern states. (July 12, 2001)

Nigeria Officials Press Northern Governors to Scale Back Islamic Law | Churches harassed by Islamic youths purporting to enforce the law. (June 14, 2001)

Five Anglicans in Court After Rescuing Teenagers From Arranged Marriages | Priests claim Christian sisters are being forced into Islam. (June 5, 2001)

The Shari'ah Threat | Muslim Fundamentalist law troubles Christians and some Muslims. (Feb. 2, 2001)

'Focused, Determined, Deliberate' Destruction | Ecumenical leader calls on Nigeria to deal with religious violence between Muslims and Christians. (Oct. 30, 2000)

Nigerian Muslims and Christians Form a Religious Council | Gombe, a north Nigerian state, creates a council of faiths to deal with fears over Islamic law. (Sept. 19, 2000)

Churches Challenge Islamic Law | Christians plan to take Shari'ah to court. (Aug. 15, 2000)

Is Nigeria Moving Toward War? | Deadly riots lead to suspension of Islamic law. (March 31, 2000)

Nigeria On the Brink of Religious War | Northern states adopt Islamic law, increasing Christian-Muslim tensions. (Dec. 16, 1999)

Nigeria's Churches Considering Legal Challenge to Islamic Laws | Third state moving toward implementing Koranic laws (Dec. 17, 1999)

Can Christianity and Islam Coexist and Prosper in Africa? Twice in a decade religious fighting killed hundreds in West Africa's oldest city. (Oct. 25, 1999)

Nigeria's Christian President Calls for 'Moral Rearmament' Constitution rewritten to pledge freedom of belief is absolute. (April 26, 1999)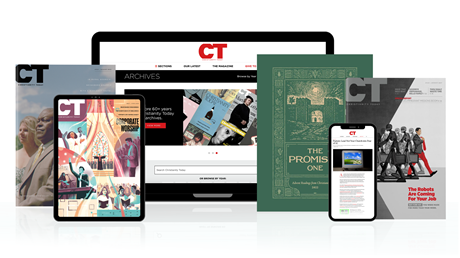 Annual & Monthly subscriptions available.
Print & Digital Issues of CT magazine
Complete access to every article on ChristianityToday.com
Unlimited access to 65+ years of CT's online archives
Member-only special issues
Subscribe
Hundreds of Christians Take Shelter in Barracks After Riots in Nigeria
Hundreds of Christians Take Shelter in Barracks ...