Todd Beamer will always be remembered as a national hero.
But members of Princeton Alliance Church in Plainsboro, New Jersey, say they thought of the 32-year-old father of two as a hero long before he and others on United Flight 93 confronted hijackers on the Boeing 757 on September 11.
The flight was the only one that did not hit a target. Instead, it crashed in rural Pennsylvania.
Vice President Dick Cheney said Beamer and the others kept the worst terrorist attack in U.S. history from having an even greater impact in the nation's capital.
"What they did was to foil, I think, the attack on Washington," he said on NBC's Meet the Press. "Without question, the attack would've been much worse if it hadn't been for the courageous actions of those individuals on United 93."
On board Beamer called a GTE Airfone operator about the hijacking, recited the Lord's Prayer, and said, "Let's roll." Beamer and the others, investigators believe, then somehow interfered with the terrorists' plans and kept the jet from hitting a target presumed to be in Washington.
"To the world they were ordinary [but] they figured out how to do extraordinary things. … to overcome the worst adversity I could ever imagine," Beamer's wife, Lisa, told Diane Sawyer on Good Morning America. Lisa Beamer, also 32, is expecting the couple's third child in January. Lisa Beamer says faith and family were always her husband's priorities.
The Beamers, who met as students at Wheaton College in Illinois, have been members of Princeton Alliance for about six years, says John Edgar Caterson, senior associate pastor. They both have been youth sponsors, Todd Beamer taught a high school Sunday school class, and Lisa Beamer is on the church's governing board.
Caterson, a member of a tight-knit small group that included the Beamers, says Todd Beamer was one of his best friends.
"He's one of the few people that I just look up to," Caterson says. "Both of them are rock steady in the faith and grounded in the Word."
Caterson says Beamer spoke constantly of his family, and encouraged him to take special care of his own. Beamer introduced Caterson to his wife and helped organize and fund the limousine and hotel stay for the couple's honeymoon.
Caterson and another minister had recently preached a series of sermons on each line of the Lord's Prayer. They were comforted that their friend said the prayer as he faced his final moments.
While enjoying success as a sales account manager at Oracle Corporation, Beamer scheduled his business trips so he could be home on Sundays. "He was a Promise Keeper before there were Promise Keepers," Caterson says. "His heart's calling was 'First to my God, then to my family.'"
Brian Mumau, another member of the Beamers' small group, recalled that Beamer carried two cell phones and was always talking to people, catching up with them and remembering their prayer requests. Beamer, a 1991 graduate of Wheaton, left a message of encouragement on Mumau's answering machine from the airport just before he boarded Flight 93.
Caterson and Mumau both cited Beamer's quick mind and ability to absorb information and summarize it rapidly.
This summer, Becky Langone watched the Beamer children—David, 3, and Andrew 1—for several hours a week so Lisa could run errands. Langone says Todd would make an effort to spend time with the boys during the day.
"A lot of days, he'd come in when we'd be eating lunch, just to see the boys," she says. Langone, a freshman at Middlesex City College, said the most difficult moments for her come when she remembers a smiling "Drewbie" peeking around the door of his father's home office, or the joy on David's face when he and his dad played baseball.
"David totally looked up to his dad," Langone says.
Students from Beamer's Sunday school class and youth group say he also made them a priority.
Jimmy Leonard, a sophomore at Princeton who has known Beamer since high school, says he'll always remember the way Beamer took a personal interest in him. Leonard says Beamer was an example of someone who was true to his faith.
"I have a younger brother in high school now, and he's still kind of starting to think through his beliefs—and he was a little skeptical about Christianity because he saw people who said one thing Sunday but would live differently the rest of the time," Leonard says. "Todd was the only person [he saw] who said something and then lived it. That really stuck with my brother and me."
Leonard Harris, a junior at Rider University in New Jersey, learned the words to Ray Boltz's song "Thank You For Giving To the Lord" in two days so he could sing it at Beamer's memorial service Sunday. Harris says that more than 1,000 people attended the service. About 1,750 people attend the church each Sunday.
Friends say they weren't surprised by Beamer's actions in an emergency. Harris says knowing Beamer was a hero will make it easier to deal with grief.
"We are just so proud of him," Harris says, his voice breaking. "I think that's what's helping Lisa—not just leaning on God, but knowing that Todd never just sat back. It gives me the idea that this isn't as bad as it seems, because Todd was obviously meant to be on that plane."
Related Elsewhere

The Princeton Alliance Church has established a memorial fund for the Beamer family.
Wheaton College has posted a prayer request for members of the Wheaton family who were lost and all those touched by the tragedy.
Coverage of Beamer's heroism and United flight 93 include:
A Sky Filled With Chaos, Uncertainty and True Heroism — The Washington Post (Sept. 17, 2001)

Hero's final phone call — BBC (Sept. 17, 2001)

Flight 93 Hero Heard on Black Box — The Washington Post (Sept. 16, 2001)

The phone line was still open when Todd Beamer said: 'Are you guys ready? Let's roll' — Post-Gazette (Sept. 16, 2001)
Christianity Today's other articles on the attacks include:
The End of the World (Trade Center) | Dispatches from out of the dust. (Sept. 19, 2001)

Was September 11 the Beginning of the End? | Observers say geography and gravity of attacks have led to little prophecy speculation. (Sept. 19, 2001)

With Grief and Anger, the U.S. Mourns Its Losses | A week of official services and impromtu demonstrations follows shocking attacks. (Sept. 18, 2001)

Orthodox Church Near Ground Zero Hopes to Rise Again | Members hope to rebuild 169-year-old structure, which stood only 500 feet from the World Trade Center. (Sept. 18, 2001)

Fire Department Chaplain Dies in the Line of Duty | "Father Mike" is remembered for compassion and always being first on the scene. (Sept. 18, 2001)

Churches Meet Needs at Ground Zero | Brooklyn pastors and parishioners thank God for survival, but help victims and families cope. (Sept. 17, 2001)

Books & Culture Corner: The Imagination of Disaster | "We thought we were invulnerable." Really? (Sept. 17, 2001)

Church Mourns 'Father Frank' | Fond memories comfort those who knew retired priest killed in World Trade Center attack. ? (Sept. 17, 2001)

Taking It Personally | What do we do with all this anger? (Sept. 14, 2001)

'Is That Thunder?' | With metal cracking at the World Trade Center, New York pastors cry out to God. (Sept. 14, 2001)

Shaken Christians Turn to Prayer | Impromptu services usher in the bereaved by word of mouth, road signs, and e-mail. (Sept. 13, 2001)

Christians Provide Comfort in the Shadow of Calamity | Still "stunned and reeling," New Yorkers seek support at prayer service. (Sept. 13, 2001)

Illinois Pastor on Fatal Flight | Jeffrey Mladenik, 43, was involved in workplace ministry, international adoption. (Sept. 13, 2001)

Communication Troubles Challenge U.S. Church Relief Agencies | Aid work continues amid atmosphere of shock, fear, and sporatic harrassment. (Sept. 13, 2001)

Reflections on Suffering | Classic and contemporary quotations for dark times. (Sept. 13, 2001)

When Sin Reigns | An event like this shows us what humans are capable of becoming—both as children of darkness and of light. (Sept. 13, 2001)

In the Belly of the Beast | Christians, calling terrorist attack "satanically brilliant," minister at epicenter of World Trade disaster. (Sept. 12, 2001)

Churches, Agencies Respond to Attacks | Leaders call for prayer, justice, and mercy. (Sept. 12, 2001)

Muslims Fear a Backlash | No matter who is responsible, observers feel a reaction will still be present. (Sept. 12, 2001)

A Wake-Up Call to Become Global Christians | The deadly attacks on America will provoke many responses, but Christians are commanded to love our neighbors. (Sept. 12, 2001)

Nation's Religious Leaders Urge Calm, Pray for Peace | Churches will maintain prayer vigils for victims and leaders. (Sept. 11, 2001)

Church Leaders Around World Deplore 'Unspeakable Horror' of Attack | Christians urged to unite in prayer as they unite in shock and denunciation. (Sept. 11, 2001)

Experts Say Spiritual Roots Will Aid in Coping With Catastrophe | Pray and connect with others, advise nation's chaplains. (Sept. 11, 2001)

Fear and Hate | In times like this, as in all other times, Christians have a responsibility to love above all else. (Sept. 11, 2001)

God's Message in the Language of Events | In the face of evil, we must focus on keeping our hearts right. (Sept. 11, 2001)
Article continues below
For in-depth and continuing coverage, see The New York Times, The Washington Post, BBC, CNN, and Yahoo full coverage.
For more Christian perspectives and responses, see various articles posted on Christianity.com, Crosswalk.com, and Beliefnet.com.
The Text This Week, a resource for pastors, has collected sermons and reflections in response to the Sept. 11 events.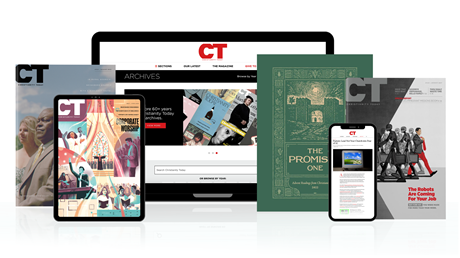 Subscribe to Christianity Today and get access to this article plus 65+ years of archives.
Home delivery of CT magazine
Complete access to articles on ChristianityToday.com
Over 120 years of magazine archives plus full access to all of CT's online archives
Subscribe Now
Active Christian on Flight 93 Hailed as a Hero
Active Christian on Flight 93 Hailed as a Hero