In 1654, Nostradamus predicted that metal birds striking twin brothers would mark the end of the world.
At least, this is one variant of apocalyptic rumor that hit the Internet soon after the Sept. 11 attacks on New York's World Trade Center. But it isn't true. The French astrologer—who died in 1566—never published the lines now being attributed to him.
Claims of prediction and prophecy are common during events of great magnitude. For instance, prophecy popularizers were quick to incorporate Saddam Hussein's 1990 invasion of Kuwait into end-times scenarios. But over a week after the terrorist offensive on New York City and Washington, D.C., dispensationalist voices have been relatively quiet.
What has been said?
The day after the attacks, radio program Beverly LaHaye Today focused on whether the event marked the onslaught of the end. The consensus among her guests, Tim LaHaye, Thomas Ice, and Ed Hindson, was that it did not.
Pointing out that the rapture didn't happen yet, they stressed that this was not the wrath of God. It was the wrath of man. This was only a foretaste of what is to come, they said.
The day of the attack, Hal Lindsey, author of The Late Great Planet Earth, wrote on his Web site that he has been warning America for years of an attack by the combined terrorist forces of Islam.
"In my video, Where Is America in Bible Prophecy, I warned that America will be destroyed as a world power and that terrorism was one way this could happen," Lindsey wrote. "This scenario seems to have begun."
On September 12, Jack Van Impe wrote, "I have been warning the nation and the world … for the past two years that terrorists would soon strike America. That moment has arrived. Jesus predicted this rise of terrorism just before His return to set up His kingdom on earth."
In a BreakPoint radio commentary, Charles Colson, brushed off end times speculation. He said: "Make no mistake; Jesus is going to return. Obviously, I believe that. But like C. S. Lewis, I refuse to speculate as to when. Rather than speculate, I want to concentrate on the great and unique contribution Christians can make in this hour."
Why the lack of speculation?
"The Gulf War was rather easy picking because it happened in an area of the world just dripping with biblical prophecy," Timothy Weber, dean of Northern Baptist Seminary, told Christianity Today this week. "This [recent event] doesn't work like that. Dispensationalists have tried for years to fit the United States in, but it's hard to find Scripture to support it."
Robert Clouse, professor of history at Indiana State University, agreed that America's absence from prophecy is the main reason for the "amazingly quiet" prophecy scene. This sticking point, however, leads to the currently abundant theories that America must fall before Christ's return.
Clouse, co-author of The New Millennium Manual, said another cause for the lack of speculation is that "dispensationalists have become much more careful in pinning events down in prophecy."
Paul Boyer, Merle Curti Professor of History at the University of Wisconsin and author of When Time Shall Be No More, told CT that it could be too soon for apocalyptic discussion.
It may be a little early for the prophecy popularizers to weigh in on this. They are obviously sensitive to the high level of emotion surrounding these events, and aware of a public backlash if they too quickly treat it as a divinely ordained prophetic fulfillment. I suspect that with the passage of time these events will be assimilated into the prophecy popularizers' end-time scenario, as everything is.

I was particularly reminded on Tuesday of Revelation 18, with its memorable description of the fiery destruction of Babylon in one hour, as the merchants stand afar off, weeping and wailing. Even the word "trade" is in there. For the author of Revelation, "Babylon" was presumably a not-too-subtle allusion to Rome, but modern popularizers have often described New York City as the modern Babylon. I suspect this theme may gain some credence in prophecy circles, once the initial shock wears off.
Weber, author of Living in the Shadow of the Second Coming, agrees that speculation will emerge. He expects to see theories focusing on Islam's role in the end times and more on America's decline.
"Hold your breath," he said. "Someone will come up soon with something saying bin Laden is the manifestation of something. That is how it usually goes."
Related Elsewhere
The Las Vegas Sun and The Plain Dealer of Cleveland have also run articles on Christians looking for eschatological meaning in the attacks.
Since the attacks, Nostradamus books have been flying off the bookshelves, according to The New York Times.
The BBC has a profile on the suspect in the attacks, Osama bin Laden.
Christianity Today's other articles on the attacks include:
With Grief and Anger, the U.S. Mourns Its Losses | A week of official services and impromtu demonstrations follows shocking attacks. (Sept. 18, 2001)

Orthodox Church Near Ground Zero Hopes to Rise Again | Members hope to rebuild 169-year-old structure, which stood only 500 feet from the World Trade Center. (Sept. 18, 2001)

Fire Department Chaplain Dies in the Line of Duty | "Father Mike" is remembered for compassion and always being first on the scene. (Sept. 18, 2001)

Churches Meet Needs at Ground Zero | Brooklyn pastors and parishioners thank God for survival, but help victims and families cope. (Sept. 17, 2001)

Books & Culture Corner: The Imagination of Disaster | "We thought we were invulnerable." Really? (Sept. 17, 2001)

Church Mourns 'Father Frank' | Fond memories comfort those who knew retired priest killed in World Trade Center attack. ? (Sept. 17, 2001)

Taking It Personally | What do we do with all this anger? (Sept. 14, 2001)

'Is That Thunder?' | With metal cracking at the World Trade Center, New York pastors cry out to God. (Sept. 14, 2001)

Shaken Christians Turn to Prayer | Impromptu services usher in the bereaved by word of mouth, road signs, and e-mail. (Sept. 13, 2001)

Christians Provide Comfort in the Shadow of Calamity | Still "stunned and reeling," New Yorkers seek support at prayer service. (Sept. 13, 2001)

Illinois Pastor on Fatal Flight | Jeffrey Mladenik, 43, was involved in workplace ministry, international adoption. (Sept. 13, 2001)

Communication Troubles Challenge U.S. Church Relief Agencies | Aid work continues amid atmosphere of shock, fear, and sporatic harrassment. (Sept. 13, 2001)

Reflections on Suffering | Classic and contemporary quotations for dark times. (Sept. 13, 2001)

When Sin Reigns | An event like this shows us what humans are capable of becoming—both as children of darkness and of light. (Sept. 13, 2001)

In the Belly of the Beast | Christians, calling terrorist attack "satanically brilliant," minister at epicenter of World Trade disaster. (Sept. 12, 2001)

Churches, Agencies Respond to Attacks | Leaders call for prayer, justice, and mercy. (Sept. 12, 2001)

Muslims Fear a Backlash | No matter who is responsible, observers feel a reaction will still be present. (Sept. 12, 2001)

A Wake-Up Call to Become Global Christians | The deadly attacks on America will provoke many responses, but Christians are commanded to love our neighbors. (Sept. 12, 2001)

Nation's Religious Leaders Urge Calm, Pray for Peace | Churches will maintain prayer vigils for victims and leaders. (Sept. 11, 2001)

Church Leaders Around World Deplore 'Unspeakable Horror' of Attack | Christians urged to unite in prayer as they unite in shock and denunciation. (Sept. 11, 2001)

Experts Say Spiritual Roots Will Aid in Coping With Catastrophe | Pray and connect with others, advise nation's chaplains. (Sept. 11, 2001)

Fear and Hate | In times like this, as in all other times, Christians have a responsibility to love above all else. (Sept. 11, 2001)

God's Message in the Language of Events | In the face of evil, we must focus on keeping our hearts right. (Sept. 11, 2001)
Article continues below
Article continues below
For in-depth and continuing coverage, see The New York Times, The Washington Post, BBC, CNN, and Yahoo full coverage.
For more Christian perspectives and responses, see various articles posted on Christianity.com, Crosswalk.com, and Beliefnet.com.
The Text This Week, a resource for pastors, has collected sermons and reflections in response to the Sept. 11 events.
President Bush addressed the nation on the evening of Sept. 11 (video | transcript). He declared Sept. 14, 2001 a national day of prayer. Bush first learned of the World Trade Center tragedy while preparing to speak to schoolchildren in Sarasota, Fla.. There, he asked Amercians for a moment of silence for the victims.
The Pope and Billy Graham have spoke out on the tragedy and sent out prayers to the victims and their families.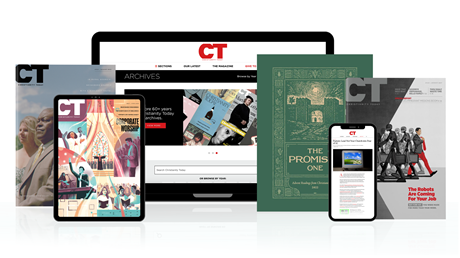 Annual & Monthly subscriptions available.
Print & Digital Issues of CT magazine
Complete access to every article on ChristianityToday.com
Unlimited access to 65+ years of CT's online archives
Member-only special issues
Subscribe
Was September 11 the Beginning of the End?
Was September 11 the Beginning of the End?