As churches and relief organizations across the country seek ways to help a battered New York City, many are looking to Glad Tidings Tabernacle, an Assemblies of God church located 2.5 miles from ground zero, for direction and supplies.
David Cushworth, who coordinates the church's Delaware-based Urban Life ministry, says people began to give money for supplies as soon as they heard about the attack, including the church's pastor, Carl Keyes, his wife, Donna, and the worship pastor and church secretary—most of the church's staff.
"Everyone immediately dug into their wallets and got their credit cards and checkbooks," he says. Meanwhile, Cushworth got on the phone to request donations. "While they're spending money, I'm making phone calls [to raise money]," he says. "We were borrowing money, just trying to get some funds into the situation there."
The church has purchased a wide variety of items, from baby clothes and dog food to gloves, boots, masks, and gallons of saline solution for emergency workers. The church has also supplied paper, pens, and other office supplies to centers where people are filing information about their missing loved ones.
Although initial efforts were rushed and scattershot, Glad Tidings has since become a central place where firefighters, police officers, and other relief workers are calling to get needed supplies. Glad Tidings is working closely with other churches and agencies like the Red Cross and Convoy of Hope to provide for needs that change hourly.
At least two or three times a day, says spokeswoman Nina Shelton, volunteers meet with people from other charities and emergency services. "We sit down and say 'What is your need today?' Then we run around like little ants to get it done."
Supported by thousands of dollars that have poured in during the last nine days—including several thousand dollars from Christian ministries—and staffed by about 300 volunteers, the church can provide supplies for relief workers within an hour of the requests, often coordinating the efforts on cell phones given to the church by Verizon Wireless.
Some volunteers have come from as far away as California, including three clergy who are trained in grief counseling. Others include five men from Louisiana, who have used their experiences in organizational management to direct the volunteers, and a small group of Michigan residents who offered the services of their pickup trucks.
Teams visit local firehouses and police stations to gather with those who would like to pray. Others take water to police officers who are tired from extended shifts.
The church is using the donations to help individuals as well as other organizations. Volunteers learned about a woman who had lost her job because of the destruction. Worse, Shelton says, last Tuesday was supposed to be the woman's payday. "The next day following that, we gave her the net equivalent of her paycheck," Shelton says.
Having cleared the initial aftermath of the attacks, Shelton says, the church is setting up programs to help with long-term needs.
For example, Glad Tidings plans to start an "Adopt a Family" program, through which a church will take the responsibility of meeting a family's physical, financial, prayer, and psychological needs. The church is also raising funds for the families of flight attendants killed in the four plane crashes and a payroll fund to meet the needs of those who have lost their jobs. The church has also received funds from the local Assemblies of God district to help affected families in the denomination's churches.
Cushworth and Shelton say they are confident that they will be able to help people, even after the initial rush of generosity and voluntarism fades. They urge people to continue to volunteer, even if they can only offer a day or two at a time.
"We're just going to put in long hours and many days," Cushworth says. "People are just doing it. We've got volunteers everywhere, and help from the churches in the area."
He is humbled by how God has used the small church.
"God's taken us from nothing and given us great prominence with the big boys," Cushworth says.
Still, Shelton says, "It's not about Glad Tidings. God has used Glad Tidings because of where we are. We are receiving support from the country and the support of churches around the city."
Cushworth says the church , which has about 300 members, would never have been able to manage such an effort ordinarily.
"If you'd asked us two weeks ago, we'd have said 'never in a month of Sundays,'" he says. Even in earlier years, when he and Keyes worked with a ministry with a $5 million annual budget and a 100-member staff, "We'd never have been prepared for it, not in the natural."
LaTonya Taylor is an editorial resident at Christianity Today.
Related Elsewhere
See the Web site for Glad Tidings Tabernacle.
Convoy of Hope has details of its work at Ground Zero.
Christianity Today's other articles on the attacks include:
Film Forum: Shock Waves Tear Through a Shock-Value Industry | How can we think of movies at a time like this? (Sept. 20, 2001)

Was September 11 the Beginning of the End? | Observers say geography and gravity of attacks have led to little prophecy speculation. (Sept. 19, 2001)

The End of the World (Trade Center) | Dispatches from out of the dust. (Sept. 19, 2001)

Active Christian on Flight 93 Hailed as a Hero | Wheaton College graduate and others "figured out how to do extraordinary things" aboard United plane. (Sept. 19, 2001)

With Grief and Anger, the U.S. Mourns Its Losses | A week of official services and impromtu demonstrations follows shocking attacks. (Sept. 18, 2001)

Orthodox Church Near Ground Zero Hopes to Rise Again | Members hope to rebuild 169-year-old structure, which stood only 500 feet from the World Trade Center. (Sept. 18, 2001)

Fire Department Chaplain Dies in the Line of Duty | "Father Mike" is remembered for compassion and always being first on the scene. (Sept. 18, 2001)

Churches Meet Needs at Ground Zero | Brooklyn pastors and parishioners thank God for survival, but help victims and families cope. (Sept. 17, 2001)

Books & Culture Corner: The Imagination of Disaster | "We thought we were invulnerable." Really? (Sept. 17, 2001)

Church Mourns 'Father Frank' | Fond memories comfort those who knew retired priest killed in World Trade Center attack. ? (Sept. 17, 2001)

Taking It Personally | What do we do with all this anger? (Sept. 14, 2001)

'Is That Thunder?' | With metal cracking at the World Trade Center, New York pastors cry out to God. (Sept. 14, 2001)

Shaken Christians Turn to Prayer | Impromptu services usher in the bereaved by word of mouth, road signs, and e-mail. (Sept. 13, 2001)

Christians Provide Comfort in the Shadow of Calamity | Still "stunned and reeling," New Yorkers seek support at prayer service. (Sept. 13, 2001)

Illinois Pastor on Fatal Flight | Jeffrey Mladenik, 43, was involved in workplace ministry, international adoption. (Sept. 13, 2001)

Communication Troubles Challenge U.S. Church Relief Agencies | Aid work continues amid atmosphere of shock, fear, and sporatic harrassment. (Sept. 13, 2001)

Reflections on Suffering | Classic and contemporary quotations for dark times. (Sept. 13, 2001)

When Sin Reigns | An event like this shows us what humans are capable of becoming—both as children of darkness and of light. (Sept. 13, 2001)

In the Belly of the Beast | Christians, calling terrorist attack "satanically brilliant," minister at epicenter of World Trade disaster. (Sept. 12, 2001)

Churches, Agencies Respond to Attacks | Leaders call for prayer, justice, and mercy. (Sept. 12, 2001)

Muslims Fear a Backlash | No matter who is responsible, observers feel a reaction will still be present. (Sept. 12, 2001)

A Wake-Up Call to Become Global Christians | The deadly attacks on America will provoke many responses, but Christians are commanded to love our neighbors. (Sept. 12, 2001)

Nation's Religious Leaders Urge Calm, Pray for Peace | Churches will maintain prayer vigils for victims and leaders. (Sept. 11, 2001)

Church Leaders Around World Deplore 'Unspeakable Horror' of Attack | Christians urged to unite in prayer as they unite in shock and denunciation. (Sept. 11, 2001)

Experts Say Spiritual Roots Will Aid in Coping With Catastrophe | Pray and connect with others, advise nation's chaplains. (Sept. 11, 2001)

Fear and Hate | In times like this, as in all other times, Christians have a responsibility to love above all else. (Sept. 11, 2001)

God's Message in the Language of Events | In the face of evil, we must focus on keeping our hearts right. (Sept. 11, 2001)
Article continues below
For in-depth and continuing coverage, see The New York Times, The Washington Post, BBC, CNN, and Yahoo full coverage.
Yahoo has also compiled aid organization contact information, closure notification, and survivor lists.
For more Christian perspectives and responses, see various articles posted on Christianity.com, Crosswalk.com, and Beliefnet.com.
The Text This Week, a resource for pastors, has collected sermons and reflections in response to the Sept. 11 events.
The BBC, Boston.com, The Village Voice, and USA Today have photo essays of the destruction.
The Washington Post has a list of tenants of the World Trade Center and a graphic depicting the attack.
President Bush addressed the nation on the evening of Sept. 11 (video | transcript). He declared Sept. 14, 2001 a national day of prayer. Bush first learned of the World Trade Center tragedy while preparing to speak to schoolchildren in Sarasota, Fla.. There, he asked Amercians for a moment of silence for the victims.
The Pope and Billy Graham have spoke out on the tragedy and sent out prayers to the victims and their families.
The BBC has compiled reactions from world leaders (with video).
Slate.com explained who responds to crisis situations.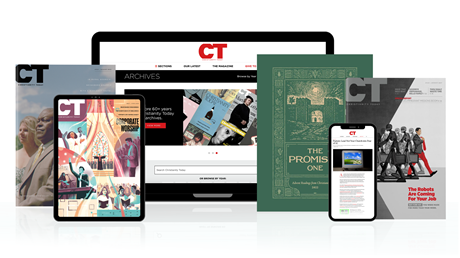 Subscribe to Christianity Today and get access to this article plus 65+ years of archives.
Home delivery of CT magazine
Complete access to articles on ChristianityToday.com
Over 120 years of magazine archives plus full access to all of CT's online archives
Subscribe Now
Volunteers Bring Glad Tidings to Ground Zero
Volunteers Bring Glad Tidings to Ground Zero